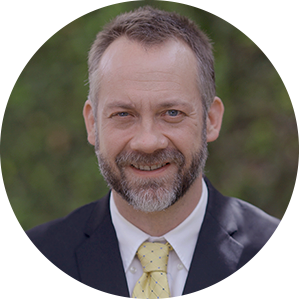 Corey Stixrud is the middle of three generations from the same family to either study or teach at the oldest IB World School in India. Now principal, he explains his loyalty to Kodaikanal International School.
In the Indian hill-station town of Kodaikanal, there can't be many people who haven't heard the name Stixrud. It's a Norwegian family name and, in southern India, you don't come across many of those. More importantly, it's a name that has been connected with Kodaikanal International School (KIS)—India's first IB World School—for three generations.
Neal and Annette Stixrud were teachers here in the 1970s, while their son Corey was a student. Corey later returned to the school, as vice principal. Now his son Tarun is a Primary Years Programme (PYP) student there, completing the three generations.
"As a multicultural family, we were so excited to rejoin the KIS community," says 50-year-old Corey who is now school principal. "We felt like we were giving our son Tarun the experience of a lifetime, and one that we happened to share as well."
The school is in a stunningly beautiful setting, 2,200 metres high in the Palani Hills of Tamil Nadu state. It was originally founded in 1901 to educate the children of local missionaries but, after the Second World War, became an international school, eventually adopting an IB programme in 1976. Nowadays it has two campuses set across 43 acres of land. The 460 or so students—mostly boarders, all the way up to grade 12—hail from a total of 25 different nations.
Corey says he, his wife (who was herself once a KIS student) and son enjoy a "richly multicultural" experience at the school.
"The fact that all three of us have an IB education from KIS means we share many values and experiences. We interact, if not always fluently, in several languages: English, German and Tamil. And all three of us like to believe we are critical thinkers. It really helps to be able to refer to the IB learner profile during family discussions."
It took Corey a good many years to find his career in education. As a youngster he wanted to be a fire fighter, and for many years he worked in the USA as editor for a textbook publisher.
"I think when you grow up in a family of educators, you tend to underestimate the importance of education, or perhaps take it for granted," he explains. "So it took me years to realize that it was my destiny. It was actually my wife who one day looked at me and said: 'You need to teach'. She was right."
Corey finally embarked on his teaching career in 2000, in the US state of Oregon, first working at kindergarten level, then grades 2 and 3.
"I don't believe I've ever been as physically and intellectually challenged as I was in the primary classroom," he remembers.
He believes his years studying as part of his IB education had a strong influence on his eventual career choice.
"In the Diploma Programme I was inspired by some great teachers, particularly by their approach to inquiry and critical thinking," he remembers. "The emphasis wasn't on the course grade or the exam score; it was on the rigor of thought required, and on thinking and acting across cultural divides."
Corey was born in 1968, the same year that the IB was founded. "The IB was still very young when I was a student (I like to say the IB and I were teenagers together), and there was a distinct sense of idealism about it which I still find to be true amongst many in the IB family."
I like to say the IB and I were teenagers together
He says his experience as an IB student gave him "the belief that a teacher can change the world for the better, each and every day".  He believes this has contributed to the global vision that KIS now has.
"It's a vision that we are a school the world needs," he adds. "Being a part of this vision keeps me excited about my profession."
Nowadays, as principal at KIS, Corey misses the years he spent teaching in the classroom. But he finds his job as challenging and fascinating as ever.
"I'm never, ever bored," he says. "I believe that being an educator—whether as a teacher, a counselor, or a principal—is really about relationships. I have worked hard to prioritize this in my role: people come first. I happen to be an extremely fortunate leader because I work with extraordinary students and staff every single day. I love interacting with them."
And who knows? Perhaps one day, his son Tarun, now in grade 3, will become a teacher at KIS, too.
"Kodai is a place you fall in love with," Corey says. "I wouldn't be surprised if future generations of Stixruds find themselves back here."
---
This story is part of our 50th anniversary celebrations in 2018. Look out for #weareib—a campaign to thank and celebrate the wonderful IB educators who make the world a better place through their innovative educational practices. Join the campaign by posting messages using #weareib or contact us by email about someone you think we should contact for a story.