Thea Kurniawan joins us this year as a 2018 alumni contributor to share her experience since graduating from the Diploma Programme (DP). She tells us how perseverance and grit, helped her build confidence throughout the DP and beyond.
By Thea Kurniawan
To describe the Diploma Programme (DP) simply as an educational curriculum would be a great understatement.
No matter how challenging an experience it may have been at the time, I owe it to those internal assessments, creativity, activity, service (CAS) hours and everything else in between for making the person I am today. Amidst the plethora of values and virtues that the programme helps blossom in students, there was one I got out of the most: grit. What I once considered to be a shunned-upon character related to stubbornness and pride is now a badge of honour displaying courage, tenacity and passionate perseverance.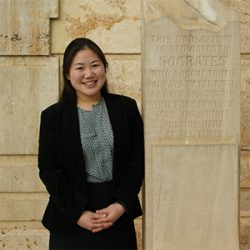 Understanding and embracing grit during high school made me change the way I perceived the world and added some positive flair. Once a shy bookworm, this trait came over me like a comforting chrysalis as I became a bright-eyed butterfly, ready to embrace what the future holds. True grit became my super power.
"It's okay to be wrong and trip over in life as long as you shake it off, get back up and push on."
I was a late-comer into the IB community. With only a year's exposure to the Middle Years Programme (MYP), I was swept straight into the undulating undercurrent of the DP. "The dreaded DP," I heard a fellow classmate whisper as we walked into our first-day assembly. "Say goodbye to 2 years of your life," said another. Mixed emotions bubbled and boiled inside me. Most of us felt exactly like going up the steep incline at the start of a roller coaster: excited, afraid, anxious, curious. Not sure what will await us on the other side. Will we fall, or will we fly?
It was most definitely not all sunshine and rainbows in my DP journey. There were many pitfalls, mistakes, sacrifices and even tears. There were times I felt alone and lost, unsure of my next footing, climbing this steep mountain towards the peak of educational success. All the assignments, tests, presentations and essays were getting far too much to handle. I had almost given up. Almost. For it was at my worst that I learnt the true meaning of the learner profile: how to reflect on my fallbacks and turn them into stepping-stones, to ask questions any time, to appreciate the importance of a balanced lifestyle, to communicate with friends and family, and many more. These traits fused together and opened my eyes to being confident in myself and to follow my passion. It's okay to be wrong and trip over in life as long as you shake it off, get back up and push on. The DP helped me gain my grit.
"My IB adventure…was, without a doubt, the chapter in my life where I learnt and developed the most. The chapter where I discovered my superpower."
This grit has stayed with me for the rest of my DP days. I had more faith in my subject choices, my decision to pursue a profession that breaks not only gender but social and even family norms, and my choice to dedicate time towards doing things I love. Suddenly, everything was looking up, the fogginess cleared and heralded a rejuvenated me that's part resilience, part happy-go-lucky. It even stayed as I hopped off my high school springboard and leaped into my university one. Now as I venture into my first full-time career, grit is a part of my everyday decisions. I want to break boundaries, take risks and inspire young girls to do the same.
I got much more than I bargained for with the IB. I learnt the value of positive relationships, the importance of struggle before success and that the journey is more important than the destination. I will never forget the epiphany of discovering true grit back at school and I hope others can find theirs too. My IB adventure is a bittersweet memory. It was without a doubt the chapter in my life where I learnt and developed the most. The chapter where I discovered my superpower.
Thea Kurniawan graduated from Binus International School Simprug, Jakarta with the IB diploma in 2013. Since completing her BSc in Engineering from the University of Western Australia in 2017, she now works in the Project Management division of Ernst & Young. In her spare time, Thea enjoys volunteering with youth organisations and being an advocate for girls in STEM.
To learn about the IB alumni network, visit ibo.org/alumni and read about our 50th anniversary featured graduates to see where other students have taken their studies and careers.