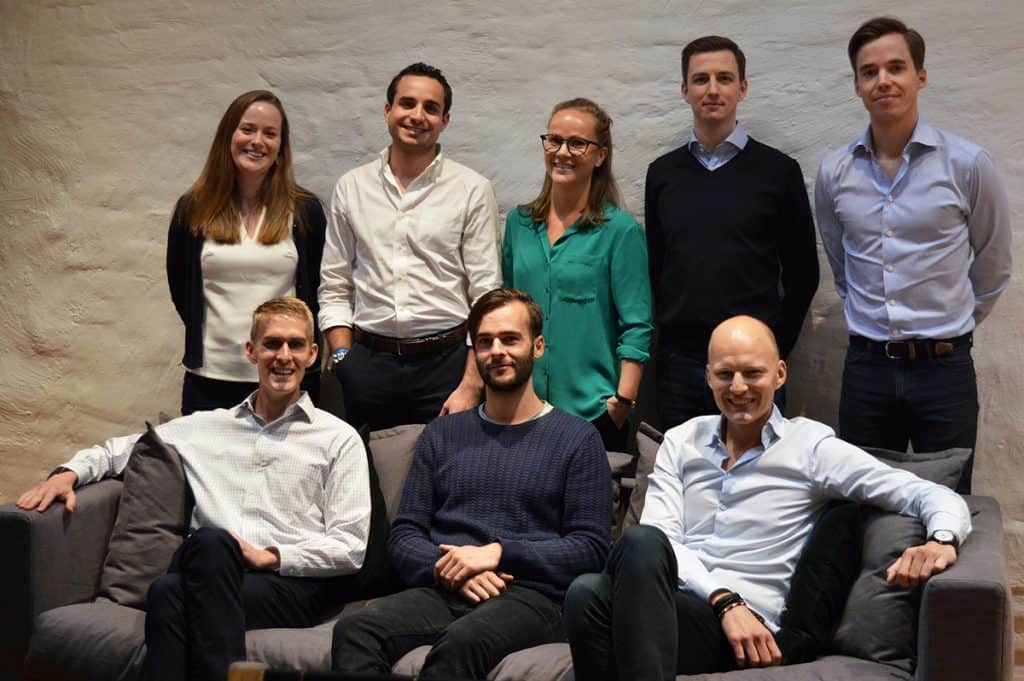 Karin Bjerde introduces us to eight colleagues whose careers and futures were shaped by the Diploma Programme (DP) and now work together at Kognity to bring IB students resources for academic success.

---
By Karin Bjerde
Many graduates witness the positive impact that the Diploma Programme (DP) can have on their lives. But for a handful of IB alumni, the DP has become an integral part of their future—and I'm proud to be among them. We've chosen to work at Kognity, a company started by DP students, for DP students. Kognity originated as a creativity, activity, service (CAS) project in Sweden for COO and co-founder Nicholas Johansson, who tutored other students. This later turned into a revision company called Lanterna Education, which finally evolved into Kognity, a publisher of digital textbooks used by more than 15% of DP schools.
Nicholas and I aren't the only DP graduates at Kognity—11 graduates work there to give current students the resources they wanted to have as IB students. Jens Kron, coming from the same IB school as Nicholas, heads UX design. Then there is Alice Ford, our Account Manager Leader, a Middle Years Programme (MYP) and DP graduate from Italy who found Kognity by taking a Lanterna revision course.  Swedish DP graduate Carl Emilsson, Head of Customer Experience, started out by tutoring for Lanterna while a university student.
How the IB experience motivates Kognity's team:
Nicholas Johansson, COO/co-founder: "I realised that former students could have a significant impact on IB students and hence I started our revision course company Lanterna, which developed into Kognity."
Anna Lifvergren, Content Manager: "The fact that I can now translate the IB's vision of fostering life-long learners into reality at a company serving the educational community is just phenomenal."
What about the DP has influenced us to return to a company that fundamentally supports IB learners? For Anna Lifvergren, Content Manager at Kognity, it was her exposure to fantastic IB teachers. She recalls her Swedish teacher who turned the subject from "my weakest subject to one in which I got a 7."  But my colleague, Mark Haney, Account Manager for Latin America and of course—DP grad—explains it best: "the DP fundamentally shifted the way I think about education, especially in terms of the impact it can have on society globally… education is truly the solution to so many challenges we face in the world today, and it is inspiring to work at a company that understands this truth."
Recently, Kognity has branched into other educational systems like GCSE, with more curricula to be added in the future; but at its heart will always be the IB diploma and the foundation it laid for Kognity. When asked about his IB days, our Head of Growth and Swiss DP graduate Sebastian Sherif remembers the Aristotelian quote that continues to motivate his vision at Kognity to radically improve learning for the world's 1.5 billion school students: "Educating the mind without educating the heart is no education at all."

Carl Emilsson, Head of Customer Experience: 

"I decided I wanted to do something that I was genuinely passionate about: improving learning."

Alice Ford, Account Manager Leader: "As a slightly stressed DP final year student, I took a Lanterna history revision course to calm my nerves and then went on to work with Kognity ever since."

How far does Kognity have to go to reach its goals? As Hugo Wernhoff, the CEO/co-founder and IB alumnus from Sweden puts it, "The reason I feel so inspired by Kognity and the impact it can have on the IB and other educational systems is the fact that everything is left to do—it's an industry not yet improved by the power of technology, and we believe the impact can be tremendously positive for both students and teachers. Kognity is just getting started, and will continue to bring high-quality resources to IB schools as long as we feel we have something to give back as IB alumni."
---
To learn about the IB alumni network, visit ibo.org/alumni and read about our 50th anniversary featured graduates to see where other students have taken their studies and careers.