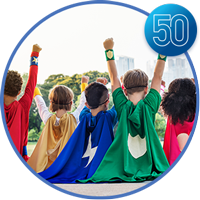 Climate change, hunger, human rights … We invite IB students of all ages to showcase their creativity and skills in working together to find solutions to some of our most pressing global issues. Students can share their work and ideas any time from now until 21 September for a chance of having their work featured on our website and social media channels from 24 to 28 September. This is #generationIB.
Here are five steps to help students get involved.
1.

Build a team

Students can build a local team at their school or reach out to their peers around the world to form a global team. They should use #generationIB to find team-mates. Read these simple tips for effective team building.
2.

Choose a theme

Each team chooses one of five themes—IB alumni and our friends at the United Nations' Sustainable Development Solutions Network (SDSN) helped us draft the list.
3.

Identify a challenge

Within your chosen theme, each team identifies an issue or challenge to tackle. What issues do you feel passionate about? Do you have a solution that could change the world? Gain inspiration from some IB students and alumni who have completed projects that address global challenges.
4.

Share as you go!

From the moment your team chooses a theme, we'd love to see how your ideas grow and develop. Post updates on Twitter and Instagram using the relevant theme's hashtag as projects progress. See what teams are posting.
5.

Post a solution

Any time before 21 September, teams share their solution by posting text, videos, illustrations and photos to Twitter and Instagram. Be sure to 1) use the theme's hashtag and 2) tag the post with their location so that their solution is added to the #generationIB map! Find out more on Twitter and Instagram.

Have you worked on a project recently that you think fits a theme? Why not show us what you've done.
What next?
24 to 28 September, we will proudly showcase the solutions across IB social media channels, 50th website and blog.
4 to 6 October, we will showcase solutions to more than 1,500 participants from within and beyond the IB community at the IB Global Conference in Vienna.
Finally, the UN Sustainable Solutions Development Network will present a selection of the solutions in a report to UN leaders, while we continue to promote solutions to inspire the IB students of the future.
Got a question?
Get in touch, we'll be happy to help!
 [/vc_column_text][/vc_column][/vc_row]