IB language students at a school in the west African nation Gabon were given the chance to learn first hand about cultural diversity thanks to a meeting with the director of their country's UNESCO office.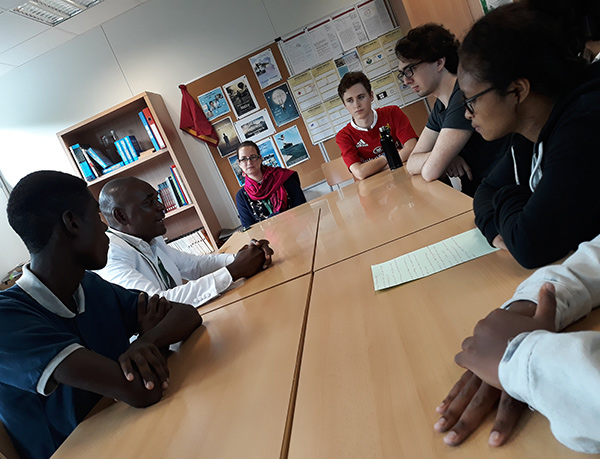 In March, seven Diploma Programme (DP) students at the Ecole Ruban Vert, in the Gabonese capital Libreville, met with Dr Thierry Nzamba Nzamba. It was all part of their research into customs, traditions and global issues. Discussions focussed on the work UNESCO does in Gabon on cultural heritage.
"As the school aims to play an important role in the future development of Gabon, it was very interesting to get a glimpse into the various fields in which UNESCO operates in the country," explained Gudrun Ingimundardottir, the school's head of English and personal development. "Notably in terms of the national education system and the value of cultural heritage in the form of customs and traditions that have been passed down through the generations."
The discussion enabled the students to discover what challenges UNESCO faces in Africa when selecting, protecting and managing their World Heritage sites. (There is currently one such site in Gabon, but a total of seven other sites up for nomination.)
The students worked hard in preparation for Dr Nzamba Nzamba's visit. It helped them practise their independent and critical research, and their interview techniques. Ingimundardottir hopes it will be valuable experience for future creativity, activity, service (CAS) projects they work on.
"The students in both groups benefitted immensely from the talk," she added. "Not only did it give them an invaluable glimpse into the workings of an international organization by finding out more about the list of proposed World Heritage sites in Gabon, but also about how the UNESCO works with both the government and local people."
Dr Nzamba Nzamba concluded his talk by explaining how UNESCO always tries to work in harmony with the local populations it encounters, rather than imposing its own rules in a patronizing way.
He paraphrased a famous quotation by the Indian independence leader Mahatma Gandhi: "When you do something for me but without me, you are working against me."
Ingimundardottir noticed how this idea resonated strongly with her students.
"It's their sincere hope that this message is spread far and wide," she said. "Especially in the context of development in Africa."
---
Have you heard about #generationIB? As part of our 50th anniversary celebrations, we're inviting IB students of all ages to showcase their collaborative skills and innovative ideas and solutions as they address some of humanity's greatest challenges. The short story above is just one example of the ways that IB students are addressing global issues. And lots of #generationIB teams are already posting about their project, take a look here. the you can take a look at what the teams are already posting For out how to get involved more information, visit www.ibo.org/50years/this-is-generationib