Welcoming refugee children is at the heart of the International Community School's mission, says its Principal Julie Allen
In a world torn apart by conflict, one IB World School in Decatur, Georgia, US, has dedicated itself to bringing together refugee, immigrant and local children. Founded in 2002, the International Community School (ICS) serves 400 students, in grades K-5, from over 30 countries, speaking 25 languages. Forty-nine percent are child refugees or immigrants.
New Principal Julie Allen tells us about celebrating diversity, the Primary Years Programme (PYP) and teaching English language learner (ELL) students.
How did the school come about?
The founders believed that all children, regardless of their families' backgrounds, or their financial means, should receive the kind of nurturing and challenging education that will enable them to become learners and peacemakers in a world fractured by war and separation.
In the late 1990s, four out of five refugees coming to Georgia were settling in DeKalb County, many of them in and around the city of Clarkston. At that time, schools were ill-equipped to integrate large numbers of refugee children into their academic structures. The founders had been working with refugee families and were interested in starting a school that could meet the needs of refugee children and other underserved populations. Most of all, they wanted to start a 'community', and that could only be possible by incorporating these newcomers with local families.
The vision of the school was written as: "The International Community School seeks staff and families who are committed to our vision of creating a supportive community of students, staff and parents, learning from each other and celebrating the diversity among us."
The diversity and peace-making model was inspired by Dr Martin Luther King, Jr's vision of a Beloved Community.
How does the IB's ethos of international-mindedness inform the school's mission?
Our mission states: "The International Community School is an International Baccalaureate World School that educates refugees, immigrants and local children, and provides a rigorous and holistic education in an intentionally diverse community of mutual learners."
The mission of ICS is alive in everything we do. The school explores and celebrates cultural differences in a challenging, nurturing and intentionally multi-ethnic educational environment to foster global citizenship, helping students grow as individuals without parochial biases and with critical thinking skills necessary to improve their world.
The previous principal, Chad Velde-Cabrera, described ICS as the home of "global thinkers". How is this demonstrated in the school?
Internationalism and open-mindedness are innate in our school. You see it and you feel it, and the combination of both results in being global thinkers. For example, the library serves as a quiet refuge for our Muslim students to pray each afternoon at 2pm. When classes are held during this time, the children express curiosity and open-mindedness at this daily ritual. Their recognition of, and respect for, other people's religious customs demonstrates they are globally minded.
ICS students and staff form friendships and relationships with people from all over the world. So, when they hear about current events in the mainstream media, it is very personal to them. They understand that common stereotypes are inaccurate.
What do you see as the greatest strengths of the PYP in serving your diverse student community?
In the PYP, students acquire conceptual knowledge while integrating skills and positive attitudes towards learning and taking responsible action. At its core, PYP has six transdisciplinary themes, which are visited each year in increasing complexity. These six themes are global in nature so every learner, regardless of culture and ethnic origin, can explore common human experiences at a developmentally appropriate level.
As part of its collaborative planning approach, ICS teachers assess students' background knowledge, areas of interests, learning preferences as well as accommodations and required teaching aids to meet the needs of their diverse student body.
Student learning becomes visible as they drive the inquiry through their questions. When our students initiate fundraising for hurricane victims or write letters to state senators to express their concerns about budget cuts for space programmes or the US's commitment to the Clean Air Act, you see the embodiment of the IB learner profile as well as the attitudes of a global citizen.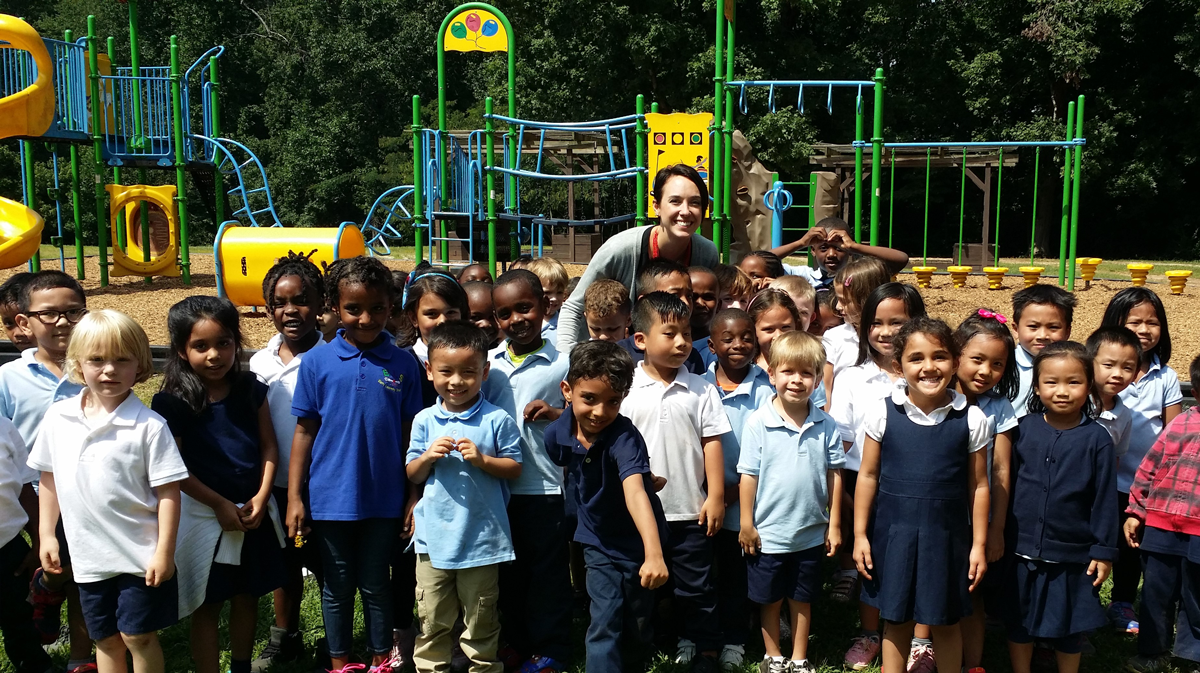 What challenges are there in having a large proportion of refugee students in the school?
One of our biggest issues is meeting the needs of a few of our students whose education was interrupted during their parents' journey to safety and ultimately the US.
Another challenge is parental involvement. Transportation, work schedules, and limited English hinder parental involvement for many of our ELL students. We try to overcome these obstacles through scheduling some school events near their homes at times when we think parents may be available. We are also trying to increase access to translated documents and interpreters.
Our students sometimes learn 'conversational' English quite fast, but it is the academic vocabulary that they need to understand and use to make progress in school.
Our group of dedicated and patient educators spend a lot of their time personalizing their methods of teaching, and we also provide small group and one-on-one opportunities. Like the students themselves, our teachers and assistants are an internationally diverse group of professionals, several from the countries where our families are from.
The teacher/student ratio is intentionally small. Students who need extra help in reading, mathematics and English language receive individual assistance through our School Within the School tutoring programme. First grade students identified by their classroom teachers participate in Reading Recovery, an early intervention literacy programme.
The children at ICS are intrinsically welcoming and help to provide an easy transition for our new and international students. When a new student can find a 'buddy' in their class, they have a model for friendship and school life; peers and classmates are empowered in this Beloved Community.
How does your school honour home and family languages?
Teachers are encouraged to visit the homes of their students to build a bond with the family to better provide support for the students, understand the challenges they face, and to provide ideas about how to structure a nurturing environment in the classroom. Doing so, they honor and respect the family traditions and language.
Our school has assistant teachers to help meet language and learning barriers. Many of these assistants speak students' home languages and often provide translation and support to parents.
Our school recently received the AdvancED accreditation, and in their report, evaluators note that, "Teachers used the word 'celebrate' to describe the learning environment for diverse students. A United Nations Day provided students with the opportunity to share their own national heritages with activities peculiar to their own country, including foods, games, displays, and native dances. Teachers described the student body as unique, saying that at ICS it was normal to be different. They added that getting to know the refugee and immigrant children was a humbling experience that 'puts everything else in perspective.' They declared that the things 'we do here really matter in their (students') future lives'."
Our school has six Statements of Understanding as part of our mission, and two of them state that:
We believe in educating the whole child—their physical, intellectual, social, emotional, cultural and creative selves. Teaching in a culturally responsive lens, we view socio-emotional development as important as promoting academic excellence.
We encourage expression through maintaining home languages, fostering fluency in Standard English and offering opportunities to learn other languages.
What are your plans for the school's future?
To continue to stay true to our mission: provide equal opportunity and a challenging and caring education to all, by bringing together families from other countries who are looking for a better opportunity for their children, and American families who believe in learning from and celebrating diversity.
We aim to consistently implement a culturally responsive education approach to support academic growth and development of the whole child and use achievable and documented performance measurements.
We want to increase the effectiveness of communication between the school and all families. We plan to organize more events that bring students and their families together to celebrate the cultures, languages and traditions from which each ICS student hails.