By Pat Villegas 
The Middle Years Programme (MYP) embraces all students in its approach to performance-based tasks like the MYP projects. The MYP projects are designed to be accessible to all learners, empowering them to demonstrate their understanding of a researched issue. To carry out a project means you must go through a process and this is where I think the power of the process journal really helps our students get even more out of their MYP projects experience.
A process journal is a vital component of any project
Process journals enable students to visually and explicitly articulate their thinking process, providing a roadmap of their creative way of addressing the challenge set in their chosen project.
The format of process journals is varied, some are sketchbooks and notebooks while others are digital, video or audio, the students can make that choice. All formats show the students' documentation process, their engagement with different skills, and their reflection. Recording each step of the process helps students reflect upon and articulate their thoughts and experience.
A process journal may benefit if having a structure such as using a template that bears in mind the assessment criteria or rubric.
Second, students can start brainstorming the topics they are interested in. The first Universal Design for Learning (UDL) strategy says this is the time to highlight patterns and relationships. For example, a student at OEIRAS International Schools shares his thinking process regarding his passion for designing machinery: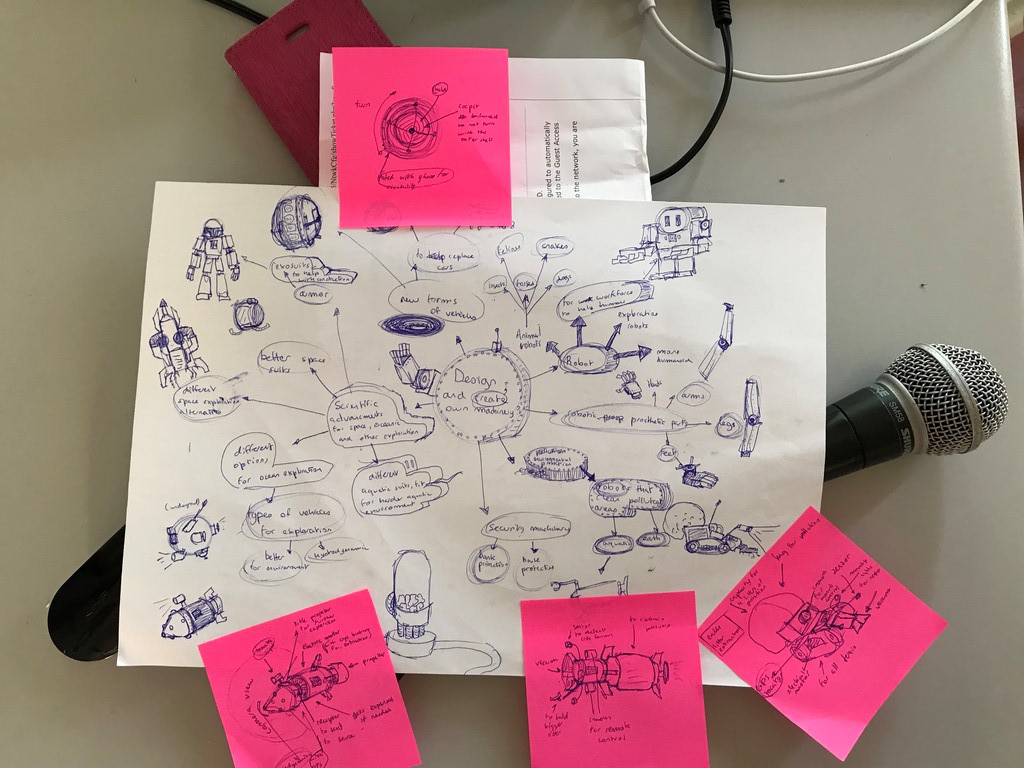 Third, once they have explored topics and made a final topic choice, they can start looking into the components that involve setting a goal.
We have seen over the years that using graphic organizers such as following SMART goals helps students be specific and think about how they will measure the results, time involved, etc.
Now it's time for the research
When addressing the research component of the personal inquiry, some schools have adopted the Big 6 process. The "Big6™" is copyright © (1987) Michael B Eisenberg and Robert E Berkowitz. For more information, visit: www.big6.com which expands on the following six areas:
Task definition
Information seeking strategies
Location and access
Use of information
Synthesis
Evaluation
So how do students capture their research?
UDL strategy number 2 suggests illustrating through multiple media. We can also illustrate information using a table such as when evaluating sources with origin, purpose value and limitation (OPVL).
| | | | |
| --- | --- | --- | --- |
| ORIGIN | PURPOSE | VALUE | LIMITATION |
| Source x | Xxxx | Xxxx | Xxx |
| Source Y | Xxx | Xxxx | Xxx |
Or with CRAAP—Is it current, relevant, authoritative, accurate and with purpose? This kind of structure helps students focus on each aspect of the evaluation of the sources of information found in the research process:
CRAAP chart:
| | | | | |
| --- | --- | --- | --- | --- |
| Source type | Currency | Authority | Accuracy | Purpose |
| | | | | |
| | | | | |
| | | | | |
Students could use video tutorials for CRAAP and OPVL online. Let's not forget that there are many virtual libraries that also offer support for the research process such as the Kentucky Virtual Library.
Next, UDL strategy 3 suggests activating or supplying background knowledge.
We usually tell students that during their research stage they could:
follow APA, MLA, etc. when making a bibliography
understand the Academic Honesty policy
include a quote or a footnote but they change according to the convention chosen so suggesting certain apps may help: Easy Bib or the new tool from Google called Explore tool.
UDL strategies enable students to have more perceptual clarity and focus. They help to demonstrate that they can all develop the attributes of the IB learner profile and many approaches to learning (ATL) skills that they develop throughout the MYP.
---
Pat Villegas is an IBEN educator and former principal examiner for the MYP personal project.
References: http://www.udlcenter.org/aboutudl/udlguidelines/principle1