Then take their efforts to sea to perform conservation work with marine biologists.
As a reward for reducing single-use plastics at their school, and raising awareness, IB Diploma Programme (DP) students at the American School of Barcelona had a unique opportunity to work alongside marine biologists in Mallorca, Spain. They learned about sea life and discussed global marine issues, such as plastic pollution and its causes.
Students created posters and chose to spearhead their message at RefugeArt – an annual event, showcasing art, centred on the theme of refugees. They worked with the organisers and school administration to eliminate single-use plastics from RefugeArt and laid the groundwork to ensure all future events would be free of them too. Students also created a turtle made out of single-use plastics, collected from the school's waste bins.
It all began when the American School of Barcelona entered Alnitak's Changemakers at Sea competition, in conjunction with Asociaciòn Ondine (Save the Med) and their Dos Manos program. The theme was 'reduce plastic pollution in our oceans', and schools had to submit their ideas.
Alnitak is a marine research and education centre dedicated to the conservation and protection of marine ecosystems.
"I am always trying to increase my students' exposure to fieldwork and local issues, and Alnitak proved to be a great fit," says Daniel Motta, IB Environmental Systems and Societies (ESS) and Biology Teacher.
Students won the competition and were invited to spend one week aboard Alnitak's Toftevaag research vessel to perform conservation work with scientists and researchers.
They learned how to spot and identify birds and cetaceans, and track whales on an audio phone. They collected data for sea life and marine debris with a focus on micro-plastics, using the manta trawl from 5Gyres – an NGO that focuses on reducing plastic pollution.
"Students learned what ecological research and conservation work can look like. The benefit of these experiences is in the 'doing' and the decision-making they get to witness. So much of a student's life is programmed and structured, but fieldwork always brings surprises and obstacles to overcome. While the technical skills they gained were pertinent to their coursework in ESS and biology, the life skills they gained were even more important," he adds.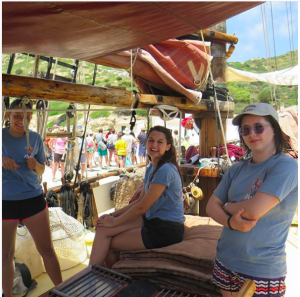 Motta says that students displayed all of the IB learner profile attributes: "I was most proud of their open-mindedness and how principled they were from start to finish – from the school project to their responsibility towards the environment."
This article is part of a series of stories from IB World magazine that bring to life the wonderful initiatives undertaken by IB students and educators from around the globe. Follow these stories on Twitter @IBorganization #IBcommunitystories. Share your great stories and experiences: email editor@ibo.org