Symposium encourages teenagers to come together and write a book
Frankfurt International School (FIS), Germany, thinks out of the box when it comes to inspiring creativity in writing and art. Each year, it gives students the opportunity to produce, and eventually publish, a book during a week-long Writing Symposium.
This year's event, organized in collaboration with publishing company Scoventa, brought together students from different cultural and socio-economic backgrounds to explore the theme of Borders/Grenzen, under the guidance of authors Ross Raisin, Katrin McClean, graphic designer Anja Fuchs and publisher Sonja Hintermeier.
Among the participants were FIS students about to enter the first year of the IB Diploma Programme (DP) and scholarship students from a local state school, Paul Hindemith Schule. They were involved in all aspects of the book publishing process, and wrote 18 stories for the book and designed illustrations and cover art.
"They explored the theme and came up with their own story and art ideas through inquiry-driven approaches to learning," says Aodhnait Donnelly, who runs the Writing Center at FIS and organized the event.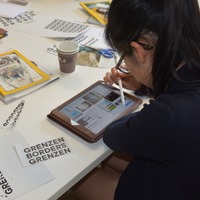 This is the first time the course has been taught in both English and German, which allowed more students to take part and complete the course in their mother tongue, rather than in their second language.
The symposium offered students the chance to develop IB learner profile attributes. They were open-minded by exploring different approaches and processes, and were caring and thoughtful when working with the team and students from Paul Hindemith Schule.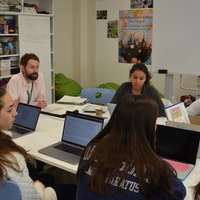 "Students developed their communication skills by learning the process of getting their ideas from the abstract to the concrete, through discussion, feedback, redrafting and refining. And they were encouraged to reflect and think critically about their work. At the end of the week, the students' final presentation to a packed audience of students, friends, teachers, parents and the local press showed that they were risk-takers," says Donnelly.
Students said that the symposium felt more interactive and collaborative than a typical student-teacher classroom and that they got to contribute more.
Borders/Grenzen: Short Stories by Global Teens will be available from Amazon in August and will be officially launched during the Frankfurt Book Fair in October.
This article is part of a series of stories from IB World magazine that bring to life the wonderful initiatives undertaken by IB students and educators from around the globe. Follow these stories on Twitter @IBorganization #IBcommunitystories. Share your great stories and experiences: email editor@ibo.org