Since becoming an IB school in 1997, Bethesda-Chevy Chase High School (or B-CC), has been named one of the best public high schools in the United States by Newsweek, and it built the very first Cyber Café and Language Lab in Montgomery County, Maryland, USA.
B-CC has always been ahead of the curve, so I was excited to interview five students in their Diploma Programme (DP) cohort: juniors Emma, Eden and Nene, and seniors Eli, and Cristina. With the school year just starting, they had a lot to say about the challenges and benefits of the DP curriculum, and how they feel about being a part of the global IB community.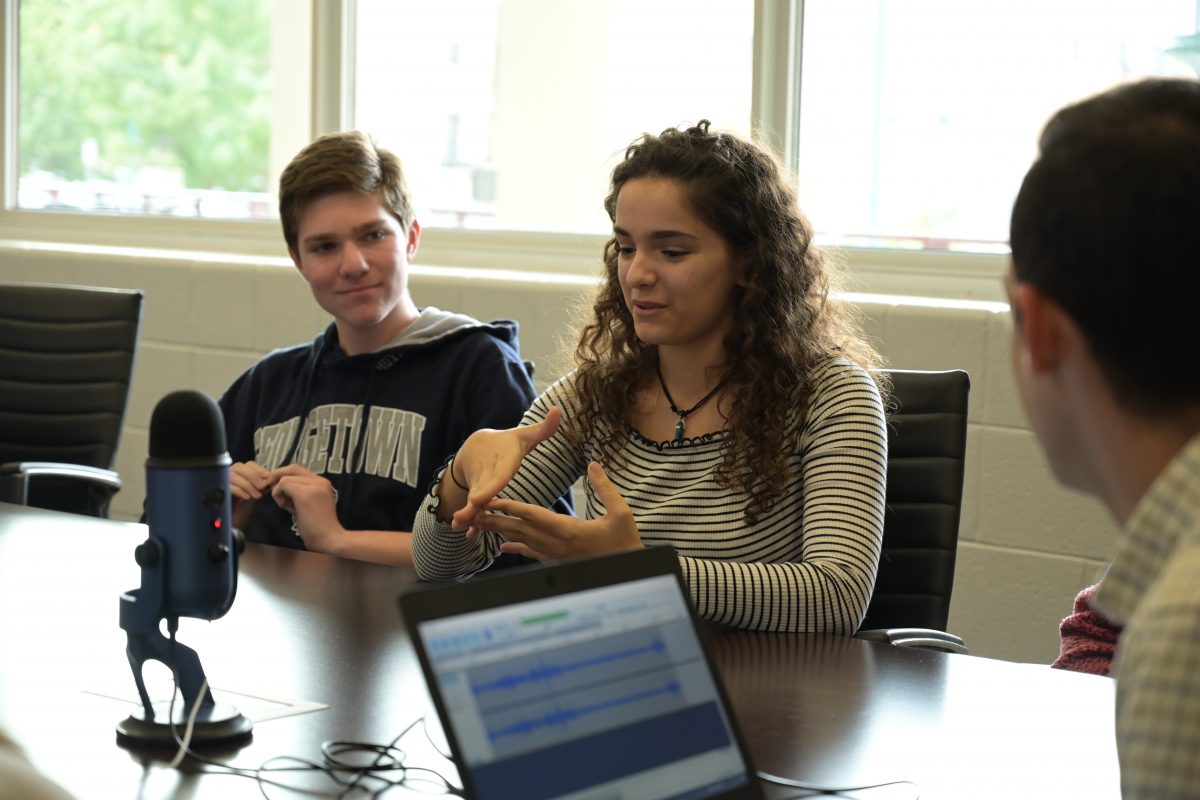 For the juniors here, the school year has just begun and you started the IB for the first time as DP students: what is that like?
Emma: So far, I haven't noticed any huge changes, but it's early. I can see a difference in terms of reading, though. We have a lot more reading than last year. As a person who does a sport and IB, I have to learn how to manage my time. So, I have an agenda book to keep organized.
Eden: I think for me, it was more of an adjustment—I see it the most in English class. I chose IB because I like to talk and analyze more than memorize, and in English that's what we do. We had 3 presentations already, and that's a big change from last year when it was mostly grammar exercises and multiple-choice quizzes. But I also do a sport, so in just one month I've learned new time management skills.
Nene: There's a lot of writing in English, like 500-word essays. But for me, starting IB, if you can manage your time, it's fine.
Listen to the full interview on the IB Voices podcast
"… I'm more engaged in class because I really like what we're learning, when before it was something I had to do. This is something I get to choose."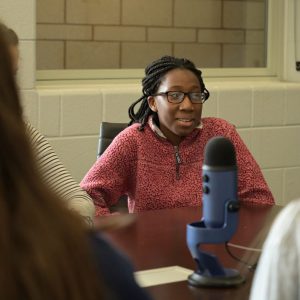 How do you manage your time?
Emma: As I mentioned before, I have an agenda book and I write everything down. Pink highlighter means quizzes and everything else is on a checklist of all the things I have to do. That really helps me because if not all of these ideas floating around in my head. So, writing things down and making sure I get everything done really helps. I also have my teacher's contact information in the agenda book, so that if I ever need to email them or if I miss a class I can always reach out.
Nene: For me, I write down all of my classes and what I need to do, from first through seventh period and make note of what's most important and what should I focus on.
Emma: I think for me also, I went into junior year and everyone around me said, "junior year is the hardest, there's so much to worry about." But I got lucky when I chose IB because I was already passionate about it, I researched it. And it's easier to manage your time when you're actually passionate about something. So, time management has been easier because I enjoy what I'm doing.
Eden: Previous years of school have been more of a checklist of classes you have to do, but in junior year we get to choose and branch off into our areas of interest. It's more interesting and I'm more engaged in class because I really like what we're learning, when before it was something I had to do. This is something I get to choose.
So, seniors, how does this resonate with you?
Eli: I think—definitely—the part about passion is true. There are certain restraints, because the IB makes sure you have an interdisciplinary education, so you're learning about many different areas. So, you may find a passion for something you didn't know you were passionate about through an IB class, but also within the different courses there is enough areas for exploration and different topics that you might find something you're more interested in.
Cristina: I agree a lot with the time management aspect. I am not in a sport but I am in a show we have at school, B-CC TV, and we have to work a lot of hours on it, so being able to learn, know yourself, know how much time an assignment will take and how much you have to get done before the next day is a very strong skill you have to learn sooner or later. And obviously, it's going to be kind of difficult in the beginning.
Eli: Also, there is a community being built. In the first year of the DP, you talk to people you normally wouldn't talk to and build a sense of community within the cohort. When you come back for senior year, it allows for a warm welcome because you have all these friends from last year coming back together, so you aren't thrown into an unknown situation.
Cristina: I agree 100%. I didn't know anyone in my classes in my junior year—and there are a lot of students—but now I know everyone.
Eden: That was the biggest selling point for me because B-CC is a school with more than 2,000 kids and it's sometimes hard to build a connection to not just the students but also the school, the teachers and to what you're learning. And with the IB's smaller class sizes, already only a month into the programme I notice a community forming.
How have you changed because of the IB?
Eli: I think one of the things would definitely be improving my writing skills. I feel you mostly hear that the IB is a lot about writing, which it is, but it's not even just in English class. There is writing in every class, even biology and math and that pushes your skills even more.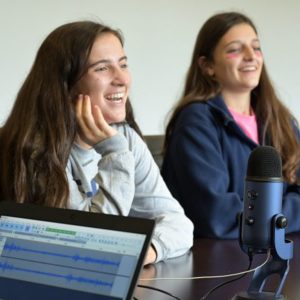 Cristina: Definitely. Adding on to that, as I said before: the time management. I'm someone who used to procrastinate a lot, but you really have to learn how to manage your time. As a result, I've become a lot more organized with my time, which has made me more responsible with my time and myself—and I gained confidence! I talk more in class. I used to be a little shy. Also, my ability to communicate my ideas and explain them, that has really improved.
How much have your teachers supported you in your IB education?
Eden: So much. SO MUCH. I think I got lucky because I have really great teachers. I had an English teacher for three years, she taught IB, and she was the one who told me how to manage my time and help me pick classes. It's so nice to have that support system because she's done it with a million other kids before and taught them how to be IB learners. So, having that support system of teachers has been so nice because they know what they are talking about.
Cristina: Definitely. They are the ones who are guiding you, especially with all the deadlines, and it's so important.
Eli: Also, I think having teachers teach the classes for two years has allowed me to form a relationship with our teachers. Like one teacher, she knows how we learn and how we grow, so she's able to cater the curriculum to how we best learn. And when we come back the second year, we have the trust and relationship in the classroom already.
Eden: The teachers are also the coaches of sports teams and sponsor the clubs, so my math teacher is also my coach and he's an after-school tutor, so I feel like I'm part of a safe, supported community. B-CC and the IB does such a great job of creating this support system.
Emma: Another cool thing about the IB is how everything is connected. For example, in my psych, biology and TOK class, we are talking about the same thing, and see how it's all connected.
Before you all head back to class, do the seniors have any advice for the juniors?
Eli: I'd say the biggest piece of advice is to build relationships with your teachers, because if you have really strong relationships, you build trust. They are here for you and the learning feels more personalized.
Cristina: Don't stress too much! Pay attention to your teachers, follow their guidelines and don't compare yourself to others around you. There are people who are good at some things, some who aren't. And don't get too overwhelmed by all the deadlines!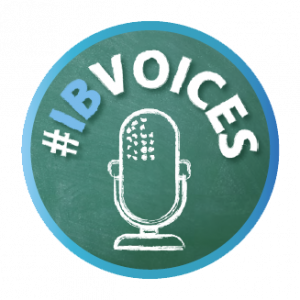 This interview was conducted by Zachary Fernebok, Product Marketing Manager for the Diploma Programme and Career-related Programme at the International Baccalaureate, and one of the hosts of IB Voices. Listen to more stories from students, schools, educators and more on the IB Voices podcast.
If you enjoyed this story, consider reading more below: