Clash of the Titans (COTT) is an annual IB film festival that allows Diploma Programme (DP) students to put their knowledge to the test by competing in a 48-hour competition against other IB film students from around the world.
We connected with IB film teacher Erick Pessôa of the American School of Paris in Paris, France, and two students at Woodrow Wilson High School in Texas, U.S.,  to hear about their experience in the 2020 COTT festival earlier this January and learn about how the programme will adapt in 2021 due to the COVID-19 (Coronavirus) pandemic.
How did Clash of the Titans (COTT) start?
"The festival pushes students' creativity and problem-solving skills to the limit".—Erick Pessôa
Erick Pessôa: At its inception, the goal of Clash of the Titans was to exchange filmmaking expertise between schools. I felt that a competition between the schools with a strong IB film programme could help us all to improve our respective courses and deliver a key moment of experiential learning for our students. Cultural exchange with other international schools is invaluable; from exchanging ideas to traveling and meeting new people, students benefit from this life-changing experience long after the competition has ended. The formalized aspect of the competition rules and the cinema screening are also important aspects of COTT. When I was studying film, I remember how exciting it was to see our short film on the big screen of a traditional cinema. It was a priceless experience, especially with an audience includes people from all over the world.
The festival pushes students' creativity and problem-solving skills to the limit. Each production team has less than 48 hours to shoot a three-minute short film. There are twists and turns to keep the students engaged. On the first day of the challenge, there is a draw to see which genre, shooting location, actors and the mysterious prop must be shown in the film. This way, students respond to the creative challenge in the moment and learn to adapt to sudden stylistic and technical changes.
Considering how cinematic Paris is, we arrange official permits for the students have five hours of external shooting in landmark locations all around the City of Lights. This experience is one that I think every filmmaker would love to have!
What was your experience traveling from the United States to France for Clash of the Titans 2020?
Gus Arenas: Up until the day we actually got on the plane, for me, it felt surreal. I never thought in my lifetime I would have the opportunity to travel to Paris, France, let alone on a school trip and with a lot of my good friends. I am so grateful for the efforts Ms. Briggs, our IB film teacher, made to let us experience a different culture, interact with new people from around the world and travel to one of the greatest cities in the world. All in all, it was an incredible trip and that week in Paris was the most fun I've ever had in a week in my life so far.
Lugardo Marroquin: Although I've been on a plane before and have travelled a lot around the continent, I've never been away from North America. I love to travel, but—given my background—do not have the money to travel by plane frequently. I was very excited to go to France and even prepped a bit by learning some helpful sentences to get by the city. I was not overwhelmed by being in a foreign city, as in exploring other new places, and even met some very kind locals. I made a lot of friends from every single competing school, some of which I still keep in touch with. The afternoon before we were given our film genres and location, we had a scavenger hunt and workshop with students from the other schools. Also, despite competing with the other schools and being highly competitive, we gave each other encouragement and motivation during our breaks and run-ins.
What skills from the IB have you utilize to create your film or during the trip?
Gus: Throughout the IB curriculum, I have felt a sense of expansion on our worldwide views by studying literature and covering topics that aren't just from the United States. IB has also emphasized the idea to collaborate and work with other students no matter what background and not be afraid to meet new people in life. Overall, this trip to Paris and being part of IB have both helped re-enforce the idea that we should all be able to accept each other's cultures and learn from each other as well.
Lugardo: Since this competition was one for film, most of our IB skills came in the form of what we learned from our film class. We had to plan storyboards, work with the audio, and work quickly and efficiently. Outside of IB film, some students relied on their IB French lessons and even the CAS principles of taking initiative, knowing one's improvements, as well as putting effort towards and growing by helping each other.
"IB has also emphasized the idea to collaborate and work with other students no matter what background and not be afraid to meet new people in life".—Gus Arenas
How has the IB philosophy been incorporated into the film course?
Erick: Here at the American School of Paris (ASP), we incorporate the IB philosophy in all of our IB classes and IB film is a great example of this commitment. As an arts course, many elements of the IB learner profile traits are at the heart of our syllabus.
In class, we explore film schools from all over the world, showing how diverse and creative filmmaking is as an art form and industry.
The student body at ASP is very diverse, so in IB film we are lucky to have students from different cultural backgrounds who bring their own unique experiences to the work. This gives a global perspective with a range sociocultural lenses to examine the films we study within different contexts.
Besides the study of film theory, in filmmaking we have a strong, "hands-on", component where students are constantly producing scenes and short films throughout the year. This is a key way to develop their collaborative skills, both artistically and technically, as it's very hard to shoot a film alone. This practical element of the course nurtures caring, risk-taking, communicative individuals. I often tell my students that even if they don't continue onto a career in filmmaking, the skills they learn in the IB will be essential to their success in any career. What better example of leadership is there than a movie director? Or the open-minded perspective that you develop when analyzing films from a different culture?
Did your IB film course prepare you to be able to compete with young filmmakers from around the world?
Gus: Ms. Briggs has taught us so much and has taken so much time to show us effective filming techniques and ways to interest the viewer and be able to dedicate a message or advocate for something we care about in our films. In this instance, for our competition film we focused more on telling a thrilling story. Ms. Briggs had prepared us prior to the competition on ways to present suspense and win over the crowd.
Lugardo: Yes, greatly. Before we went, our film class taught us fundamentals of not only working the camera (rule of thirds, stabilizing techniques, different movements, etc.), but also the fundamentals of making a great film (unique plot, smooth transitions, superb foley and music, amazing editing, etc.) all of which we honed and practiced in order to create an enjoyable and competitive film.
"Film and art are like everything else in life, you want to prove yourself and make something that will leave a mark on people".—Lugardo Marroquin
What advice do you have for IB students considering taking IB film?
Gus: IB film is hands down one of the best courses in the IB curriculum. I have learned so many new worldwide ideals, and I believe I have expanded my interest in other cultures. In a time where the world seems to be divided, getting to watch international films and meeting people from across the world was such a fulfilling experience for us students.
Lugardo: Most IB students view film as an easy, blow-off class and, thus, goof around at times. My tip would be to never see film as a blow-off class and instead view it as an art. Film and art are like everything else in life, you want to prove yourself and make something that will leave a mark on people. Avoid using cliché plots, avoid static cameras and be experimental! Learn from your mistakes and always ask for multiple opinions, especially when working with editing and composer/sound-designers, as feedback can greatly improve your ideas and results. Practice and practice! Towards the beginning, no one will make a masterpiece, therefore make your beginning film be the most scuffed film you ever make (but still make it good). Make it your rock bottom and go from there. You should know you have made great films when you look back at your first film and cringe at it.
In light of the COVID-19 (Coronavirus) pandemic, what changes do you expect in the 2021 event?
Erick: There is no question that the global pandemic disrupted everybody's life and my courses were not an exception. It hit us exactly when my IB film students were preparing to shoot their short films. This required us to make a complete shift in how to teach, especially when delivering an inherently collaborative course, remotely. To accomplish this, we focused on theory and analysis. We arranged a way to segment the production aspect of the project, where students individually produced part of the film, and collaborated remotely. I was extremely proud of how creative and open-minded my students were when responding to this new reality.
For Clash of the Titans 2021, we will have to take a new approach, considering that no one is sure what the world will be like in January. This is an opportunity for us to do a Global Edition of Clash of the Titans.
Instead of the previous arrangement where participating schools travelled to Paris and shot on location here, we will do a virtual competition. Each school will shoot their films in their own cities, while abiding by the time constraints and stylistic rules of the festival. As we are no longer limited by how many teams we can host on campus, we are able to expand the schools participating in this challenge. We now have 10 schools from all over the world: Australia, México, Buenos Aires, Hong Kong, China, the U.S., Qatar and more. This Global Edition of COTT will be a logistically-intense project for ASP, but we are thrilled by the new challenge! After all, risk-taking is one of the attributes of the IB learner profile 🙂
Clash of the Titans 2021 take place on January 21st with 10 participating schools from around the world competing. You can learn more about the 2021 Clash of the Titans festival and view the final films when they debut here.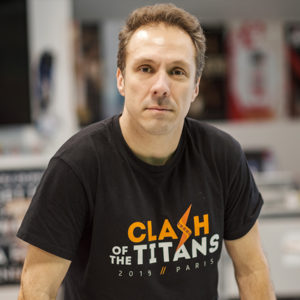 Erick Pessôa is currently the filmmaking teacher at the American School of Paris (ASP). He has been at ASP for the last six years; teaching in Shanghai and Rio de Janeiro previously. Deeply involved in the  Diploma Programme (DP) film programme, he has been an IB examiner since 2013, a workshop leader in the subject and the moderator for the DP film community board at MyIB. He likes to, "brag", about the fact during his free time, he is constantly doing research for his classes, by watching as many movies as possible.
Gus Arenas is  a graduate of Woodrow Wilson High School. He will be attending Texas Christian University next fall in Fort Worth, Texas where he plans to be a pre-business major and hopes to continue his passion for film with a minor in film studies as a special hobby. His future plans involve the business aspect of filmmaking and maintaining his interest in cinematic entertainment.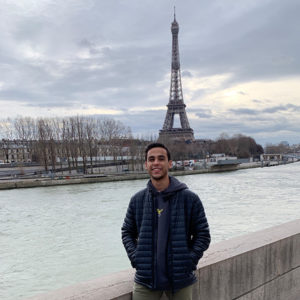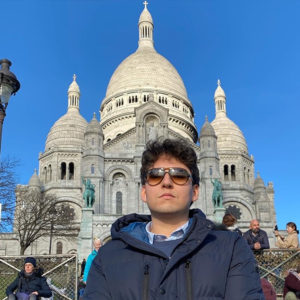 Lugardo Marroquin hopes to double major in either anthropology or international relations and music with a minor in film. Though Lugardo is most interested in pursuing a career in the music and film industry, he is also interested in pursuing a career as a diplomat or anthropologist as well.

If you enjoyed this story, consider reading more below: