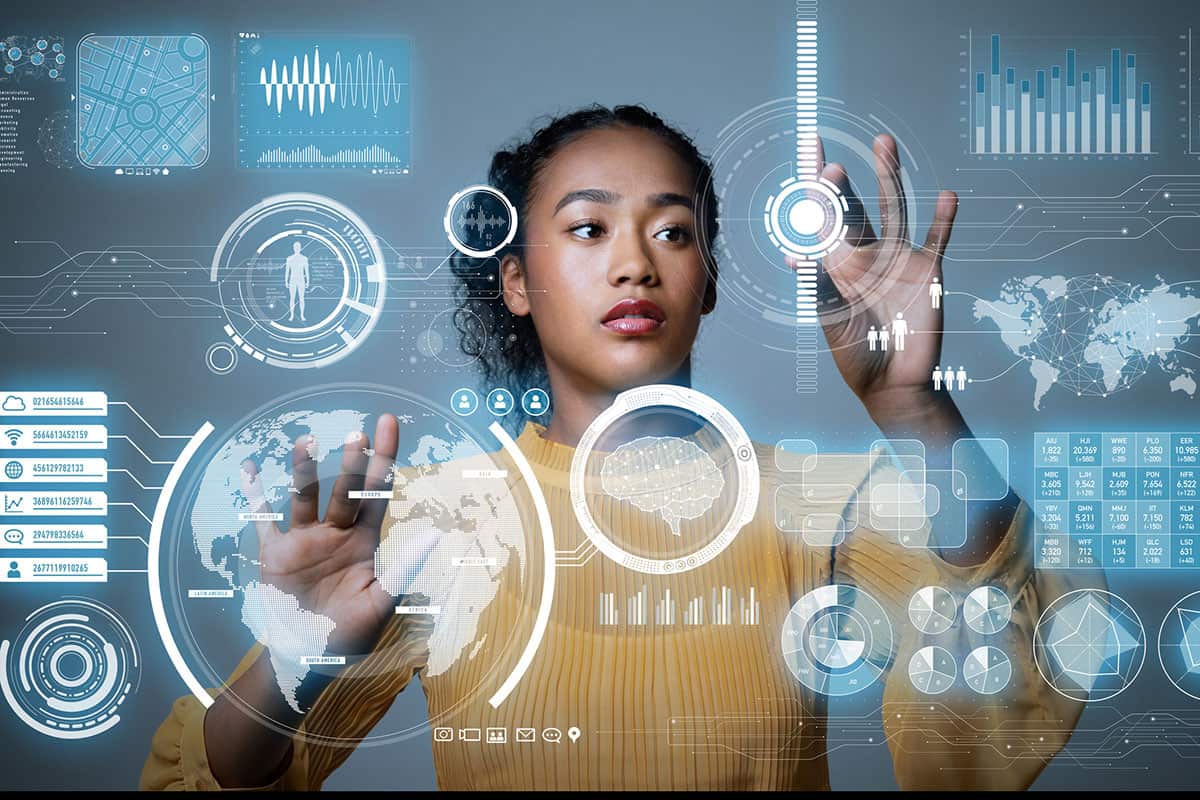 Climate change, dwindling natural resources and the effects of evolving technologies on society are just a few of a new class of complex and interrelated problems facing humanity. Learners, in this generation and the next, must prepare for their future; a future that is widely acknowledged to require solutions to these problems.
For solutions to be developed, multiple disciplines are required, which school and learning approaches need to reflect. Interdisciplinary learning (ID) is more representative of an authentic approach to problem solving that students will increasingly need, not only in an evolving job market, but to move humanity forward in addressing these issues.
This, as well as the pedagogical value placed on ID, are certainly key motives for its focus within the Middle Years Programme (MYP). Itself a conduit for elements of constructivist pedagogy, interdisciplinary learning experiences naturally build students' ability to transfer understanding. As the MYP guide puts it, "Interdisciplinary learning is oriented towards bringing together concepts, methods or modes of communication from two or more established areas of expertise to develop new perspectives. It connects disciplines to develop new understanding, create products or address real-world issues in ways that would have been unlikely through a single approach".
Interdisciplinary learning in the MYP
Planning and implementing purposeful interdisciplinary learning can be a tough needle to thread. In middle/high school contexts, where day-to-day learning takes place within disciplines and where teachers' training is often specialised to a single discipline, this is especially true.
"ID creates an environment and, ideally, a culture where other constructivist pedagogies can thrive".
In order to support teachers to implement ID effectively, it was built into the MYP as an adaptable, yet fully formed structure: the interdisciplinary unit (IDU). This feature provides a template to plan and assess purposeful interdisciplinary learning experiences. It includes a framework for planning disciplinary engagements that converge to address a broader issue, as well as criteria to assess the interdisciplinary process (closely aligned with the MYP Inquiry cycle).
This framework for the implementation of IDUs is the focus of the recently-revised Interdisciplinary learning in the MYP guide (applicable from September 2021). Requiring teacher collaboration in their development, all students must participate in at least one IDU per year. Students seeking the MYP certificate in year five take an onscreen ID examination based on their exploration of IB-provided pre-release material.
It is easy, therefore, to consider interdisciplinary learning only as the MYP's IDU. Certainly, the IDU exists as a template for teachers to develop their implementation of ID, but why stop there? Within subjects and projects, MYP students are already inquiring; they are already establishing relevance to their world using the Global contexts; and they are already exploring topics at a conceptual level. In short, they are equipping themselves for knowledge transfer—just as interdisciplinary learning intends to.
So why can't we take the opportunity to integrate disciplines in ways beyond the IDU? Answer—we can!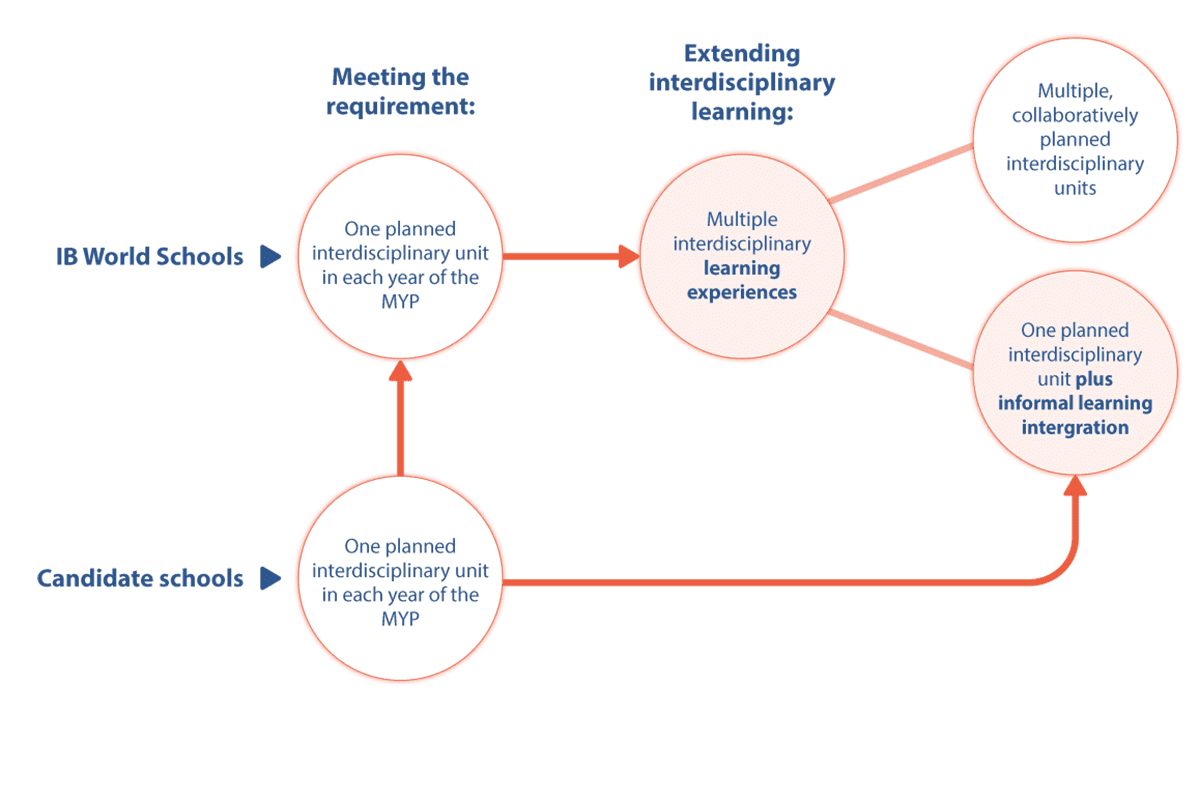 Beyond the interdisciplinary unit (IDU)
Ecctis (an independent research organization) recently completed a study auditing interdisciplinarity in IB programmes. In order to know what to look for, the study completed a literature review that identified 18 'elements of promising practice.' (page 209 of the report). Many of these practices could be used by schools to help them create an environment where interdisciplinary learning can thrive, supporting their teachers to implement it effectively (perhaps, in ways beyond the IDU). A few are explored below:
Teachers naturally gravitate towards their own areas of expertise (the value of which they are already persuaded of). It is unrealistic to expect teachers (and students/parents) to be equally engaged in ID and the work to develop IDUs if they are not aware (or convinced) of the benefits. School leaders are essential in communicating ID's value to their community so that everyone involved is committed to seeking its success.
ID creates an environment and, ideally, a culture where other constructivist pedagogies can thrive. Exploring these in the context of IDUs can help pave the way for their application in students day-to-day subject learning experiences where they may not be being utilized and, potentially, making the most of interdisciplinary opportunities within subjects to consider the complex problems (such as climate change) that can often be linked to.
This is a significant motivation behind the established template of the IDU. Once teachers feel confident, however, they could develop additional ways to implement ID (perhaps repurposing some elements of the IDU, such as the assessment criteria). If these methods are to be shared across the school, appropriate scaffolding should be created to support other teachers in a coordinated way.
It's clear why ID often benefits from the collaboration of teachers with nuanced understandings that come with different specialisms (and significant motivation behind the teacher collaboration requirement attached to IDUs). The collaborative relationships between teachers that the MYP can bring to schools are well-documented. The Claremont Evaluation Center study identifies it as a 'Key facilitator of implementation', noting that whilst sometimes challenging in itself, teacher collaboration is a common feature of schools implementing not just ID, but the whole programme effectively.
In short, the IDU is intended to act as an adaptable structure for schools and teachers just getting acquainted with ID, providing a framework for them to succeed. But it is not the only way that purposeful interdisciplinary learning can be implemented. Schools and their teachers should feel empowered to take it further when they are ready, embedding it in their curriculum in additional ways that suit their students. The IB is looking to support such endeavors more in the future.
If you enjoyed this story, consider reading more below: