The question of how to support students through their education while developing well-rounded young people with the skills needed to thrive and make a difference is a challenge being faced by educators around the globe.
The IB is already working to address this challenge with the publication of a foundational framework on wellbeing in childhood and adolescence and the creation of a suite of videos to support educators and school leaders in implementing well-being strategies and action plans within their schools. With strategies and action plans in place, schools can focus on nurturing their students' diverse talents and strengths, while supporting them to build their resilience to help them cope with stress and overcome adversity. Well-being is also a key theme for the review of the IB's 16-19 programmes and has been directly informed by the perspectives of diverse alumni.
When we learned that an IB graduate had written directly to the Director General of the IB about the topic of well-being and mental health in education we wanted to learn more about what drove her to speak up about these issues.
Yasmeen Awad graduated from International School of Geneva in 2021. Following her graduation, she undertook a study to find out if students around the world had found it a challenge to balance their well-being and mental health with their studies and to discover what changes students wanted to see to help with this growing concern.
Yasmeen received survey responses from 188 students across 17 countries around the world. Some alumni who responded graduated in the late 1990s, but 75% of responses were from IB alumni who had graduated between 2016-2021.
Yasmeen's findings compelled her to reach out to Director General of the IB, Olli-Pekka Heinonen, who was very interested in discussing her findings. After meeting with her, the Director General invited her to speak to the leadership team currently working on reviewing the IB's programmes for students aged 16-19.
Can you tell us about your own IB experience?
"I graduated in 2021 and as you can imagine COVID-19 really impacted my studies, especially towards the end of year 12. Online school just wasn't the same, and despite being a strong student and independent learner, it was difficult to cover the syllabus and deadlines had to be postponed. I struggled and noticed that most of my peers also struggled. Adding this to the difficulty and uncertainties of living through a pandemic, not knowing whether exams were going to happen and not being able to continue important extracurricular activities like sports, on top of the standard stress of studying, was a lot for students to manage."
What compelled you to do this research?
"I struggled with my own mental health issues years before starting the IB, but it reached its lowest point during the pandemic whilst studying for my IB Diploma and I felt stressed, exhausted, and overwhelmed. I prioritised work at the expense of my own mental health and well-being. Experiencing this myself, and noticing my peers face similar struggles, I really wanted to share these student experiences with the IB and work to find solutions so that a better balance between schoolwork and well-being could be achieved. My hope for future students is that schools and the IB work to promote and achieve this balance during such a demanding but undoubtedly valuable programme.
Following my graduation, I spoke with a teacher who had really supported me throughout my studies who encouraged me to create the survey. We had both noticed that mental health issues seemed to be at an all-time high for young people, and that the pandemic made things worse."
Tell us about your findings
"I shared the survey via my social media and asked my friends who have gone to schools in other countries to also share. We also shared with our school's alumni network and my teacher's shared it with their networks. Whilst the majority of respondents were from Switzerland, I still managed to get answers from 188 students in 17 different countries.
When trying to see if there was a difference in well-being and stress amongst students who are well organised and have good time management compared to those who are not, I found that regardless of these factors over 65% of students from both categories felt stressed and overwhelmed by workload during their studies.
I think one of the most concerning findings of my study was that about 85% of respondents felt anxious and stressed and 70% experienced sleep deprivation – both stress and lack of sleep have can be damaging to both our physical and mental health as well as academic performance. 52% of students also reported experiencing a lack of physical activity and stress-relieving social, extracurricular activities during their studies."
How was your research received by the IB?
"I was pleasantly surprised by each of my meetings with IB staff. I presented my findings to the Director General, who was very concerned by these growing mental health issues among students and keen to find solutions, and he also referenced my research in a recent thought leadership article. I also presented to the DP Review Steering group who mentioned it was a real eye-opener and important to hear directly from students and highlighted the urgency of changes the IB needs to make. People I have spoken to are motivated to know that the IB is listening, while still understanding that there are limitations about what can be changed within the programmes. This is a great first step in acknowledging the stress students face today, and it is encouraging to know that the IB is now considering well-being in its development of education programmes."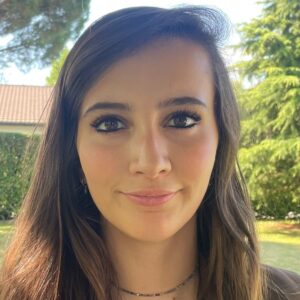 Yasmeen Awad graduated from International School of Geneva in 2021 and is now studying Sociology and Sustainability at the University of Exeter in the UK. Yasmeen always wanted to go into humanitarian/social justice work and this summer was able to secure an internship with the International Committee of the Red Cross in Geneva. She also hopes to explore her interests in sustainable development and climate justice more in future opportunities. She is of Palestinian and Lebanese descent but has grown up in Geneva.