In January 2022, a full-scale Russian invasion into Ukraine was a very real threat. Pechersk School International in Kyiv had just celebrated 21 years of delivering IB programmes and was serving 550 students.
We spoke with Rachel Caldwell, School Director, to understand the impact the war has had on their school community, the unwavering support they have received from fellow IB World Schools and learn more about their campaign #PSI4Good – the ultimate goal being to return to Kyiv and support the restructuring of Ukraine.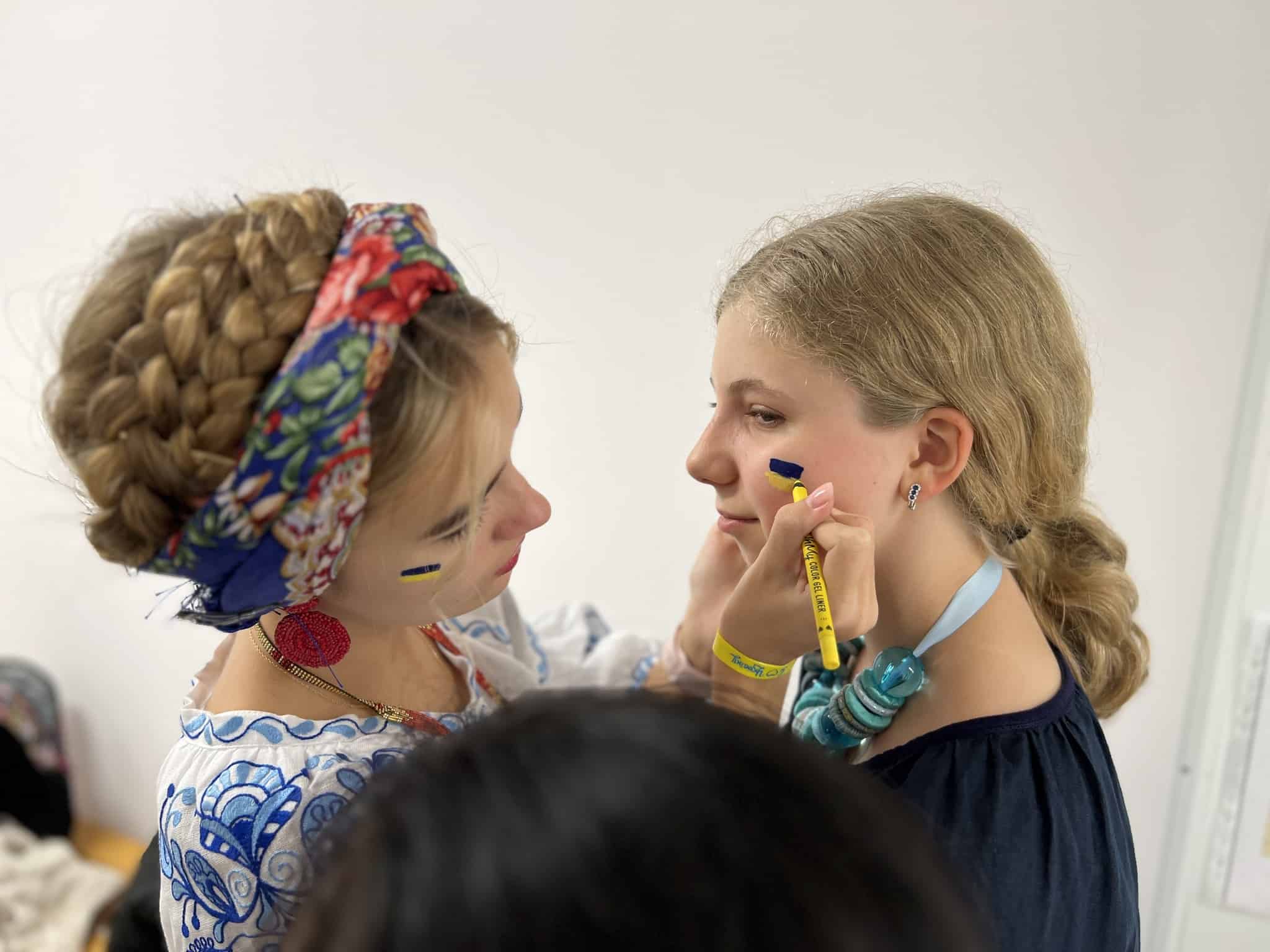 What impact did Russia's invasion of Ukraine have on your school community?
On 17 January, the PSI Board of Governors met to discuss the steps and procedures in place at PSI to address the conflict escalation and the increased incidences of bomb threats.
On January 28, we made the decision to close our campus temporarily to allow those families and colleagues who wished to depart the country, in line with the advice from a number of embassies, the opportunity to do so. Five days later more than 200 students returned to campus. Overseas colleagues who chose to remain worked alongside Ukrainian colleagues to continue to provide a well-balanced schedule for all students – on campus and online.
On February 24, the school was forced to close its campus entirely as a result of the full-scale invasion. Our students, staff and faculty members were dispersed around the world. Many colleagues were displaced. Colleagues who remained in Ukraine were released from the responsibility to teach – most of them continued.
After months of pandemic disruption many families, already impacted by the war, were also distressed by the notion of remote school. Their children were, in many cases, in need of in-person peer interaction. Paul Buckley, the school director at the American School of Zagreb, also an IB World School, started the ball rolling by offering tuition free places for the remaining part of the 2021-22 school year to Central and Eastern European Schools Association (CEESA) school students impacted by this invasion. Ultimately, 70 schools around the world hosted 130 of our students free of charge and offered accommodation and assistance to a number of our staff members.
How has the school leadership ensured that learning and teaching has continued?
We made a plan for online learning to restart on February 28 with a strong focus on social and emotional well-being and providing plenty of space just to talk. Before this, all colleagues were invited to an online support session facilitated by Ellen Mahoney and her group Sea Change Mentoring; it was highly needed. We contacted schools in our region for support and allocated volunteer counsellors to every online class. This helped us all to feel stronger.
"Our focus on our purpose, student learning and well-being has helped us to stay strong and determined."
PSI's Board of Governors was well prepared, and proactive. They were available to the leadership team whenever needed and together we communicated a united and determined front.
"Nothing would get in the way of our students' education. It was a tense and stressful period. From March to June, we worked hard to ensure continuity of learning online. Once it became clear that the war would not end anytime soon, we began scenario planning for the 2022-23 school year. As we began the new school year in 2022, our flourishing enrolment had dropped by more than 80%."
This was a matter of survival for PSI, a not-for-profit school with no income beyond tuition fees and a small grant from the Office of Overseas Schools. Fortunately, Tim Carr, a senior advisor for the forward-thinking and prestigious Avenues: The World School reached out to PSI. He had been present during a virtual conversation about our situation, hosted by Laura Light, Executive Director of the Association for the Advancement of International Education (AAIE). Over the ensuing months, and with Tim's kind and generous guidance, we established humanitarian scholarships for PSI students to enrol in a joint PSI/Avenues Online (AON) remote learning programme. AON accepts no payment, allowing PSI to offer much reduced fees; assisting our families and helping the school to absorb the shock of losing over 80% of its student body.
Another huge supporter of PSI, Jon Zurfluh, director of the American School of Warsaw (ASW), was open to exploring a 'PSI in Warsaw' option. Warsaw was the most popular possible alternative location for our families. After visits to other possible sites, it was clear that the ASW campus was an ideal, 'home away from home'. Our Board wrote to Jon's Board, a memorandum of understanding was drawn up and we were off…and in this way we are able to offer continuity of learning to all enrolled PSI students. Scenario planning for the 23-24 school Year is now well underway.
Can you describe the resilience of students, staff, parents, and the wider PSI school community during that time?
Our community showed extraordinary resilience. Staying connected was essential and we used all means to do so. Our teachers rose to the occasion and interacted gracefully and expertly with our students, exuding care, calm and hope. After the initial invasion we facilitated, with help from friends and support groups, the evacuation of numerous colleagues and members of the community near to our school campus. Colleagues continued with their teaching responsibilities wherever they were in the world and whatever time zone they were in. Individuals and organisations came together in extraordinary and unprecedented ways to ensure that the school could continue to offer an outstanding education to all of its students, wherever they were based.
Whilst working towards continuity of learning and support, the school also ran a number of awareness raising campaigns. One such campaign was the  'Art for Peace in Ukraine' – a student-driven initiative which received a great deal of interest and ultimately attracted not only students but also educators from across the globe to create their own art pieces reflecting what peace means to them. We have gathered more than 1700 entries from more than 1000 locations worldwide.
How has the IB supported with this continuation?
The readiness to interact with us, talk through issues, and to adapt, wherever possible, in order to support our students has been of critical importance and help.
Our IB World School Manager, Pascal Ashkar, has acted as a liaison between PSI and other schools who have come forward with generous offers of support. The impact of the war on our graduating class of 2022 was significant. We were grateful to the IB for understanding and offering support by placing our students on the non-exam route. Ultimately, they enjoyed significant success. The extended timelines for MYP students also made a positive difference.
What's the PSI4Good Campaign About?
This campaign is about PSI going home to Kyiv and in turn, supporting the restructuring of Ukraine. Families will need an international school like PSI – a strong community with an exceptional learning programme. We want to be there to serve that community and to help with this fundamentally important effort, not only for Ukraine but for the rest of the world.
The campaign began when I approached David Willows, Founder of Yellow Car, in the summer of 2022. With the help of David, his professional partner Suzette Parlevliet and Miles Latham and the team at Affixxius Films, we have created a short documentary that tells the story of PSI and, thanks to ToucanTech, we have built a simple landing page where it is possible to make a gift in support of Pechersk School Internatioal. No one involved in this project is receiving financial gain for their work.
The goal of the campaign is to raise 2.5 million USD. These funds will be directed towards:
Providing support for student and community member well-being, including additional staffing and expertise in counselling and other support services.
The ongoing upkeep of a temporary facility on the campus of the American School of Warsaw, as well as the running and maintenance of the school facility in Kyiv. The construction of a bomb shelter back in Kyiv is also a necessity.
Finding new ways to promote the school and attract future students.
Rachel Caldwell began her teaching journey in inner-city London over 30 years ago. Since then, she has enjoyed teaching and leadership roles in the Dominican Republic, Turkey, Italy, China, South Africa and now in Kyiv, Ukraine – temporarily located in Warsaw. She has a BA Combined Honours in English Literature and Drama, a Post Graduate Certificate of Education, and a Master's in International Leadership and Change. She was also awarded an IB certification in leadership practice and has served as an IBEN since 2005 serving as an active workshop leader, school visitor and field representative for the IB and currently serves as one of the IBAEM representatives on the IB Heads Council. Her passions for teaching and learning are multiple, including inquiry-based learning, multilingualism, inclusion and governance. As a wife and mother, Rachel loves to travel, read, dance, walk, eat her husband's wonderful food (he's an Italian chef) and enjoys the company of family and friends.