International Baccalaureate (IB) students around the globe make a huge difference to their communities by taking action when they apply what they are learning in the classroom and beyond. The nature of the IB programmes encourages young people to be aware of both local and global issues, and also to be problem-solvers who try to tackle these issues in innovative ways.
Sahib Kaur, an 18-year-old Diploma Programme student at Imagine International Academy of North Texas, is one of those young people who noticed an issue with digital literacy in her local community and sprang to action. She set up a non-profit, SARBAT (Sustaining and Replenishing Better Access to Technology), offering free digital classes to refugees, successfully applied for grant funding through the MYP Innovators Award and expanded her non-profit by recruiting her classmates as volunteers.
In November 2022, Sahib's hard work was recognized when she was awarded the President's Volunteer Service Award from the White House and was named one of Dallas Fort Worth's 20 under 20 by the World Affairs Council. We spoke with Sahib about her successes and her plans for the future.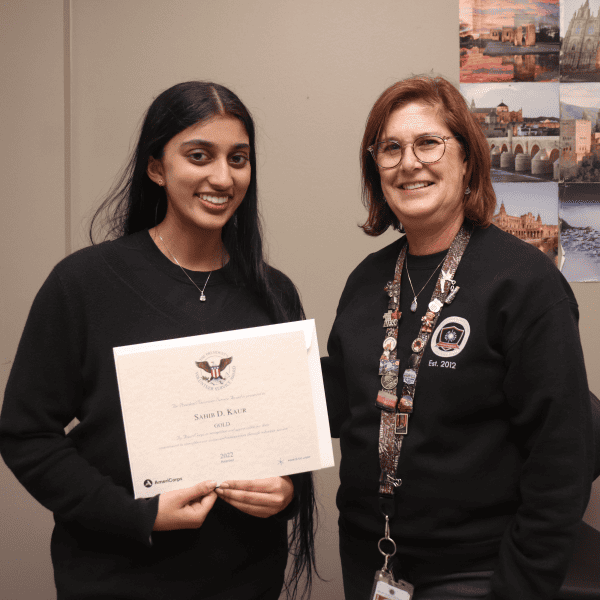 Can you tell us about your non-profit and volunteering?
"I noticed an issue within my community: the digital divide. As a child of immigrants, I witnessed the plight of struggling immigrants, who came to America seeking a better life but were not well-versed in computers. This negatively impacted their education and career potential.
Recognizing this, I started SARBAT (Sustaining and Replenishing Better Access to Technology), as a non-profit which offers free digital literacy classes. I applied for funding through the Dr Siva Kumari MYP student innovators' grant and I was able to champion digital literacy efforts in my community.
To begin teaching classes, I reached out to refugees in my community. There had been many Afghan refugees arriving in my local community due to the fall of the Afghan government in 2021, and they were enthusiastic about the opportunity to learn digital skills. To expand the SARBAT team of volunteers, I started a chapter of SARBAT at my school where I encouraged my classmates to organize donation drives, visit refugee families, and design curricula for classes. My peers and I taught classes to refugees to help acclimate them to American employment and academic environments. My friend Keemya became a Persian translator with Afghan refugee families. The most memorable experience we had was teaching two Afghan schoolgirls. Their father, an ex-fighter for the Northern Alliance, was enthusiastic about this opportunity for them. The girls were not able to keep up with their coursework at an American high school because they could not navigate online assignments. Keemya and I taught them how to open a google account, use google docs, upload files, and even some basic English phrases.
For this work, I was honoured to receive the President's Volunteer Service Award from the White House and was named one of Dallas Fort Worth's 20 under 20 by the World Affairs Council.
What other opportunities have you been given during your studies?
The IB really encourages students to apply the knowledge they learn in the classroom to engage with their community. I've had a plethora of opportunities which encouraged me to actively engage with the issues I've seen in the world to enact change. It showed me that I have the power to make change. The IB also encourages project-based, hands-on work which taught me the leadership skills I use to conduct service initiatives.
Most importantly, I've been taught the importance of being a global citizen. Through engaging in coursework and classroom discussions, I am knowledgeable about the issues plaguing our world today. For the MYP 10th Grade Personal Project, I took the opportunity to interact with a pertinent global issue. In response to the 2020 terrorist attack on a Gurdwara (Sikh Place of Worship) in Kabul, Afghanistan, I interviewed Afghan Sikhs and Hindus from Afghanistan, the UK, and India in a pursuit of change. I went to places of worship and radio stations to bring awareness to Afghan minorities. As a result, 200 individuals sent letters to senators and representatives advocating for the refugee status of Afghan Sikhs and Hindus.
United Sikhs, an UN-affiliated non-profit, invited me to present my research at a webinar with Punjabi University. Through the webinar's global outreach, I was invited to work with Porsesh Research and Studies Organization (PRSO), an Afghan-based organization, to advise future publications.
What advice do you have for young people and parents considering IB programmes? 
I would highly advise students and parents to consider the IB. As someone who has completed the Primary Years Programme, Middle Years Programme, and currently studying in the Diploma Programme, the IB has positively impacted the way I learn and engage with my surroundings. My favourite aspect is that my teachers inculcate global events to demonstrate the relevance of the curriculum. One of my favourite classes is Theory of Knowledge, otherwise known as TOK. This class answers the essential question: "How do we know what we know?" I enjoy engaging in meaningful discussions where I can share my perspectives and learn from those of my peers.
The IB has made me a leader, analytical thinker, and a global citizen.
What would you like to do in the future?
I am interested in continuing my passion for pursuing equity for the underprivileged through a career in medicine and politics. As our world gradually recovers from a global pandemic, the connection between policy and practice has never been more apparent. I aspire to be a Physician and a Legislator, and one day the Surgeon General of the United States. I aspire to continue my ardency for community service by carrying on service initiatives such as SARBAT.