Providing students with the necessary tools and resources to expand their academic horizons and to learn about themselves is at the core of the IB. Students must feel confident in who they are and in harnessing their skills to achieve success.
The IB Learner Profile serves as a guide for students as they confidently grow and become responsible members of society. However, for many people, developing self-confidence can be difficult. According to IB DP alumna, Sammie Walker Herrera, it's worth the effort.
Sammie is a confidence and public speaking coach. We asked her to share some of her knowledge on confidence as well as her IB experiences and key takeaways. She starts us off by sharing some of her tips to gain more confidence especially in public speaking.
What advice do you have on gaining confidence?
"One of the things I've discovered is that self-confidence and self-trust are different. Self-confidence is projecting that sense of 'I've got this.' Self-trust is this internal sense of 'I got me. No matter what happens, I'm going to be okay. I'm going to be able to handle it.' The more you trust yourself, the more confident you'll be with making decisions and taking charge of your life. Getting that practice of trusting oneself is so important.
There is one exercise I encourage everyone to do which helps build confidence and skills in impromptu/public speaking. Every day, you can record yourself on your computer or phone and practice answering three to five random questions. These can range from, 'So tell me about a goal you achieved this past year' to 'What's the coolest cloud you've seen?'. I suggest doing this practice daily which builds self-trust and discipline in the sense of, 'I've committed to doing this for a month.'"
Tell us about your IB experience.
"I loved high school and my IB experience. I could imbue my own personal experience and my own values into the things I was doing. For example, you could make your personal projects truly personal and solve or address an issue that's relevant to your life.
I ended up taking charge of the IB Friends of the Animals Club. It was a volunteer-based organization or club. Every week we went to the Palm Valley Animal Society and did volunteer work. I just thought, 'I care about this, I can do this.' There were many times where I felt I could just do or try something. I think about a lot of the experiential learning or project-based learning. It was just so normal that I took it for granted and didn't realize that other students may not have had these experiences."
How did you get into the field of coaching?
"I started working at Carnegie Mellon's Career and Professional Development Center as a student career coach when I was 18. I gave presentations, did resume reviews, and connected with graduate students. It was just an amazing experience that really prepped me for coaching. I did my master's at Slippery Rock University in Student Affairs in Higher Education which did have a counseling undercurrent to it. I didn't have a formal minor, but we took many classes. Even though I didn't work in career coaching at that time, I was still building up a lot of the skills that it would take to be a coach and to build empathy."
How did the DP play a role in shaping your confidence and how did this make you a better coach/public speaker?
"You know how there's the 10 attributes of the IB Learner Profile? I got awarded 'IB Thinker'. I honestly didn't expect it. It felt nice knowing that my teachers really saw a lot in me that perhaps I didn't see at the time. That's honestly what coaching is – seeing so much more in someone than they see in themselves because you have the expertise to know the full range of the subskills involved.
The DP was taught in such a small, intimate space where everyone knew each other. It's like a start-up. You engage with a small group of folks and in developing those tighter relationships, you gain relationship management skills as well. I didn't realize it at the time, but I was developing into a leader. I was being trusted by other people and building my ability to be more of myself, especially as an extrovert.
I think the IB experience at times gives you so much space to think about yourself and to think about your values. You're given space to say, 'Is this in my integrity or is this not in my integrity?' Throughout my DP experience, one of the most important things I came to know about myself is that I truly am an extrovert. Being an extrovert doesn't make me more confident. What makes me more confident is understanding who I authentically am – and that's also what makes you a better speaker. For me, with public speaking, authenticity is one of the biggest things to focus on."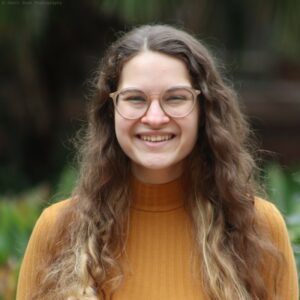 Sammie Walker Herrera (she/her) is a Mexican-American confidence and public speaking coach from Texas. She graduated from McAllen High School in 2012. She went on to study a Bachelor of Arts in Psychology and a Bachelor of Arts in Hispanic Studies at Carnegie Mellon University in Pittsburgh, Pennsylvania. Later she pursued her master's degree in Student Affairs in Higher Education at Slippery Rock University in Slippery Rock, Pennsylvania. Some of her passions include coaching, public speaking, improv comedy, and Latin dancing. Today, her clients include tech leaders from Amazon, Oracle, Google, Microsoft and more to build their public and impromptu speaking skills.