In this Q&A session, we asked Gioia Riboni Verri, an IB DP alumna, to reflect on her IB journey of becoming an inquirer – an attribute that the IB Learner Profile encourages students to develop.
Gioia delves into how her passion for STEM, driven by her desire to help others following her grandmother's diagnosis with Alzheimer's, led her to pursue a career in the field. She also discusses how she used her passion for volleyball in unexpected ways during one of her internal assessments.  Unique insights and experiences are shared from her time in the DP and how it has impacted her life today.
Can you tell us a bit about yourself?
"I was born and raised in Milan, Italy but left Italy to pursue my higher education in the UK. I obtained a Bachelor of Science in Biomedical Sciences (with honours in Physiology) at the University of Aberdeen and then moved to England to complete a master's in Translational Biomedical Research at the University of Cambridge. Following my masters, I worked at AstraZeneca in global clinical trials regulation in the department of Oncology. I am currently a PhD student at the University of Cambridge, conducting research on multiple sclerosis (MS) in the department of Clinical Neuroscience. Our group is working to test novel therapies that potentially slow, stop, or reverse progression of MS – which means I work with people living with MS daily."
What inspired you to pursue a career in STEM?
"It was a combination of things occurring both on a personal and scholastic level. While I was in high school, I was thoroughly enjoying my biology classes and, for my extended essay, decided to conduct laboratory-based research in biology. Here, I got a first sense of what scientific research was all about. At the same time, my grandmother was suffering from Alzheimer's disease. It was perhaps this first exposure to the lab combined with the desire to help someone like my grandmother that encouraged me to pursue a career in STEM research and work towards making a difference in people's lives."
Can you tell us about your IB experience?
"It was a challenging but truly fulfilling experience. I remember working incredibly hard and feeling like I could have done more. This is what is unique about the IB – it gives you so many opportunities that it feels impossible to grasp them all. Overall, I am satisfied with the opportunities I took from the IB. I tried to always make the most of my Theory of Knowledge classes which were so intriguing, I worked hard to complete my creativity, activity, and service (CAS) hours, and tried to tailor each internal assessment to my own personal tastes."
How did you shape your IB studies to cater to your interests?
"I chose to direct my higher-level subjects to be STEM based which were biology and chemistry. My extended essay was in biology and it allowed me to conduct research in a laboratory-based environment. A truly unique opportunity the IB offers is to shape your own journey outside of scholastic subjects as well. For my CAS hours and project, I decided to take on more of my passions such as sports and tutoring."
How do you think being encouraged to be an inquirer has influenced your career?
"As a doctoral student, I am encouraged to constantly question and challenge what is in front of me and to look for something new and exciting! Had I not been encouraged by the IB to develop inquiring attributes; I would not have pursued a career in research and would not be where I am today. I can confidently say that it is thanks to the IB's ability to encourage and develop attributes such as curiosity, that I have been able to be prepared enough to challenge myself up until this point of my career.
During my undergraduate in Scotland, I obtained prestigious summer scholarships from Medical Research Scotland and from the Amgen Foundation to conduct research during the summer months. I put myself out there when I applied for these scholarships and I challenged myself. This is a drive that I often attribute to my IB years."
Can you think back to any examples from your IB education where you demonstrated the inquirer attribute?
"The first thing that comes to mind is my mathematics internal assessment (IA). I remember feeling tense and worried about it. My physics/mathematics teacher at the time, Mr. Bonifacio, advised me to take a more personal approach to the assessment. Being very passionate about volleyball – a sport I played throughout high school and still today – I wondered whether I could combine the two. For my IA, I ended up analyzing the parabola of a volleyball serve trajectory and working to maximize such trajectory. The unique ability to take an assessment such as this, mold it to fit my interests and curiosities, and deliver is an example of how I have demonstrated an inquiring mind during my IB journey."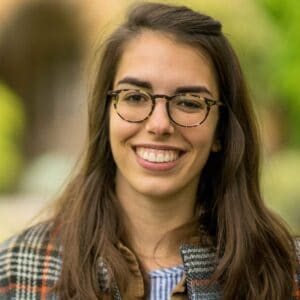 Gioia is from Italy and completed her IB DP at the American School of Milan in 2014 before obtaining her Bachelor of Science in Biomedical Sciences from the University of Aberdeen and a master's in Translational Biomedical Research from the University of Cambridge. Currently she is pursuing her PhD in Clinical Neuroscience at the University of Cambridge. Gioia is enthusiastic about the sciences and helping others. Her interests also include playing sports, reading, and knitting.