International Baccalaureate (IB) programmes are designed to be inclusive to allow all students access to equal opportunities to learning experiences and educational recognition and achievement.
IB World Schools across the globe can access policies and resources to support their work in providing equitable and inclusive education for their students. Amsterdam International Community School (AICS) is just one of the schools that has explored the possibilities for students with disabilities, in line with the IB policies.
Lyndsey Gregory, Head of Wellbeing at AICS Primary shares the background of inclusive education at their school, and their future plans for expanding opportunities for even more children who would benefit from specialised education.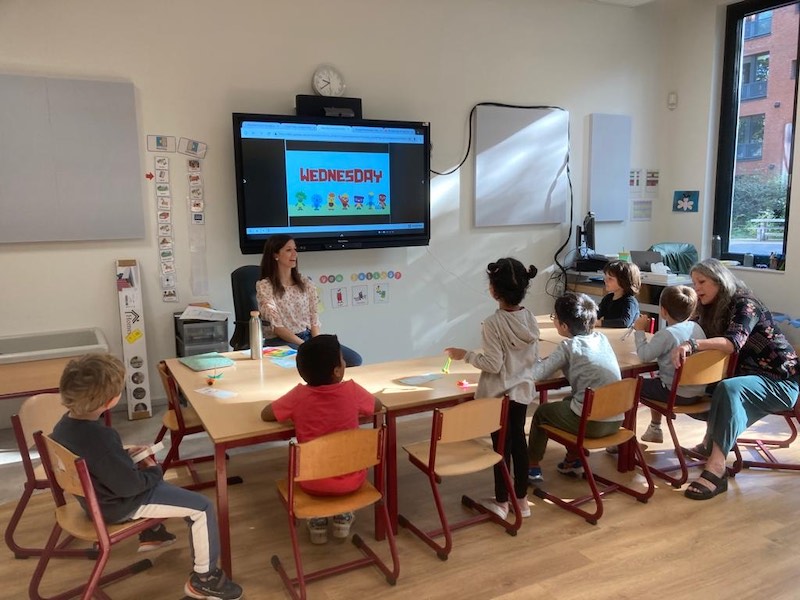 What was education like at AICS before opening the Student Support Centre?
AICS aims to be an inclusive school. We believe deeply in our mission to serve our diverse and globally mobile community to the best of our ability and accept children with a diverse range of learning backgrounds. Our mission that everyone is included, challenged and successful is one we take very seriously, believing that an inclusive educational programme has a value that enriches the whole community.
Despite this attitude to inclusion, it has been difficult as a school community to provide the inclusive education we believe in. Until recently, we did not have provision within the boundaries of inclusive education as it is defined in the Netherlands and within the IB framework to provide education for students who would benefit from specialised education. At times, we have been able to accept the siblings of a child with specialised needs, but not the child who would benefit from specialised education. In these cases, we would help families get in touch with local organisations and local schools.
What has been the impact of opening the Student Support Centre?
The reality for some of these families had been that because their child did not speak Dutch, they could not access the specialist education their child required from the local organisations and schools we connected them with. This meant some of these children were at home without access to education. The organisation who advises schools and families about education, the Samenwerkingsverband, were also struggling with this problem.
Working in partnership with the Samenwerkingsverband and also Stichting Kolom, a school group that has 14 special education schools in the Amsterdam region, we opened up the AICS Student Support Centre for international families in Amsterdam and the surrounding area.
In August 2022, a second classroom was opened in the centre and we can now offer education to a total of 18 students in the primary school between two classrooms.
What are the future plans?
If one of our core values as a community school is diversity and if we truly believe that inclusive education is where children and young people of different cultures, abilities, ethnicities and genders learn together, then we can no longer continue declining students based on what is not possible.
Our intention is to continuing providing an inclusive education to our current students as they move into the secondary school. During the 2022/23 academic year, AICS  is continuing to develop this programme for secondary school students with the intention to open the first class for full-time special education students in August 2023 as well as expanding the programme into the new South East Campus primary school.
We know that we will not be able to support the future demand for inclusive education by ourselves. What we can do is offer all the knowledge we have gained so that other schools can develop the support in their own community. If we all do our part, we can support the international neurodiverse community effectively so that families with children who have additional needs can know that all their children are equally welcome and part of one community.
Lyndsay Gregory is a passionate and experienced educator who has dedicated her career to ensuring that every child has access to the education they deserve. For the past two years, she has served as the Head of Well-being at AICS Primary School, where with continual focus on equity and inclusion, she has been instrumental in shaping the school's approach to supporting students' academic, mental and emotional development.
Lyndsay's journey in education began in 2006, when she started teaching Group 5 (Grade 3) at AICS Primary. Over the years, she has taught a wide range of subjects and worked with students from diverse backgrounds. Her experiences in the classroom have given her a deep appreciation for the importance of personalized learning and the need to find individualized approaches that meet each student's unique needs. Prior to taking on the role of Head of Wellbeing at the AICS Primary School,  Lyndsay served as the Head of School at AICS Primary, where she oversaw all aspects of the school's operations and worked to ensure that every student had access to high-quality education.
Lyndsay completed a Bachelor of Education focusing on special education at the University of Alberta in Edmonton, Canada. She also holds a Bachelor of Arts degree, majoring in sociology, and a Master of Arts and Integrated Studies, focusing on educational leadership, from Athabasca University in Athabasca, Canada.*
*Chat GPT was used to support in the writing of Lyndsay's biography but not the blog