In February 2020, at the International Baccalaureate's African Education Festival in Johannesburg, the keynote speaker made a big impact on the IB staff in attendance.
Wandile Mthiyane, architect and founder CEO of Ubuntu Design Group, gave the keynote address entitled Places Reveal our Purpose. He spoke about his upbringing in the townships of South Africa, the impact that education had on his life, and his belief that architects are responsible for developing communities.
Wandile's presentation resonated with Rémy Lamon, Senior IB World School Manager, and the two have kept in contact since. As the IB develops its approach to diversity, equity and inclusion (DEI), Remy and Wandile have discussed how best to work with the schools implementing IB programmes.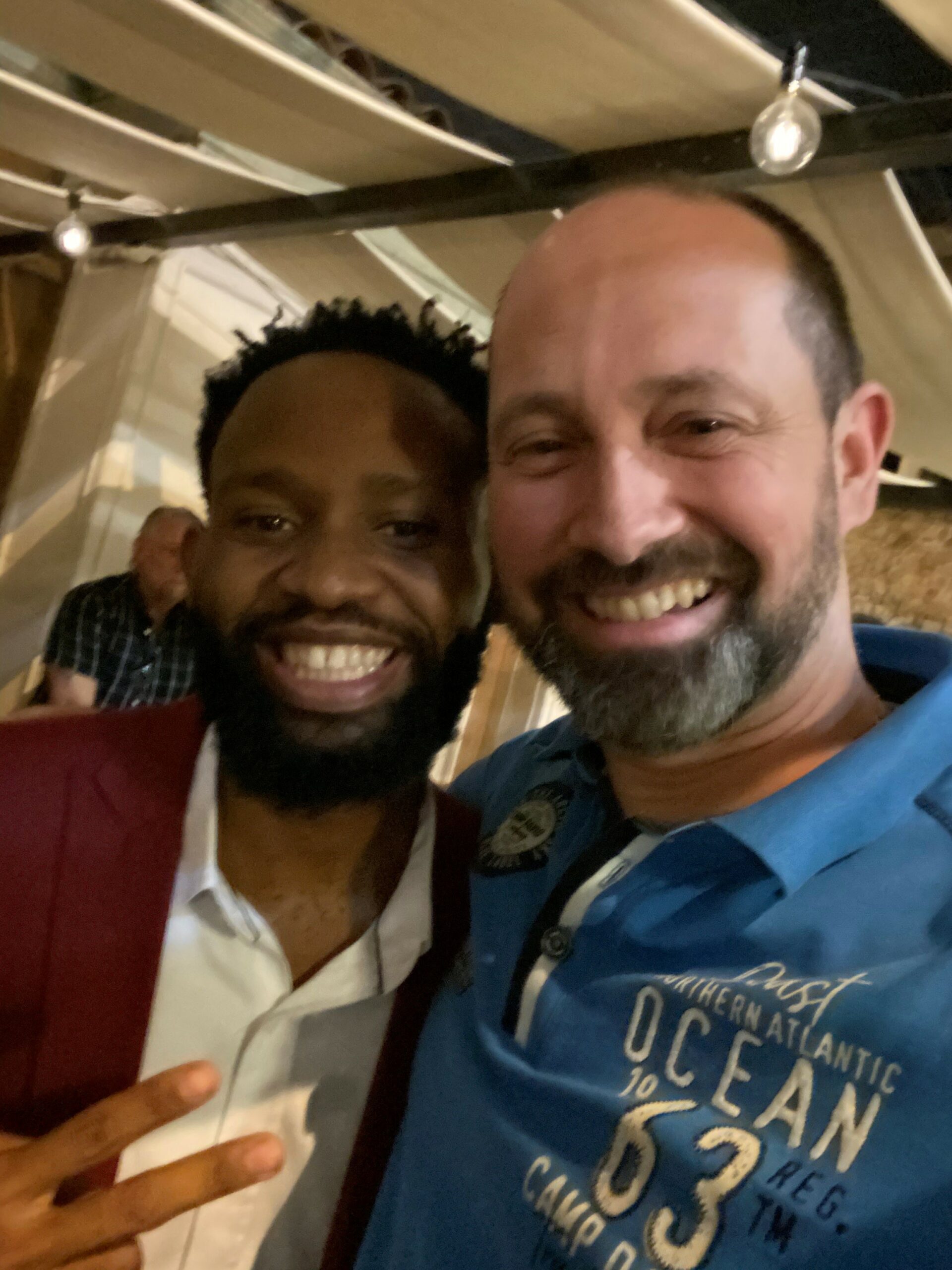 Wandile went on to begin Anti-Racist Hot Dog, a consultancy aiming to make education about equity more engaging and more effective – a philosophy which resonated with former President Barrack Obama, who noticed this work and elevated it through the Obama Foundation.
We spoke with Rémy and Wandile about diversity, equity and inclusion and how architecture and education can be seen through the lens of building a community.
How did you meet?
Rémy: "I met Wandile at the IB's African Education Festival in 2020, and I was amazed with his presentation. He had grown up in townships around South Africa. This meant that his vision as an architect was to build communities instead of buildings. This was something that I connected to my own role as a Senior IB World Schools Manager. I have to contextualize my service to each individual school. You look at the needs of each person or school and listen with modesty instead of insisting we know what will work for them."
What was the inspiration behind your career?
Wandile: "I grew up in informal settlements, lived in townships and different areas that were shaped by apartheid in South Africa. Growing up in these areas, I quickly learned that the issues in these areas stemmed from a lack of dignified housing. Issues such as the lack of a physical address, without which you can't apply for a job. Kids don't have a place to do homework. There's mould in the walls which causes asthma. The issue becomes about employment, education and health and there's just this cycle of poverty created if you don't have a dignified house. I wanted to change that as I grew up."
What impact did education have on achieving these goals?
Wandile: "As a young child I went to a predominantly non-black school where teachers would tell me and other students from my community that we would not amount to anything. I believed this until my family joined a church with a Sabbath school, where the teachers believed in me and members of the church had high profile jobs, like doctors and lawyers.
Seeing this positive representation inspired me. I was able to attend a private high school where my knowledge expanded. I realised I could go back and change my community, which was negatively shaped by apartheid."
What were your next steps?
Wandile: "I first raised about $10,000 to go to the United States for university. This was just enough for the first semester, but by working hard I was awarded a full scholarship which took me up to my master's degree. Taking that first leap of faith meant I could study architecture and I then founded Ubuntu Design Group."
What inspiration can schools take for their own diversity, equity and inclusivity journeys?
Wandile: "I feel that my whole life has been centred around this quest for home and belonging and community. After my master's in architecture, it hit me that home is not necessarily just the physical space, but it's also the people. Like the Sunday school teacher who believed in me was a sense of home and belonging that I had anchored my educational journey to."
Rémy: "I am now keenly following Wandile's latest project – Anti-Racist Hot Dog. It reflects what we are doing in the IB right now in terms of representation, and contextualization, by school, by student, by teachers. We can all take steps forward in terms of diversity, equity and inclusion and learn to embrace and enjoy the fact that we are all different."
Wandile: "I started Anti-Racist Hot Dog after being kicked out of a racist restaurant. In response, I designed and opened a small pop-up restaurant called the Anti Racist Hot Dog right on top of the racist restaurant. We hosted parties with hot dogs, house music and dialogue on race and it started attracting people of different races, different groups, different age groups. President Obama tweeted about it and started a movement. And from there we thought:
Where do we spend most of our time? At school or in the workplace.
How can we transform this methodology to make a difference in these spaces? We started our diversity, equity and inclusion consultancy where we now work with schools and companies to transform their DEI practices.
We use food, which connects us all, and house music to try and spread the message that if racism is bad and impacts our schools and workplaces, then educating people about anti-racism has to be fun and not boring. When education is engaging it is more effective!"
Wandile Mthiyane is an Obama Leader, lecturer, TEDx Fellow, Resolution Fellow, dynamic speaker, social entrepreneur, and the founder of Ubuntu Design Group (UDG), an architectural and micro-finance organization that focuses on social-impact design projects in housing and urban design. Wandile studied his BSA and M.Arch at Andrews University in Michigan. He founded the Anti-Racist Hot Dog, which helps companies and institutions curate, nurture, and measure inclusivity through Anti-Racist Hot Dog Parties.
After a career as a Middle Years Programme and Diploma Programme teacher in various countries (China, Switzerland, United Kingdom), as well as a member of school leadership teams and as an author of educational books, Rémy has been working since 2018 as IB World Schools Senior Manager. This department was established in 2017 to support authorized schools in delivering quality education. The two main roles of the department are to be the voice of schools within the IB to advocate for their needs and to evaluate schools in a supportive manner to create opportunities for each school to grow. Rémy is there to support schools in their development and implementation of their IB programmes.