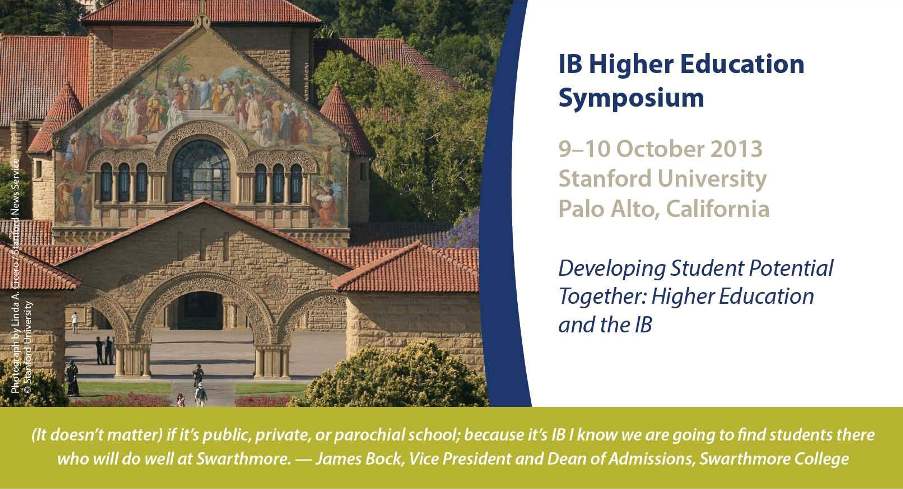 Registration now open at ibo.org/recognition
The International Baccalaureate (IB), a leader in international education years 3-19, would like to invite you to the 2013 IB Higher Education Symposium at Stanford University, one of the world's leading research and teaching institutions. Study after study shows that students who participated in IB programmes are better prepared academically for university level courses, and are more likely to graduate (and graduate sooner) than other students. By 2014, more than 1 million IB students worldwide will have participated in the Diploma Programme. Our programmes, offered at schools worldwide – small and large, public and private, primary through secondary level – help develop the intellectual rigour, personal, emotional and social skills students need to live, learn and work in a rapidly globalizing world.
About this event:
At this event, designed for university admissions officers, you will join the IB and peers from top-tier institutions of higher learning to address the following timely topics:
The rigorous preparation with which IB students enter your university and the holistic way in which they enrich your university's idealism
A global perspective on college and career readiness – what can we learn from each other?
High-level discussion with top university leaders in the field on globalization, student mobility and promoting access
Analysis of the latest IB research presented by Educational Policy Improvement Center and the IB Head of Research
New services and tools from the IB that will support your ability to recruit a diverse and academically qualified cohort of internationally-minded students
Who should attend:
This symposium is developed to support senior admissions
leadership including:
Deans and Assistant Deans of Admissions
College Admissions Officers
Directors and Associate Directors of Admissions
Heads of Admissions, Vice Presidents of Admissions, and
Vice Presidents of Enrollment Management.
Registration now open at ibo.org/recognition
'Early bird' fees apply for registrations made before 30 August 2013