---
Proudly telling the world about #generationIB in our 50th anniversary year
---
This article originally appeared in IB Global News, which provides an array of news and information about IB programmes, professional development and research.
---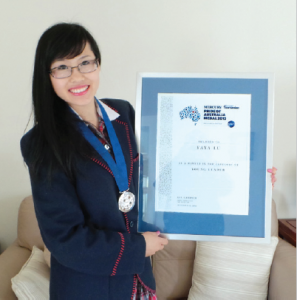 Yaya Lu was awarded the Pride of Australia Medal 2013 State Award for Tasmania to recognise her work in support of quadriplegic assistance. Here, she tells us about the inspiration for her work as well as the innovative software that won her the accolade.
What inspired you to invent this software?
I'd heard so many stories about quadriplegics who had a lack of independence in their daily lives–impacting both their personal freedom and their family's well-being. It was after hearing about the difficult lifestyle of a complete quadriplegic in Northern Tasmania that I considered doing something to help. I hoped that, in using my system, I could allow them to control all sorts of systems independently and effectively.
How does your software work?
My software works by detecting the movements of the quadriplegic's facial features and moving the wheelchair forwards/backwards/left/right/sideways in relation to these. It can also use a voice-actuated system to assist with similar controls of the wheelchair by using combinations of long and short sounds in sequence, making it entirely language independent. The headset communicates wirelessly to the wheelchair.
What challenges did you have to overcome during its development?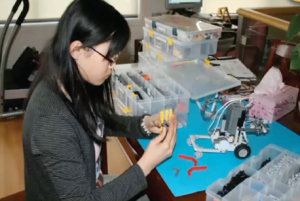 There were many things that needed to be considered; one being that the quadriplegic should feel comfortable wearing this system. I had to reject the idea of sensors being placed around the eye area, adhered to the skin or implanted in the brain, as I believed these to be too intrusive. I also needed to ensure easiness of implementation, versatility, price, response times and the beliefs/values of the individual. There is no use creating a system that is designed for a person if it does not suit that person's individual needs.
Did your IB education help you when faced with these challenges?
The IB programme, being very human-centred, has taught me to consider things from a human perspective, not just a technological perspective. Theory of Knowledge (TOK) helped by making me aware of the role of each individual's opinion/values/beliefs in achieving knowledge. Creativity, Action & Service (CAS) has broadened my understanding of issues facing our world today, and how each person can make a difference to another person's life by being aware of these issues. It also taught me to work smarter, not harder. I hope to pursue the area of human-centric software and engineering development.
Watch a demonstration of Yaya's software and read more about her many inventions on her website.
[youtube yp0alIvHstU]