Kids in general, and IB students in particular, have a natural sense of curiosity and an eagerness to develop new skills. You can help boost this predisposition by further stimulating their longing for inquiry and research. When teaching inquisitive young minds the IB recommends taking a student's knowledge and individual interests into account. This will help improve the student's enthusiasm when doing schoolwork, both independently and with classmates.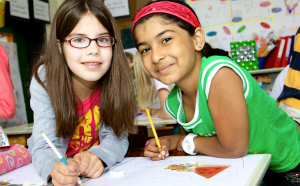 Ways to Learn Through Inquiry
by Jo Fahey
The IB's Ways to Learn Through Inquiry publication shows how to use a student's own experiences and examples. To teach young and inquisitive IB students, Ways to Learn Through Inquiry is on offer this month for only £22.99.

The book provides practical and research-based exercises to engage children aged 3-8 years in active inquiry. This publication is also available as an e-book. You can satisfy your own curiosity about this book by downloading these exemplary chapters.
Each chapter includes:
vivid examples from real PYP units of inquiry
at-a-glance strategies for teaching, sharing, and assessing
photographs of teaching and learning in action
dialogues of classroom interactions
samples of children's work
references to significant research and theories.
Order Ways to Learn Through Inquiry
MYP Inquire
by Barclay Lelievre, Isabel Machinandiarena, Jim Keson and Mike East
Also on offer this month is the book MYP Inquire at only £4.99. This book targets MYP students in years 1 and 2. The book helps to introduce the inquiry cycle to students and how they can apply it both inside and outside the classroom. Quantity discounts are available at the 50+, 100+ and 200+ purchase levels.
Key features:
a wide range of activities suitable for subject-specific and homeroom classes
content appropriate for years 1 and 2 of the MYP
showing students how to take action and make a difference.
reflection activities
write-in pages that form a permanent record of student understanding.
The featured books and other IB publications are all available through the IB store.