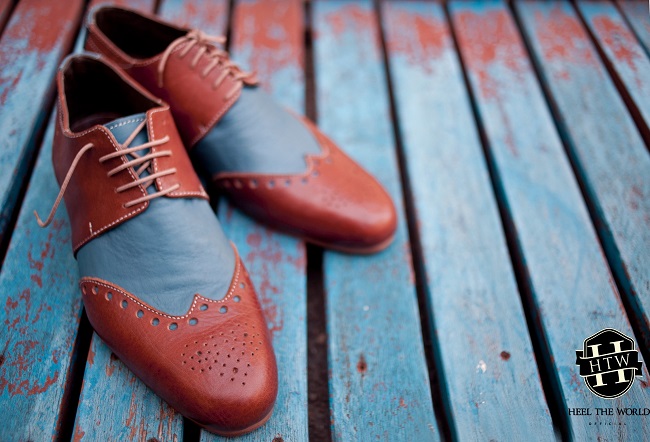 Fred Deegbe is the founder of Heel the World, a fast growing Luxury, Leather, and Lifestyle brand born in an unexpected location – Accra, Ghana. Coming off the heels of a career in banking, Fred chose a road less taken and built a company that strives to be the best at what it does.
---
When we asked Fred Deegbe about his experience in the IB programme at Lincoln Community School, one poem from IB English stood out in his mind – The Road Not Taken by Robert Frost:

I really didn't get it at the time. But ten years later, it makes perfect sense to me. The road not taken is the road I have taken. We have choices to make and I see how [the poem] mirrors the decisions I've made.
A few years after reading that poem, Fred graduated with the very first class of students from Accra's Ashesi University. Ashesi, which means "the beginning" in Akan, was a brand new institution. It was established on a simple question: Why isn't there a Stanford, Oxford, or a similar elite university in Ghana? Founded by a Ghanaian Microsoft engineer, the school embodies an entrepreneurial spirit as part of its philosophy. Fred looks back on this decision as a turning point:
Attending Ashesi was one decision I took that was different from everyone going to university in the United States or England – I literally joined that school in the beginning.
In 2009, Fred went out for a simple errand – buying a pair of shoes. He wasn't looking for your average pair of sneakers, but rather for the type of shoe you would expect to find in hand-sewn Italian leather – high-quality, stylish and likely expensive. He eventually settled on a pair of imported shoes made by the French-Italian designer Pierre Cardin. Like many, he assumed that the best came from abroad.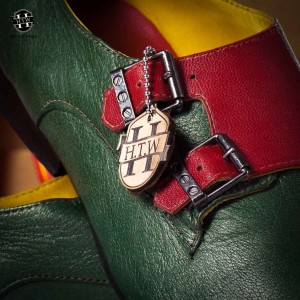 As Fred walked out of the store admiring his purchase, a question crossed his mind: "Could you make these shoes in Ghana?" He posed his question to a young shoe shiner outside and received a blunt reply: "No, it's impossible." Undaunted, Fred went on to ask friends and family members the same question. They all responded with a resounding consensus: "No way, not from here."
The realization that no one believed a luxury shoe, of all things, could ever be made in Ghana was a shock. "How primitive of us could it be to not even conceptualize the idea of making shoes?" he mused, "How hard could it be? If we cannot make our own shoes, then when will we make our own planes?"
This was the beginning of Heel the World. With no training in fashion or design, Fred launched into 18 months of research before announcing the concept for a Ghanaian owned and operated shoe brand that could compete against the finest French and Italian luxury houses. The experience was eye-opening.

It would be totally different if I had gone to fashion school and started making shoes. But I didn't. I just believed that this kind of quality could be found here. That's what adds up to the brand… on the surface it produces some of the most beautifully crafted, bags, shoes, and leather accessories in the world – but it also has a social purpose
Fred hopes to change the common perception that imported goods are "better" and contribute to Ghana's growing manufacturing core. At the heart of Heel the World is a strong belief that high-quality, competitive goods can be made locally. Fred's vision has been successful so far – Heel the World has seen exponential growth since 2012, has been featured on CNN, and has expanded to include 15 employees. In the coming months, Heel the World plans to partner with Duaba Serwa, a high-end Ghanaian womenswear brand. Together,they hope to become the first leading luxury department store to come out of Africa.
Heel the World simultaneously advocates for social change. Fred has created opportunities for marginalized communities in Ghana to be a part of specialized product lines. The company also gives back to the local community with profits earned from its line of empowerment beads. These funds have gone towards hosting workshops for young professionals and entrepreneurs in Ghana and providing consulting services to small companies.
Are you ready to launch your own start-up, social venture or small business? Fred's advice to aspiring entrepreneurs is simple: "Be the best at what you do."
---
Support Fred and his team in Ghana at htwshoes.bigcartel.com.