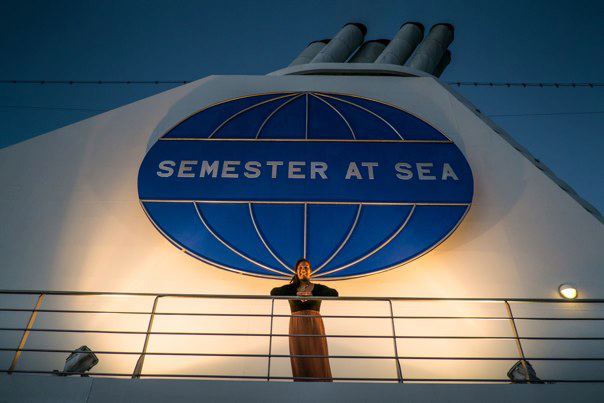 Earlene Cruz went on her first trip to Europe as an IB student. Semester at Sea took her to Ghana, where a generous family inspired her to bring the world together around food cooked and eaten together. This month Earlene beta launches Kitchen Connection in partnership with Action Against Hunger, a global humanitarian organization committed to ending world hunger.
---
While docked in Spain, Earlene Cruz had what she called "a moment of good fortune" — she lost her wallet along with all her money, debit and credit cards. She was participating in 'Semester at Sea', a study program that turns a ship into a floating university.  The next stop was Accra, Ghana, where Earlene found herself with no money or means.
She returned to her cabin and managed to find $50 she had tucked away to tip the steward. "I could make it five days on ten dollars a day," she told herself. "I didn't want to bother any of my friends and there wasn't enough time to have my family send money…I knew I would get through it."
Earlene's passion for travel developed in high school.  Her IB math teacher led a class trip to Italy that she joined along with 15 other girls. By the end of high school, she had been on three class trips abroad. She observes, "This is what sparked my love for travel."
I knew that when I went to college, I would study abroad. I didn't know where, I didn't even know about Semester at Sea. – Earlene Cruz
Following her IB studies, Earlene went on to attend Seton Hall University. During her first year she visited the study-abroad office and grabbed a handful of brochures to see where she could go and complete her degree. "I had already taken French during the IB and I had placed out of two years of French. I also found that I only needed about eight classes to double-major in French and International Business." While her heart was set on studying in France, a chance encounter set her on a new path that would still make use of her language skills.
"I was sitting in French class one day, and the girl next to me began talking about countries she had traveled to where people spoke French. They weren't typical destinations like France or Haiti – they were very exotic locations, including Vietnam and Morocco. After class, I asked how she had traveled to all these places; they were so exotic. She mentioned a program called Semester at Sea. I went home and looked up everything about it. I told myself, 'I am doing this program.' It was hands down the best decision of my life."
Not long after the chance encounter in French class, Earlene found herself sailing– nearly penniless–toward Ghanaian soil with Semester at Sea. Ghana would also provide her first adventure as a 'couch surfer', meaning she would stay on the couch of a welcoming local family. (The couch surfing website links budget travelers with hosts around the world.) "For most people, couch-surfing in general is a bit scary," she says, "I was definitely nervous."
My first time in Africa was also my first time couch-surfing. So far it's been nothing but good experience, but I was definitely nervous.
As soon as she met her host family, all her worries disappeared and she spent nearly five days with them. "I became almost like a part of the family and for the first time since leaving, I felt like I was home with my family." Her hosts took her around Accra and showed her the Ghanaian countryside – but most importantly, they cooked and ate together.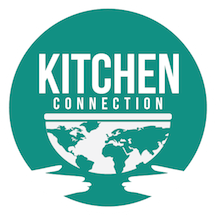 "On my last day with them, when we were having a meal together, I was aware of the stereotype that all Americans are seen as incredibly wealthy and that others may think of most people in Africa as poor. But there I was, an American with no money in Africa, hosted by a family that asked for nothing in return."
While having this meal, Earlene came up with the idea for Kitchen Connection:  "When would I be back in Ghana, with this family, having this incredible experience, preparing traditional food?"
"I realized I could find ingredients at home and maybe with Skype they could tell me how to make everything. We could have a conversation as if I was there. This was the closest thing I could imagine to being there again."
This wouldn't be her last trip to Ghana, however. She would return to Seton Hall and receive a scholarship to return to Semester at Sea to work on Kitchen Connection as part of her studies. She had turned the idea into an entrepreneurial venture for her International Business major. On top of that she asked herself: "Why don't I create a way for other people to do this as well? A place where people can connect over food and learn to make different dishes?"
"My senior year [at Seton Hall], I was able to return to Ghana through Semester at Sea. I took classes on social entrepreneurship and met others also interested in entrepreneurship. The whole process had me thinking in new ways. As I traveled I was able to do market research in all the countries we visited. I condensed the idea and then thought; why not also use the platform to give back?"
The desire to incorporate a community and social aspect into her project reminded Earlene of the IB: "Even if my [IB] friends weren't all interested in the same things – we all became interested in learning about the world and our communities…I realized I could integrate my studies with making the world a better place. . . this is something that grew in me during high school."
She looked for a way to donate funds from Kitchen Connection to charity. Action Against Hunger stepped forward to partner with her. Their motto became: "You're eating – I'm eating – and because we're eating together, someone else is eating too."
---
Earlene continues to travel and is currently teaching English in France. She officially beta launched Kitchen Connection on 21 October 2014, when the site began inviting sign-ups to register. Her Ghanaian couch surfing host, Fred, has also become well known among Semester at Sea students. He was granted a scholarship to attend the program over the summer of 2014 and will complete his studies at the University of San Diego this fall.
Visit www.kitchenconnection.org to learn more.