This post is part of Excellence and Equity, a dialogue among IB educators and school leaders around empowering under-represented students for success in life-long learning. Subscribe to E2 updates or write to us directly to share your access success story.
Our project's E2 (Excellence and Equity) framework aims to provide an image of what an equitable school where under-represented students would have access to the highest levels of achievement would look like. David Quinn's story below provides an "out of the box" example of an aspect of the IB's E2 framework on access: ". . . resources at the school support students' and families' access to local resources that provide support to low-income families engaged in academically demanding courses."
By David Quinn, IB Coordinator at Edmonds-Woodway High School, WA, USA
I had been examining our school's free-and-reduced lunch data (F/RL), and it just didn't make any sense. Our F/RL numbers had been rising over the past few years, but the number of IB students asking to opt out of course fees, or seeking advice about how to pay for IB exams, just wasn't aligning with the numbers I was looking at. More importantly, when I would direct inquiring students to the F/RL application so they could get IB exam fee assistance from our state program, they stared at me with that look that said, "Why am I filling out a free lunch form?"
I encountered that look – a face of utter confusion – again and again. I began to ask students why they had never filled out the form before; I expected to hear responses that dealt with the kinds of things I was familiar with, specifically issues of shame surrounding economic issues at home. The answers I got, however, we never about that. They revealed the worldview of my 16 and 17-year old students:
"We start serving lunch at 11:00. I'm never hungry then."
"If I need something, I just grab a snack from a friend."
"I don't like the salad."
"The line can be crowded."
And the pièce de résistance:
"Mr. Quinn, no one wants to eat that cheeseburger…."
As educators, we know that the federal government's F/RL program opens the door to many kinds of fee waivers. F/RL students can receive 100% waivers on college application fees, SAT and ACT fees, and—in many states—90% off their IB exam fees. Our students, on the other hand, equate the F/RL application form with one thing: A cheeseburger. And my students—specifically my female students—wanted no part of that food … so they skipped the form or tuned out every time the word "lunch" was mentioned.
As a former marketing executive, I needed to ask some more questions. The more I looked, the more I realized that the form had a huge branding problem. It was, after all, called the free and reduced lunch application. But, given what I was hearing, kids didn't care about the lunch, so they skipped the form.
I tried an experiment. For a few days, when kids came into my office, I asked if they wanted a form to get free college applications. "YES!" I asked if they wanted a form to get free SAT tests. "YES!" I asked if they wanted $9.95 a month internet in their homes. "ABSOLUTELY!" When I stopped talking about lunch, I ran out of forms.
Doing a quick check with my district office revealed that I wasn't allowed to mess with the application form. I couldn't re-brand it – or change the directions. I realized, though, that I could make a sandwich out of the form by taking my own pages and messages and "wrapping them" around the government form. My hot pink cover read: THE FREE AND REDUCED EVERYTHING FORM and promoted the form as if it was a ridiculous TV ad.
Take the SAT and ACT for FREE!
Totally FREE college applications!
90% off all IB exams!
And the joke line at the bottom read: … and you get a totally free cheeseburger every single day!
I ran out of forms … twice. I went over to the copy center and made enough copies for every 11th and 12th grader.
I visited classrooms and posed the question: "Who wants me to put $2,000 back in their pocket?"  On the board, I took two minutes and ran the numbers. Between IB exams for full-IB students, applications, tests, and the discounted internet service, the savings were very real and could make a big difference in the lives of our families. I gave every student the form. I didn't care that many kids didn't want or need the form; I wanted every form to go home – and I didn't want kids to have to raise their hands and ask for the papers.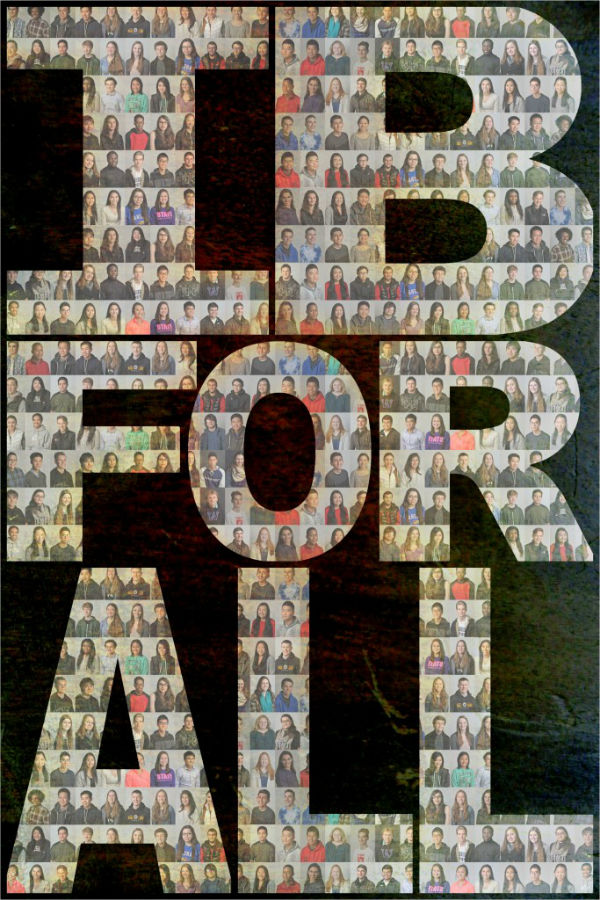 Inside my packet was a letter to parents. In it, I urged them to make the attempt to save money. I reiterated the benefits and reminded them that there was no requirement to attach a pay stub –and that the federal government wasn't going to come calling at their door. Their confidentiality was a part of federal law and the form would be read by exactly one person in our district office. To those who didn't want government assistance I offered this bit of truth: The SAT and the ACT and their local internet provider were not the government; rather, they were organizations that were going to happily take their money. The worst news? They might fail to qualify. The best news? Freebies that would help their kids find greater success.
The results were pretty astonishing: Our school's free and reduced lunch number went up by double-digits in one shot.
I want to be very clear about something: I'm not turning poverty into a marketing joke. Hunger and issues of economic disparity are very real and substantial issues in our schools. What I am doing, though, is recognizing that our audience—students—think about issues in very different ways than we do. If students don't want the cheeseburger, they never send the forms home – or they tell their parents that they aren't important.
The rebranding of the F/RL form has changed the kind of conversations I can have with my students. I now leverage that cheeseburger to discuss how kids can afford IB exams – and get free college credit using their IB scores. The dialogue goes from the form to the fees to the host of possibilities that exist for students who will likely qualify for assistance at the college level. The F/RL form is just a starting point for a conversation about how equity and excellence open doors.  And that's something all of us in the world of IB are committed to.
David Quinn is the IB Coordinator at Edmonds-Woodway High School, in Edmonds, WA. He is the founder of The High School Counselor Challenge, a national social-media campaign to get more public high school counselors from underserved communities to one of the admission profession's premier gatherings: The annual NACAC conference. You can email him at quinnd@edmonds.wednet.edu
[Note: The IB Exam fee reduction referenced in this post is the result of the U.S. Department of Education Advanced Placement Test Fee Program in the United States.  To learn more about this, please visit the US Department of Education web page at http://www2.ed.gov/programs/apfee/index.html ]