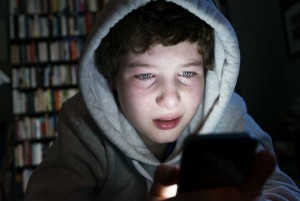 In the third and final article in the series on bullying, IB World magazine looks at cyberbullying, how it can be prevented and why the development of the IB Learner Profile attributes of caring, principled and open-mindedness can help students to stay safe online 
Facebook, Instagram and Twitter may be the main social networks used to keep in touch with friends, but, worryingly, they are also the main sites used for cyberbullying and internet trolling.
Over 50 per cent of young people have reported being bullied online or via their mobile phone. Cyberbullying is by no means a new issue, but with an increasing number of social media sites, and access to technology, it is one that is increasingly affecting young people around the world.
Cyberbullying, also known as digital, or technology-assisted bullying, can be especially harmful or distressing due to several factors. Unlike face-to-face bullying, cyberbullies often post images of the victim with offensive posts or hurtful comments. Such images can be shared with not just the victim's friends and family but also with millions of people around the world. Bullies can anonymously abuse their victims as they hide behind false names or profiles.
The rise of cyberbullying 
Barbara Coloroso is an internationally-recognized teacher, speaker and author of The Bully, The Bullied, and The Not-So-Innocent Bystander, who specializes in education, guidance and the criminal justice system. She explains how cyberbullying has increased in recent years:
"The Bully, The Bullied, and The Not-So-Innocent Bystander was first published in 2003. By 2006 I had to update it with an entire chapter on cyberbullying. In the most recent 2015 edition, cyberbullying is no longer separate to 'traditional' bullying. The online and the offline world has merged and cyberbullying is no longer a separate entity."
One of the biggest issues around cyberbullying and, its increase, is that lawmakers have struggled with its definition. Some say that bullying (including cyberbullying) has to happen repeatedly and often to constitute 'bullying'. However Coloroso, alongside many other eminent authors on the topic, suggest that it can, in fact, be a one-time occurrence.
And once is all it takes to cause significant long-term damage. If an offensive image or post is put online, for example, then that image or post can last forever.
The three rules of the Internet 
While parents and teachers have a duty of care when it comes to online safety, the best way to prevent cyberbullying is to educate young people. It's important to remember that most children who are bullied online know their bullies, according to Coloroso, so it's a good idea to watch out for issues at school and at home.
Coloroso has suggested three key points that parents and teachers should encourage children to remember when posting online:
"Firstly, we must encourage children to be digitally savvy; they need to know how the technology works and that what they post can last a long time. Secondly, we must teach them digital-civility by asking: 'It this post/comment true? Is the post/comment necessary? Is this post/comment kind?' Thirdly, children must know how to be digitally safe and ensure they are not vulnerable when online."
IB Learner Profile and cyberbullying
One of the darker sides of Coloroso's research is the comparison that she draws between the nature of bullying and greater world issues, such as hatred and genocide.
Bullying may seem small scale, but like hatred, intolerance and even genocide, it follows the same pattern of dehumanising its victims. "There is a short walk between the two," says Coloroso. It also encourages bully 'bystanders' to become either part of the bullying or simply watch and not do anything about it: "This is the trap of comradeship," she adds.
"But the IB's programmes by their very nature work against the trap of comradeship," says Coloroso. "In the IB, they teach children how to think, not just what to think. They are less likely to go along with group mentality."
Coloroso says that the IB Learner Profile encourages students to question their behaviour and its impact on others: "The concept of being a global citizen and being respectful to all is crucial what all IB students exemplify," she says. "Additionally the IB Learner Profile attributes of caring, principled and open-mindedness help students become well-rounded, inclusive members of their communities.
"It is these values that can help prevent the rise and risks of cyberbullying, and it is these values that we must continue to teach."
Five warning signs of cyberbullying
The child appears upset, withdrawn or angry after receiving emails, social network notifications or text messages
There maybe a reluctance to leave the house or socialize at break times. Children seem withdrawn in class and in interactions with family and friends.
Children may become more secretive about their online activities
Blocking numbers, email addresses and social media accounts
Children suddenly delete their social networking profiles and accounts.