---
Proudly telling the world about #generationIB in our 50th anniversary year
---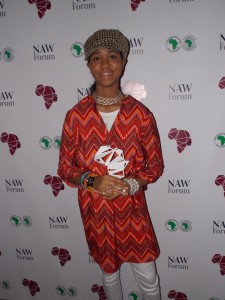 Zuriel Oduwole is making a positive difference to the world. She speaks to IB World magazine about her courageous efforts to get more girls into education
Zuriel Oduwole has made four documentaries, interviewed heads of state, delivered talks to over 24,000 children in 11 countries to champion girls' education, and set up a charity – and she's only 13.
Los Angles-born Zuriel clearly demonstrates the IB Learner Profile attributes of caring and principled. Through her foundation, Dream Up, Speak Up, Stand Up (DUSUSU) – which encourages young people, particularly girls, to stay in education – Zuriel has a palpable hunger to create a better world through education.
An inquisitive nature
Shining the spotlight on the 63 million girls out of education has piqued the interests of many world leaders. She has interviewed 19 presidents and prime ministers for the cause, to encourage them to stand up for young people's rights, including President Muhammadu Buhari of Nigeria, Liberia's President Ellen Johnson Sirleaf, South Sudan's Salva Kiir, and President Uhuru Kenyatta of Kenya.
Zuriel's documentaries, which she has been making from the age of nine, focus on issues concerning African nations. Her 2013 documentary Educating and Healing Africa out of Poverty focused on the importance of education in making a sustainable difference in people's lives. A Promising Africa (A Brighter Nigeria), her latest film, highlights the positive attributes Africa has to offer. Zuriel feels strongly about the trend for the mainstream media to mainly broadcast negative stories.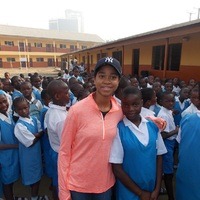 The internationally-minded teenager launched the DUSUSU project in partnership with the Lagos Business School of Pan-Atlantic University, Nigeria, in March 2013. She says: "I didn't know if anyone would listen or take me seriously. Having a partnership with the school meant people listened to me from the first time I spoke."
She's appeared on TV and has gone on to promote DUSUSU through her own events. In April 2014, Zuriel invited two First Ladies to discuss how to educate out-of-school girls in Africa one village at a time. Forward-thinking Zuriel has also developed the DUSUSU Awards on African education development and excellence, encouraging the development of primary education, particularly for girls, as well as to recognize progress for gender-based issues.
Zuriel has featured in Elle magazine as one of 33 women who have changed the world; Business Insider as the most powerful 11-year-old in the world; is the youngest person ever to feature in the Forbes Magazine, and made the New Africa Magazines annual 100 Most Influential Africans list.
Curiosity to learn
Zuriel and her younger siblings are home-schooled, and she is already two years ahead of students her age.
According to Zuriel's father, Ademola Oduwole, she has always had a curiosity and aspiration to learn. He says: "When she was three or four years old, my wife and I bought her a set of plastic sticks and mechanical fastenings to keep her occupied. She would sit still, carefully looking at each bit to see where it might fit, and would painstakingly build, make mistakes, and re-build until it was complete."
It all began for Zuriel when she travelled to countries such as Ethiopia, Ghana and Nigeria, and noticed that many children, particularly girls, did not go to school but were selling food to drivers on the roads instead. "I'd sometimes see [the children] chasing down cars trying to collect their money because drivers drove off [without paying for their purchases]. It was very sad," she recalls. Zuriel felt compelled to make a difference.
Standing up against outdated views
Zuriel is a risk-taker. Many might be scared to champion girls' education in North-eastern Nigeria due to extremist views, but Zuriel remains undeterred. She just wants to show what children can do if they are educated.
I think DUSUSU just has to do what it believes, and people will see the need to do good things.
Zuriel is already changing lives. When she spoke at the Jacaranda orphanage in Malawi, she was later told that an introverted girl living there had been so inspired by what Zuriel had said about standing up for your beliefs and dreams, that she went on to interview a popular Malawian musician and really came out of her shell.
If a young person has a really big dream, and is given a chance, it could impact the lives of many, many people," says Zuriel
Zuriel the teacher
She's achieved so much at a young age but Zuriel has bigger plans for the future. As well as continuing to spread the word about the importance of education, she wants to start teaching young people basic film-making skills, and highlight the importance of vocational skills alongside academia.
Ultimately, Zuriel is striving to change the way education is delivered and create equal opportunities for both sexes.