Susie March is successfully working with IB World Schools to strengthen child safeguarding procedures by delivering effective sex and relationship education (SRE) programmes, as IB World magazine investigates in the last article in our series on child safeguarding
An integral part of a school's child protection programme is sex and relationship education (SRE), according to the World Health Organization (WHO). Susie March, from Susie March Consulting, strongly agrees. She works with IB World Schools to develop SRE programmes, armouring students with relevant and up-to-date information that helps protect them from modern-day threats such as cyber bullying, online grooming and sexting, as well as sexual abuse by peers or those in a position of trust.
"Throughout the world, mainstream media messages containing sexualized images, via television, web, mobile phones or pop videos, are bombarding children and young people," she says. "At the same time, evidence of institutionalized sexual abuse and the growing sexualization of children themselves has become a constant. In order to address this appalling trend, there has to be social change. We have a responsibility, as members of the international school community, to protect our children.
March, who is part of the International Task Force on Child Protection (ITFCP) and works with Jane Larsson, has a background in sexual health and family planning. She is a CIS Affiliated Consultant and felt there was a "massive need" within international schools to look at protecting children by making them aware of modern-day risks earlier. This makes children less vulnerable to possible abuse and improves their ability to react if it does occur.
She advocates a whole-school approach and feels very strongly about the necessity of an effective child protection policy. "Generally, there is a lot of negativity about child protection. Schools like the idea of it, but teachers don't have the time to create a policy. Having a policy in place provides guidance for staff parents and the school board," she says.
"But it's got to be as important as teaching students English and mathematics – it's just as vital that students leave school able to cope in their relationships with others in the outside world."
Early learning
March's child protection programme works with students from the age of four. Younger children begin by learning the names of their body parts in English and their mother tongue. This helps them explain if someone has touched them inappropriately. "It's also about giving children the confidence to say 'my body is my own and somebody touched me here, or took a photo of me here'," explains March.
Personal knowledge is a student's best tool for safeguarding, she believes. "If we equip and empower them with the knowledge to look after themselves then we stand a chance of helping them to be fulfilled in their relationships as they grow up."
Older students learn about sexting – where the majority don't know that they are breaking the law – sexual grooming, exploitation, power and consent.. "I encourage students to question gift-giving, which might help them have a comprehension of what it means to be groomed," says March.
Pet names, or being told they are "special", are examples of grooming that March shares. "It's pointing out to students that someone might be trying to control them by using a special name."
March is also trying to break the culture of abuse. "There is so much evidence that some abusers are children that could be in the classroom so we need to help students understand what isn't normal behaviour and how to question it."
Open communication
Teachers can feel uncomfortable discussing SRE. March provides training in the delivery of SRE to staff within IB schools and helps educators feel at ease, which can be difficult, as it requires challenging and exploring people's attitudes and values. "We all have hang-ups and influences from our lives and childhood. The percentage of people in a room that may have suffered abuse could be higher than one might imagine.
"When working with young people we have to put our feelings and values to one side so our preconceptions don't prevent meaningful discussion and leave students under-prepared for modern, adult life."
There is a misconception that SRE promotes sexual activity among young people. March specifies that it's about relationships and safety, and the word 'sex' is included because it refers to human sexuality.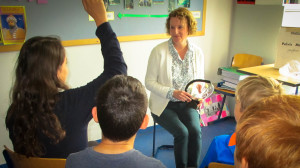 If students don't have their questions answered in the classroom, or at home, then there is a likelihood they'll search on the Internet. This is generally misleading, says March: "If they're looking for information about sex education online, they might accidently be exposed to internet pornography."
"Many parents feel that this type of education is for them to give, which it is," she adds. "But if they don't, children are going to try and get it elsewhere – either online or from friends. Instead, children can have their questions answered by a teacher who can educate them and provide correct, factual, age-appropriate, scientific information."
March keeps parents involved from the outset and encourages the conversation to continue at home. When informing parents that SRE is to be discussed, the wording of the letter is so important, says March. "Don't ask parents to opt in, rather ask them to contact the school if they have any concerns. I also send resources and booklets to parents so they feel involved."
She adds: "Many parents feel unable to discuss such sensitive issues but, more critically, do not possess relevant knowledge about how to protect their child from modern-day threats."
---
Susie March's tips for a successful SRE lesson
Consult the experts – teachers can feel uncomfortable discussing this topic, which can impact what students learn and gain from the lesson.
Involve parents – let them know beforehand and send home booklets and resources so they feel included from the outset Work in small groups – active learning (students talking about the subject and coming up with their own answers) is more effective in smaller groups and ensures meaningful discussions take place.
Stimulate open discussion: I encourage children to be involved during my lessons, facilitating the direction in an age-appropriate way.
Ground rules are key – Every session begins with students negotiating their own rules in order to create a safe environment for discussing sensitive topics. However, confidentiality cannot be guaranteed if a child were to disclose personal issues. Discussions within SRE classes might lead to a child or young person disclosing an incident of abuse. Staff needs to be trained in the schools procedure and best practice should that occur.
---
May 2017: Update from the International Task Force for Child Protection (ITFCP)
The task force resources, now housed on the Education Portal of the International Centre for Missing & Exploited Children (ICMEC) have been trimmed and updated. The portal features many contributions of task force members and resources.
The updates this year include:
Other useful links
International Centre for Missing and Exploited Children Education Portal: http://www.icmec.org/education-portal/