We asked experts in a variety of STEM disciplines about their area of work and what skills they consider the most important for IB science students to acquire. Here, we hear from Michal Zion, PhD, from the Hebrew University, Jerusalem, Israel. Michal is Vice Director of the school of education, Head of the Science Education Program and the biology teaching program at Bar-Ilan University, Ramat-Gan, Israel, and Academic Head of The National Center for Support and Development of Biology School Laboratories.
Tell us about your area of work
My main research interests are:
Inquiry-based learning and teaching
Developing scientific environmental and health literacy
Metacognition
Homeostasis – a fundamental principle in biology education
Computer-based learning environments
The main theme running through my research activity is learning and teaching inquiry. I have focused primarily on the most complex level of inquiry – open inquiry. This method of learning inquiry may contribute significantly to understanding the essence of science and to developing scientific thinking. Despite these contributions, educators experience difficulties in finding ways to assist students and teachers in coping with learning and teaching of open inquiry. As a team leader, I developed the successful nationwide Biomind program and participated in upgrading high school inquiry learning in Israel. As part of implementing the Biomind program, I led a multi-participant action research that included teachers and teachers' trainers, presented this research and coined the term dynamic inquiry in the context of open inquiry. Identifying dynamic inquiry was an important step in defining the significant learning and teaching processes occurring in open inquiry: logical association between inquiry questions, teacher-student interaction, dynamic inquiry performances occurring in online forums, and aspects of teachers' professional development required for the success of the open inquiry.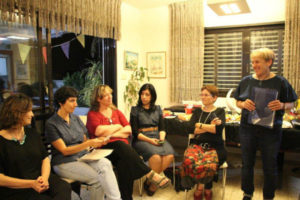 I also developed the innovative educational model of a Metacognitive Collaborating Inquiry Community (META-CIC) incorporating the elements: dynamic inquiry performances, metacognitive instruction, and supporting digital medium. To these elements I added the collaborative learning dimension on two levels: the intra-group and the inter-group. The success of the META-CIC model has led to the development of an educational linkage between metacognitive instruction and either health literacy or environmental literacy.
You recently took part in an IB Science Symposium, what was the key area of focus for your presentation?
The most important skills that senior IB science students should have by the end of their studies are: scientific literacy, critical thinking, logical thinking, metacognitive awareness.
You will be taking part in the IB's first Science Symposium, what is the key area of focus for your presentation?
My key area of focus at the IB Science Symposium will be: The Biomind program – An inquiry-based learning from structured to open level.
---
In October 2016, we welcomed experts from a variety of science, technology, engineering and mathematics (STEM) fields to join us at our first IB Science Symposium. With expertise in areas like genetics, plastics and the circular economy, tackling complexity, and communications, discussions were broad and engaging. The symposium explored essential science skills and major themes in science education. Watch out for our student reporter's account of the event. How do you think the future of science education will look in the next 50 years?