The ancient form of storytelling can improve understanding, communication skills, emotional intelligence and creativity, and it's also a different way to inject fun into your classrooms, as IB World investigates
Puppetry can positively affect children's confidence, cognitive abilities and management of emotions, particularly when covering traumatic or tough topics, according to a 2015 study published in the American Journal of Educational Research.
Learning through play can be fundamental to education, helping students develop the necessary skills in life. Teaching with puppets can be a powerful way of bringing story time to life, stimulating children's imagination and encouraging creative play.
IB teachers have begun introducing puppetry in their classrooms with positive learning outcomes.
Bringing stories to life
After a storyteller visited Newton Rayzor Elementary in Texas, USA and used puppets to help tell a tale, PYP Teacher and Librarian Kelly Born was impressed by how captivated her students were and felt inspired to do a similar activity with her class. She attended a workshop to learn about the different forms of teaching through storytelling and how to bring stories to life.
Born quickly identified an ideal opportunity to introduce educational puppetry. Students were studying two units called 'Sharing the Planet', which focused on different animals, their habits and types of ecosystem; and 'Self-Expression', which explored different forms of communication, including folktales.
She explains: "We began with the story of The Three Little Pigs, which I converted into The Three Little Prey and the Big Bad Predator."
Students enjoyed the new style of learning: "They learnt so much and it was such a fun experience for them. The whole thing was so powerful and enjoyable, and I was so proud of them," added Born.
The class then had to research different animals to find out whether they were predators or prey, as well as what sort of habitat they lived in. Students were split into groups to create their own 'predator and prey'-based stories using puppets made from recycled materials, which linked back to the unit on preserving the environment and promoted collaboration at the same time.
Building lifelong skills
Once the environmentally friendly puppets were complete, students presented their stories. Born noticed the developments her students had made with their presentation and communication skills. "The students learnt so much about multidisciplinary skills like organization, self-management, researching and time management," she says. I definitely think that what the students learnt will improve the way they learn in other subjects.
It also had the unintended effect of teaching students about the food chain in the natural world.
Puppetry can also boost students' creativity, confidence, and subject knowledge, according to research from Why & How, the Primary Science Teaching Trust. Its findings also indicated that teaching with puppets improves students' concentration, motivation, observational skills, and problem-solving abilities.
Puppetry can give students a tangible understanding of abstract topics, says Alice Kristina Rose, Puppetry Facilitator for Little Angel Theatre in London, England. "If students are learning about shadows and light in a science class, for example, a shadow puppetry workshop could be very beneficial," she says. "Creating a shadow puppet gives children a very tangible understanding of what a shadow is, and how it can be changed and used."
Rose says that the most effective way to introduce puppetry is by using stories as a springboard: "As an introduction to puppetry, it's really good to use it in response to a story, and then build up from there. Most children perceive puppetry as fun because it doesn't seem like learning in the traditional sense. In this way, you can harness children's enthusiasm, and use puppetry to enhance other areas of learning which might otherwise be met with apprehension or mistrust."
Exploring emotions
Puppetry can also act as a way to introduce tougher topics such as death and conflict. NoStrings is a global company that makes puppetry-based films for children experiencing emergencies around the globe.
Translated into local languages, the films include everything from teaching appropriate sanitation and hygiene to boosting awareness of land mines. Children also take part in puppetry-based activities inspired by the film's key messages.
For example, one of its recent films, Eat a Rainbow, highlights the importance of eating a healthy diet for greater resilience to disease. It's tailored towards children in Madagascar because, according to aid charity Unicef, Madagascan children are some of the most malnourished on the planet. The film also links to NoStrings' nutrition programme to further support children.
Rosie Waller, Programmes Manager at NoStrings, explains: "We aim to teach children about the constant threats that surround them and how to be prepared to cope in those situations."
Waller says that learning through puppetry gives children a sense of optimism. "As the children we teach aren't in school and therefore lack structure, any kind of play, even if it includes learning, is their escape from reality."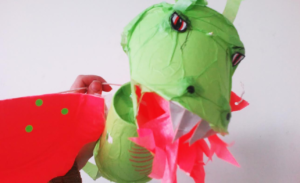 NoStrings' workshops help children process their thoughts and emotions, and give them the practical and emotional tools and support that they need, says Waller.
Puppetry also teaches the importance of morality because students explore the repercussions of particular actions. Rose explains: "Using puppets really helps children engage with the characters and have emotions towards them, which can then be used to build up emotional responses to stories or what they are taught."
Creating a safe and positive learning environment where students can explore emotions and enhance several skills is important. "The power of puppetry never stops; it's a way of learning and playing that so many people around the world have grown up with," says Waller. "It's also calming, and creates an emotionally safe learning environment to explore difficult, taboo and frightening issues much more comfortably."