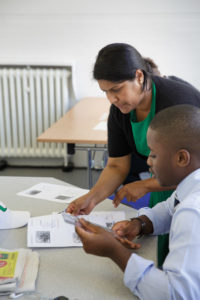 An alternative provision post-16 academy in the UK, which works with some of the most disenfranchised young people in the country, is the first school of its kind to offer the IB Diploma Programme. Head Teacher Gemma Dixon tells IB World how her team is transforming lives
The TBAP Multi-Academy Trust provides alternative educational provision for children across the UK who cannot access mainstream schools. Many students have been previously excluded from school and this is seen as their last chance for education.
However, until recently, TBAP was only able to offer education and support up to the age of 16. In past years, while a few TBAP academy students have continued on to higher education, many have not attained the GCSE results (a UK qualification) that reflect their true academic ability. These students often find education difficult or are completely disengaged.
"There is a terrifying statistic from the UK's Department of Education that in 2011-12, young people who had spent any time in alternative provision in KS4 [students aged 14 to 16] had a less than 5 per cent chance of ever going on to higher education, compared to 53 per cent of children in mainstream schools," says Gemma Dixon, of TBAP.
Because of this disparity, Dixon, with the help of colleagues, decided to put in a bid to the local authority to fund a post-16 academy for TBAP students who wish to continue on to higher education.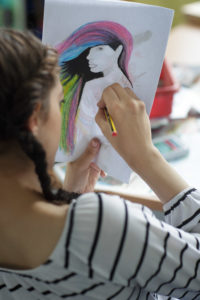 The IB Diploma Programme (DP) formed a central part of the bid, says Dixon.
"We wanted to open a school that would dramatically improve the life chances and outcome for some of these very vulnerable young people that come to us – and we wanted to open up a really clear route into university for them and we felt very strongly that the DP was by far the curriculum of choice to achieve that, she adds.
In September 2016, TBAP 16-19 Academic AP Academy successfully opened its doors to 25 students. It is the first alternative provision school to offer the DP globally, and the first post-16 alternative provision school in the country.
And so far, so good, says Dixon, previously a teacher at a TBAP academy and is now Head Teacher at the post-16 school. "The students are really enjoying the pedagogical approach, the challenge and the level of the DP. They are thoroughly enjoying Theory of Knowledge (TOK) and Creativity, Activity, Service (CAS)," she says.
"The ethos of the DP curriculum perfectly complements the ethos of what we are trying to do. We are really thrilled."
 Supporting students
Students at the academy are a mix of young people who have come up through TBAP schools and external applicants. It's described as "quite an informal set up", according to Dixon.
Students are on a first-name basis with teachers and classes are no bigger than eight students. Smaller classes mean teachers are able to dedicate more time to individual students and know each child, and their families, really well, says Dixon
"We also have highly trained teachers, experienced in working with young people who have a whole variety of difficulties in accessing the curriculum. We have access to a therapeutic team on site, including family therapy and play therapy," she adds.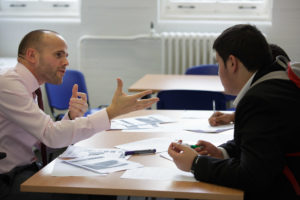 As part of their studies, students are offered a mentoring programme and resilience curriculum. Mentors work one-to-one with students, twice a day, covering literacy and study skills, and offering emotional support.
"It's quite tailored and personalized," says Dixon. "The mentors work with students to set individual interim targets to move them forward. It's a very close and intensive process to develop the self-management skills that students will require to be successful when they leave us."
Students are also encouraged to 'pay it forward' and are trained in mentoring so they can peer-mentor younger students in the other academies.
The resilience curriculum gives students opportunities to move out of their comfort zones and try new things. For example, a trip to Spain is currently being planned. "That's not an opportunity that our young people would ordinarily expect. There's also the possibility for overseas volunteer work next summer and we're working with an organization to arrange that," says Dixon.
The school of last resort
TBAP's hub school, the Bridge AP Academy – where Dixon started her teaching career – rose to fame on a national TV channel after its documentary "Excluded: Kicked out of School" gave real insights into the lives of students.
For the young people we teach, we really are the school of last resort. When you look at the stories and the circumstances of the young people we teach, I'm often genuinely humbled that they have come to school in the first place – they're dealing with difficulties in their lives and shouldering burdens that would floor many adults. It's quite a privilege to work with them.
While setting up a school has been rewarding, it has also been challenging.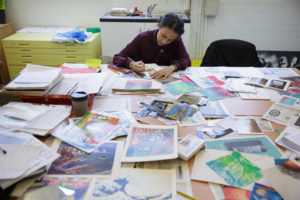 "Setting the vision for the school, hanging on to that and bringing people with me to understand that we can do this has been a challenge. Opening an academy is quite a rigorous process – there are moments where we questioned if it was ever going to open at all. It's been quite a journey."
To help teachers understand the DP and effectively deliver it, they didn't just complete personal development workshops but also visited other DP schools to see the programme in action, says Dixon.
As for the future, Dixon has begun recruiting for next year's cohort, and is looking forward to transforming the lives of more young people.
Having these further years to grow, develop and mature with us and gain all the other skills we can provide, will open more doors that wouldn't have typically been available to this subset of very vulnerable and disengaged young people, and I think that is incredibly important. It is only a small number of people, but we are transforming lives.