We invited IB Diploma Programme (DP) graduates to reflect on their lives and studies. Oliver Page received his diploma from St. Stephen's School, Italy.  Are you an IB graduate? Learn more about the IB Alumni Network at ibo.org/alumni.
By Oliver Page
I knew that I was meant to be an entrepreneur the first time I was able to solve a real problem in the world using a creative idea. This happened while I was still a student.  I launched my first startup, NutKase at 17. In September 2015, I co-founded my second start up here in Rome called Scooterino, the first scooter ride sharing solution in Europe.
When I was a student, I quickly realized that I am a visual learner rather than a traditional teaching methods student.  In middle school and my early years of high school I struggled with how lessons were delivered.  This all changed at the beginning of my first year of the IB Diploma Programme (DP), when I was introduced to Mind Mapping. This is a technique of memory improvement suggesting that from one core idea, others spring forth, and spread and multiply, each giving rise to others.
Mind mapping casts aside the traditional route of laboriously taking notes and writing reports and replaces this with a visual process of gathering, analyzing, and memorizing data. It can help construct an intuitive image of an entire process. Quoting Tony Buzan, the brainchild of mind mapping, "When we limit and constrict our thinking by reducing it to lines of neat notes, that's when we find that our natural inventiveness and creativity tend to suffer."
I learned how to analyze situations, break them down to uncover core messages, and connect ideas to practical solutions.
I was fortunate enough to have parents who recognized this valuable new tool and I was able to take an intensive mind mapping course to learn how to expand my memory via creatively constructing images and stories.  That was a game changer for me as an IB student.  These techniques, learned nearly a decade ago, are things I still employ today.
Sitting in theory of knowledge (TOK) and economics classes at St. Stephen's School, I was challenged to develop better methods for filtering information. I learned how to analyze situations, break them down to uncover core messages, and connect ideas to practical solutions. Building these valuable skills was the bedrock of my DP experience.
I also had a strong desire to be heard amongst my peers. I used my creativity, activity, service (CAS) experience to develop my public speaking skills. Learning to confidently and creatively express myself in various ways and in more than one language, is for me, the greatest take away from having studied the DP. Today, while managing two startups, I find it absolutely essential to confidently respond quickly under pressure.
I've always had a plethora of design ideas bubbling up inside. Scooterino is part of the sharing community. With Rome's traffic congestion the Eternal City has been the perfect launch pad for this unchartered endeavor!  We recently closed a new round of funding which will help us scale Scooterino nationally in Italy. My time is split between leading my two teams, who both share the same office.
At NutKase, I partner with schools and corporations worldwide equipping them with high-quality, protective cases for iPads and MacBooks. In the education sector, we focus on helping IT directors deploy tablet/laptop programs in their schools. Our mission is to help new schools bridge the gap as new technologies emerge, and offer advice to save time and resources when deploying new devices.  Looking back, successfully bringing an idea from a simple concept to a developed brand has offered an immense sense of satisfaction.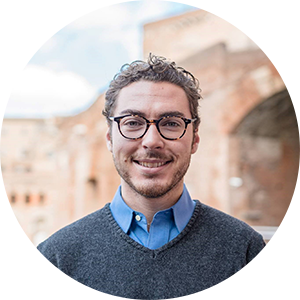 Oliver page completed his IB Diploma Programme studies at St. Stephen's School, located in Rome, Italy. 

To hear more, watch his TEDx talks on the obstacles he encountered with his first
startup in Rome
and on
outside of the box self-promotion
, where he discusses the importance of genuine relationships in an age of intense social networking.
Have a great story to tell? Write to alumni.relations@ibo.org.