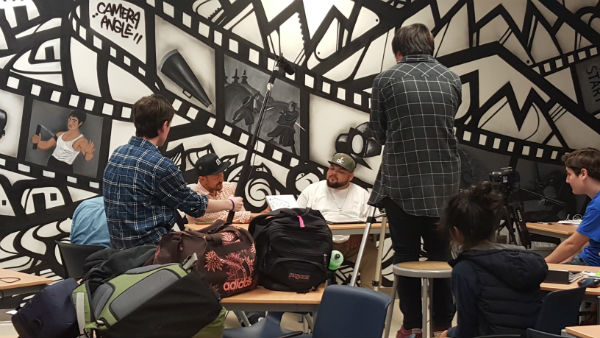 When you walk towards the film classroom at Washington-Lee High School in Arlington Virginia, USA, you are met with a visual feast of energetic and colourful walls of graffiti. Diploma Programme (DP) film students embrace this space where they're engaged and inspiration can flourish. We invited film teacher Rosa Reyes and artist Mas Paz to express how creativity and academia can be combined to allow students to prosper and enjoy their classroom experience.
Here, Rosa explains how the mural started as a way to visually engage DP film students with the course.
This is a new course at our school—and the only DP film course in our county. So, I wanted the classroom environment to establish an immediate creative connection for them, much like someone feels when they walk into an art gallery—you may not be Picasso or Monet, but as you observe the beauty of their art, you cannot help but become inspired. As soon as the school commenced, the students walked in and the graffiti mural was revealed for the first time. They immediately knew they were a part of something very unique and special. Students began to appear in the room during other periods and would bring their friends to see it while exclaiming, "Check out our room!"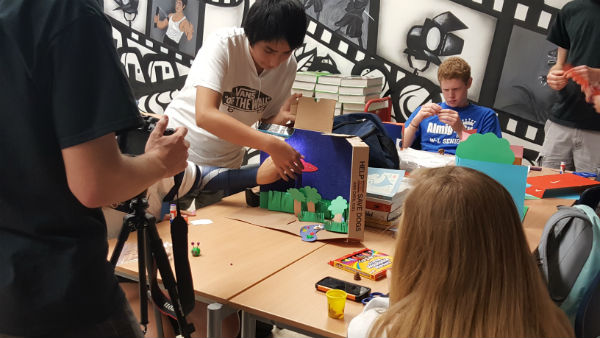 Rosa explains that, immediately, the students embraced the walls as theirs and were so proud to be a part of this experience.
As all good theatres have a name, I decided to name the room, "El Chad." The objective of the name is multifaceted. First to give the room its own identity—I do not want students to think of this classroom as my classroom, but a special place they can come to be creative. It also is an acronym for Cinematic History, Artistry, and Direction—all the content we study as part of the course curriculum. Finally, it also serves as homage to our IB Director, Chad Demagistris, who was instrumental in bringing the DP film course to our school's IB programme.
Class enrollment increased from 35 registered students to 50 in less than 24 hours.

In time, all the film students wanted to relate to others how the wall made them feel when they were in the class. Therefore, we began to develop a documentary film production to showcase as part of a Hispanic heritage assembly. All 50 of the IB students took part in conceptualizing the film in conjunction with the artists, a parent‐mentor who worked on a historical documentary film project in the past, and one of my parent-student liaison colleagues, Mr Hernandez. Everyone got involved in making the walls come to life. The film was premiered in front of the entire school and to this day, we still get visitors, community leaders, parents, alumni, or other students who come to take in the mural's experience.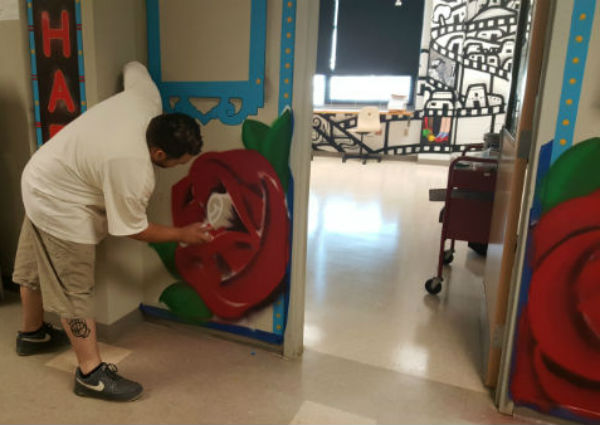 The mural is mostly designed in collaboration with the artists, "Toka" and "Mas Paz," throughout the summer of 2015. Prior to the new school term starting. Mas Paz followed his philosophy to spread the message of Mas Paz, meaning "more peace" in Spanish, raise money for the orphanage in La Casa De la Madre Y El Niño, Columbia and share what he knows with the community as much as possible. "I hope students will be inspired to go home and create. With Rosa's classroom, I hope that it motivates students to know their potential as a mural artist or whatever creative outlet they choose. To know that they can get paid for what they love." Rosa later explains how the collaboration that ensued with the documentary film project about the walls helped students see the value in connecting with their local community – to realize they are part of an ongoing story.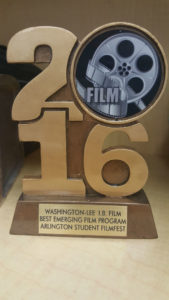 The documentary has since won several awards at a local student film festival the class was awarded the Best Emerging Film program for Arlington Public Schools!
The mural certainly demonstrates the potential of how four walls can be transformational in how a classroom experience can feel for the students and the teacher.
If you have a vision that can help connect students more to learning and to help them appreciate the learning experience further, make your mark and share your story here, post your comments below.
---
Rosa Reyes is an English teacher and DP film teacher at Washington-Lee High School in Arlington, USA. MasPaz is Latino artist currently living in Arlington, Virginia.