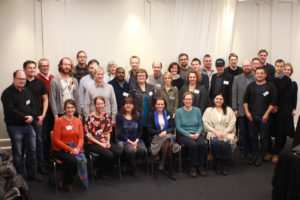 Educators compare notes on internal assessments and share new ideas for student engagement
The International School of Helsingborg, in Sweden, was looking for ways to enable its more "lonesome DP teachers" (standalone subject teachers) to collaborate with other educators on a regular basis.
IB Diploma Programme (DP) Coordinator Daniel Blair contacted all the other IB World Schools in the country running the DP, asking teachers to join forces and swap and share their ideas. He was inundated with responses, highlighting a desire for local collaboration and networking.
Recently, 45 teachers from 10 Swedish IB World Schools came together for the International School of Helsingborg's one-day 'IB Diploma Groups 3 and 4 networking event'. Teachers of economics, environmental systems and societies (ESS), global politics, history, psychology, biology, chemistry and physics attended – some travelled over 500km.
Teachers new to the IB also had a chance to be mentored by experienced DP teachers.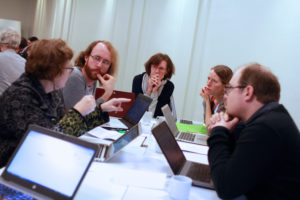 Blair says: "The standalone teachers – those working alone to teach and assess their DP students without the daily support of a subject-expert colleague, or one teaching in the DP – may not always feel comfortable marking Internal Assessments (IA) or making decisions about other IB-specific demands that can affect the outcome of their students' learning. They might want to meet up with other IB teachers at a pivotal time of year to collaborate on standardizing IA samples, and to share what gets their students excited to learn.
"As many DP teachers in Sweden teach both the Swedish national curriculum and the IB, having at least one day per year to meet with subject colleagues and share IB-specific issues provides focus and momentum moving into the IA submission and exam term."
DP Teacher Caroline Billow from St Eskils Gymnasium, in Eskilstuna, found the event "helpful and interesting to reflect about subject-related questions, especially since I'm the only ESS teacher in my school," she says.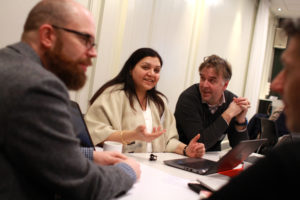 Blair encourages other IB World Schools to try this approach. He says: "With an exploratory email to IB World Schools in their area, coordinators and teachers may be surprised by the richness of collaborative opportunities for their subject islands or small departments, right around the corner, down the road, or across the country."
The event was a success and teachers have since coordinated follow-up meetings. Blair hopes to make this a regular event.
---
This article is part of a series of stories from IB World magazine that bring to life the wonderful initiatives undertaken by IB students and educators from around the globe. Follow these stories on Twitter @IBorganization #IBcommunitystories. Share your great stories and experiences: email editor@ibo.org.