DP students refurbish a local girls' school to ensure nothing stands in the way of learning
IB Diploma Programme (DP) students at TNS Beaconhouse, in Pakistan, are particularly passionate about empowering girls through education.
When they heard that local girls' school Kotwadada, in Lahore, needed a complete makeover, they were keen to help. Due to incomplete electrical wiring, students would often go long periods without electricity. There was very little classroom equipment and no chairs or tables.
Asma Amanat, DP and Middle Years Programme (MYP) Coordinator, says, "The vicinity looked run down, with litter and garbage lying around. The school lacked a proper entrance door – the only way into the school was via a back entrance in an alley."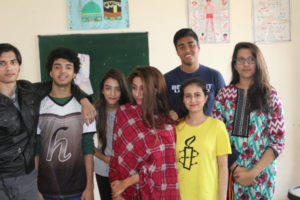 The students collaborated with service organization Rotary International. They began the project by conducting a survey assessment of the campus and its surroundings. They also met the Head of School and teachers, and distributed food to all students.
Almost 200,000 Rupees (US$1,900) was raised from bake sales and donations from families and friends. The funds were used to hire an electrician to fix the wiring and buy a new door, furniture, fans and paint. The students spent time redecorating the classrooms.
Initially, seven TNS Beaconhouse students were involved in the Creativity Activity Service (CAS) project but, as it progressed, five other volunteers joined to lend a helping hand.
Although the school refurbishment is complete, many TNS students still visit the children at Kotwadada every weekend, teaching them English, mathematics and arts classes.
This article is part of a series of stories from IB World magazine that bring to life the wonderful initiatives undertaken by IB students and educators from around the globe. Follow these stories on Twitter @IBorganization #IBcommunitystories. Share your great stories and experiences: email editor@ibo.org.