Students share their knowledge with local care home residents to help them refine their IT skills
IB Diploma Programme (DP) students at IB World School ACS Egham, in the UK, are using their digital skills to make a difference in their local community.
The school's technology club, which started four years ago, is an extra-curricular group for DP students who are interested in technology. The club regularly visits the Sunrise Senior Living's Virginia Water local care home, and has taught residents how to shop online, browse the internet and Facetime – all from the comfort of their iPads.
"These features can be extremely helpful for residents, enabling them to keep in touch with family and friends," says Bina Mistry, ACS Egham Upper School IT Integrationist and Technology Teacher.
Students also showed residents how to use the Google Maps app to explore the surrounding neighbourhood and spot their old houses. The residents were very interested in learning the new skills from the squad."
As part of the club, students learn coding, create avatars, using Adobe's Illustrator programme, and design apps and games. They've also taught their parents how to code.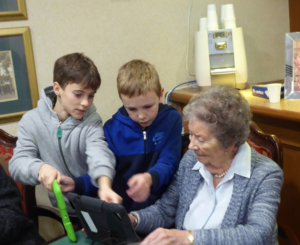 Mistry adds: "With the demand for digital skills growing in almost every area of life, we wanted to provide an extra-curricular club for students to expand their interests in technology, whilst giving them the opportunity to help others with their digital knowledge."
The club recently spoke with Disney Infinity coders – who work in the gaming industry – via Skype. Students felt inspired by the talk so there are plans for more Skype calls in the future, says Mistry.
This article is part of a series of stories from IB World magazine that bring to life the wonderful initiatives undertaken by IB students and educators from around the globe. Follow these stories on Twitter @IBorganization #IBcommunitystories. Share your great stories and experiences: email editor@ibo.org.