---
Proudly telling the world about #generationIB in our 50th anniversary year
---
One PYP student is spreading the message about the harmful effects of palm oil and doing all she can to raise awareness
Conflict palm oil production is linked to deforestation and human rights violations.  An area of rainforest – the equivalent size of 300 football fields – is cleared each hour to enable the production of palm oil, killing and displacing thousands of wild life, according to conservation organization World Wildlife Fund (WWF). Many food manufacturers use conflict palm oil but, if this process continues, species such as orangutans and tigers could become extinct within the next five to 10 years.
Many organizations are campaigning to put an end to conflict palm oil production, standing up to big corporate organizations and encouraging them to adopt sustainable production. And PYP student Katie Griffiths at International College Hong Kong has joined the fight.
Katie is raising awareness of deforestation and working to save orangutans from extinction. She made a Twitter page (@PalmOff_Forests) and a video about the harmful effects of palm oil production, and presented the findings to her school community during her PYP Exhibition. Katie also made and distributed flyers to boycott conflict palm oil.
My topic was endangered animals but I mainly focused on palm oil and the orangutans," she says. "I have been tweeting about conflict palm oil and by making the video for everyone to see, I hope they will be inspired to use sustainable palm oil."
Katie also adopted an orangutan from WWF.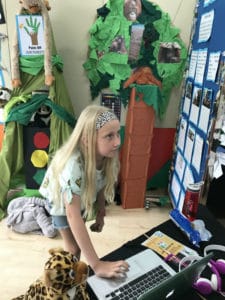 The central idea for exhibition was: 'Organizations are trying to save endangered animals as they are interconnected with the ecosystem and us, but it is often a complex problem'. The transdisciplinary theme was 'Who We Are'.
Katie says she's gained confidence and independence since starting the project. "During the exhibition process you have to do a lot of things by yourself. Going forward, I would like to become more creative in learning how to reach a wider audience."
The PYP Exhibition may be over but Katie is continuing to raise awareness via social media. "I am also trying to eat and use as many sustainable palm oil products as I can," she adds.
---
This article is part of a series of stories from IB World magazine that bring to life the wonderful initiatives undertaken by IB students and educators from around the globe. Follow these stories on Twitter @IBorganization #IBcommunitystories. Share your great stories and experiences: email editor@ibo.org.