---
Proudly telling the world about our philosophy in our 50th anniversary year
---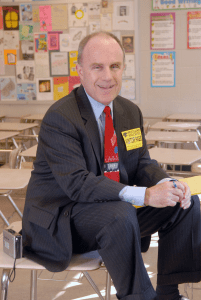 Jay Mathews' employer for 50 years, The Washington Post, describes him as a Harvard-educated columnist and education writer with Chinese language skills and author of nine books, including five about high schools and a New York Times bestseller. It was also Jay who "created and supervises the annual Challenge Index rankings known as America's Most Challenging High Schools". We caught up with this award-winning education writer for a short but sweet interview.
What initially caught your eye about the IB Diploma Programme and what continues to keep it on your radar?
I had written two books about Advanced Placement (AP) and started the Challenge Index, a way of measuring schools by their participation rates in college-level tests. I knew little about the IB Diploma Programme (DP) but it sounded very much like AP, only deeper. So I started to hang around George Mason High in Falls Church, Virginia. They let me take the 20th-century history higher level (HL) exam, which just about killed me. What I find most important and attractive about the DP is the emphasis it puts on writing. Almost no US high schools require a major research paper for graduation, except if you are doing the DP. Theory of knowledge (TOK) also struck me as a very engaging addition to US education.
In today's increasingly complex world, what role does the IB play and how are we making an impact?
It allows you to teach the major high school subjects in depth, something that almost never happens except with AP and DP. It is the best way to prepare kids for college. I also like the IB's willingness to take this program to schools full of poor kids. Its principal impact is raising expectations for high school students, where there hasn't been any significant increase in average achievement rates in more than 30 years.
As an expert in the field of educational reporting, what advice would you give students today on how they can prepare for the future workplace?
Learn to read deeply, write clearly, know some mathematics, learn how to make presentations and work in a team. The DP is particularly good at improving student writing. These skills are as useful in the workplace as they are in college.