A DP student has launched weekly yoga sessions for her peers to help them relax and unwind
Students at Flagler Palm Coast High School, Florida, USA, are feeling less stressed thanks to yoga devotee Ekatereena Kouzina. The IB Diploma Programme (DP) student has set up weekly yoga sessions as part of her Creativity, Activity, Service (CAS) project.
She says her 'Root to Rise' project:
"aims to increase the use of mindfulness exercises to promote movement literacy so that students are more self-aware in stressful settings"
Ekatereena has had a great response from students who say they feel more relaxed and better able to focus in class.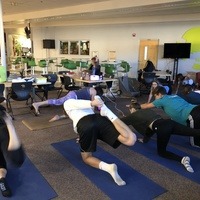 After the first DP yoga session in January, Ekatereena conducted a survey and found that 85% felt less stressed with the remaining 15% being unsure. However, the number has now risen to 100% of students saying they are less stressed.
The project has helped Ekatereena to develop IB learner profile attributes.
I have become more knowledgeable, caring and risk-taking. Yoga is not accepted by everyone and asking administration to allow teachers to shorten their class time is risky," she says.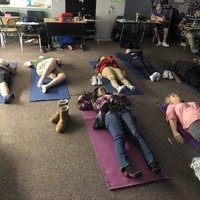 "I also stepped out of my comfort zone when I introduced classes to the ESE room. However, because I am knowledgeable of the benefits and can prove them with data, I believe I can compile a valid argument for implementing mindfulness into classrooms across the school. My main motive behind the project is to help decrease students' stress levels, showing that I care about the wellbeing of my peers."
Ekatereena adds:
"I plan on presenting to all of the deans at school and Principal Robert Wallace in the hope of making it a school-wide movement."
---
This article is part of a series of stories from IB World magazine that bring to life the wonderful initiatives undertaken by IB students and educators from around the globe. Follow these stories on Twitter @IBorganization #IBcommunitystories. Share your great stories and experiences: email editor@ibo.org