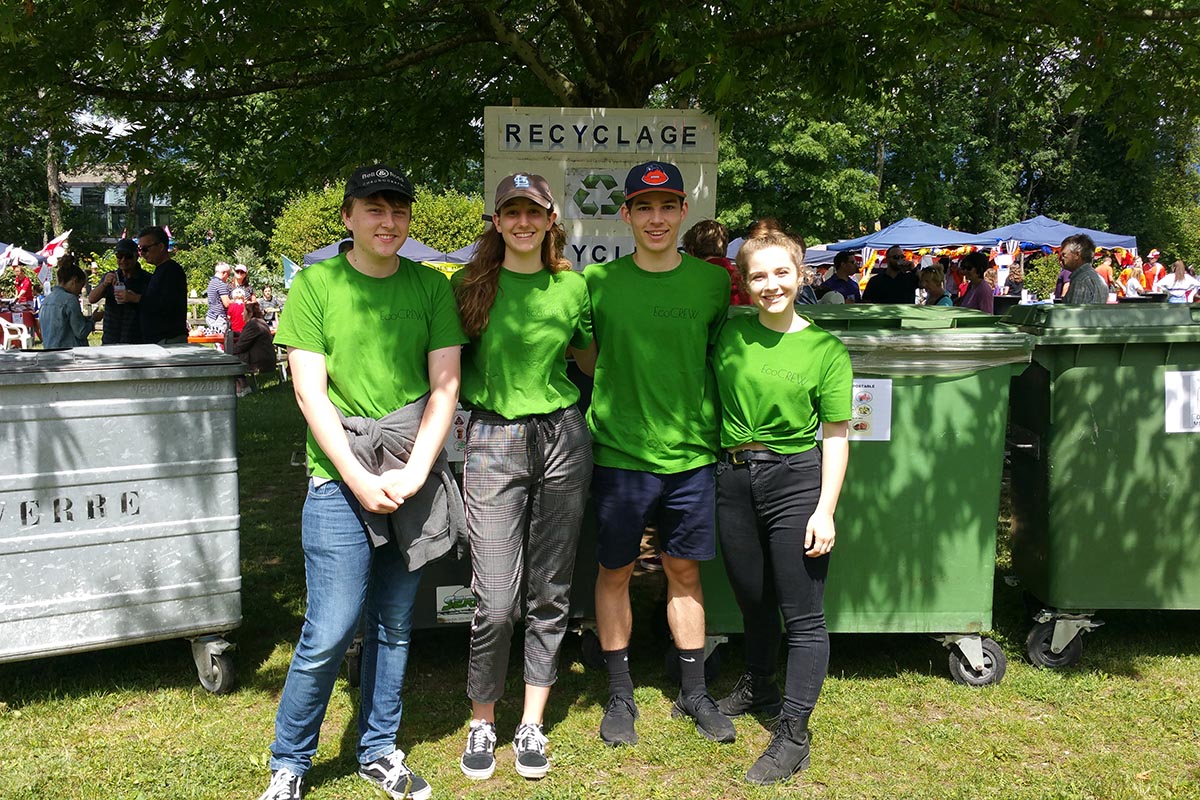 Members of the EcoCREW at the Kermesse.
Half of the plastic produced is designed to be used only once and thrown away, according to UN Environment. More than 99% of plastics are made out of chemicals derived from oil, natural gas and coal, which all contribute to global warming. A staggering eight million tonnes of plastic ends up in the world's oceans every year, harming marine life. Human health is at risk too, as microplastics infiltrate our water supply and food chain.
These shocking facts are causing a growing number of students around the world to take action to protect the environment, demonstrating that student-led change is possible. The International School of Geneva (Ecolint), Switzerland has eliminated single-use plastics (SUP) on its campus, which was a massive undertaking.
The EcoCREW
Jan Dijkstra, sustainability coordinator, mathematics and theory of knowledge (TOK) teacher started the school's plastic-free campus journey in September 2017. "Schools and educators need to respond to these growing concerns. Students today are fully exposed to all the news through social media, and I think it is irresponsible of schools not to allow students to develop local responses to global issues," he says.
He and a colleague first met up with Ecolint alumna Alexis McGivern, who works in the field of sustainability, to discuss how a plan could be put into place. The campus Principal was immediately supportive, but Dijkstra says, "we underestimated the scale of the challenge to achieve this stretching goal".
"The whole initiative has been very positive in bringing the school community together."
The first step was to announce the objective to the whole community in the weekly campus newsletter. Our aim was to eliminate, within six months, unnecessary plastic items such as straws, disposable plastic cups, single-use bottles, plastic lids and disposable cutlery, and point out the impact of plastic pollution. The plan gained momentum when it was shared on the school's social media channels.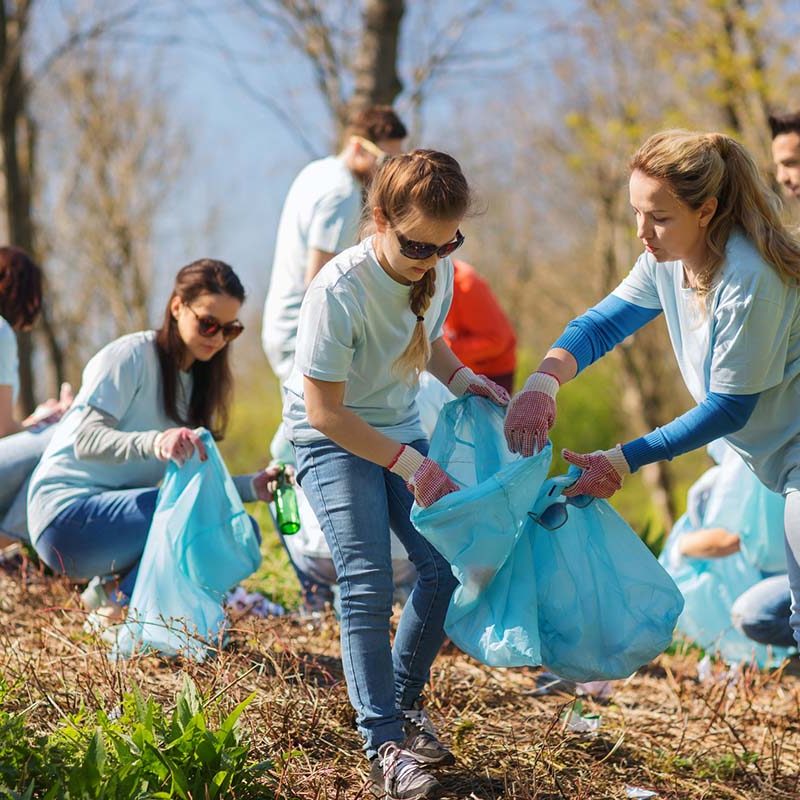 The key step was forming a team to make it happen which included students, parents and the campus facilities manager. Dijkstra mobilized the EcoCREW, a student-led committee made up of volunteers in the Middle Years Programme (MYP) and Diploma Programme (DP). This gave students the opportunity to display various IB learner profile attributes. Last year, six students did their creativity, activity, service (CAS) project through the EcoCREW.
Dijkstra says: "The students were principled and caring when they came in but became more balanced by making changes in their own lives and sharing that with their friends and families. They also become more knowledgeable.
"We put an emphasis on taking risks when interacting with the community, asking students to engage with parents and their peers during our school events. Our students will typically be separating waste, and this will invite both praise and less flattering responses, which gives rise to reflection."
Changing behaviour
The school has banned the sale of drinks in polyethylene terephthalate (PET) bottles in the cafeteria and vending machines. Now students and staff bring their own durable water bottles to school and drink water from the fountains.
Other initiatives have been harder to implement. With the support of catering supplier Novae, the school has found replacements for snacks, ice-cream, yoghurt and other products which arrive wrapped in plastic. The catering team, for example, now decant large containers of yoghurt into smaller compostable dishes, rather than selling ready-portioned single-serve yoghurt. Dijkstra says the catering team embraced the project with enthusiasm and found solutions to seemingly insurmountable problems.
"This is a continuous journey for us all. It doesn't end in one year and it should be embedded in the school community."
During the process, Dijkstra learned that biodegradable packaging is not the best solution as disposal requires special conditions, most notably a temperature above 40°C, which is rarely met in the disposal chain. So, the school opted, wherever possible, for compostable materials, which break down on their own and while naturally decomposing deliver additional nutrients to the soil.
Eliminating SUP at large parent-teacher association (PTA) events such as the annual, 'Kermesse', was also a challenge. "Taking one problem at a time and engaging students and PTA members in brainstorming ideas led to a common vision and shared commitment," he says.
The PTA decided to order reusable cups which are sold to guests when they arrive. They are encouraged to take these home to wash and bring back for future events. Individual bottles of soft drinks have been replaced by cans, which are easy to recycle and have less negative impact. Cutlery and plates are now all made from compostable or biodegradable materials. The EcoCREW helps out at events, separating waste at an EcoPoint.
Spreading the message
The whole initiative has been very positive in bringing the school community together. "This has been the most amazing part, really. When we set out, we were really focusing on the reduction of SUP. To make that happen, we needed to speak to different stakeholders and get them on board. By managing to do so, we found a common goal. This is now spreading to buildings, energy, and transport, so it is helping us address other aspects of sustainability that play a role in school life," he says.
Based on the learnings from the project, alumna Alexis McGivern helped create a free online resource for schools with support from the Gallifrey Foundation. The platform provides a, "self-guided methodology to help schools target and reduce single-use plastics on campus". So far, 43 educational institutions have signed up. It has also just launched an Eyes on plastic project to keep people involved now that many students and teachers are working from home due to the COVID-19 outbreak.
"This is a continuous journey for us all. It doesn't end in one year and it should be embedded in the school community, which changes year after year," says Dijkstra. "It is our hope that hundreds of schools will follow our example, empowering their students to make a positive change in today's world."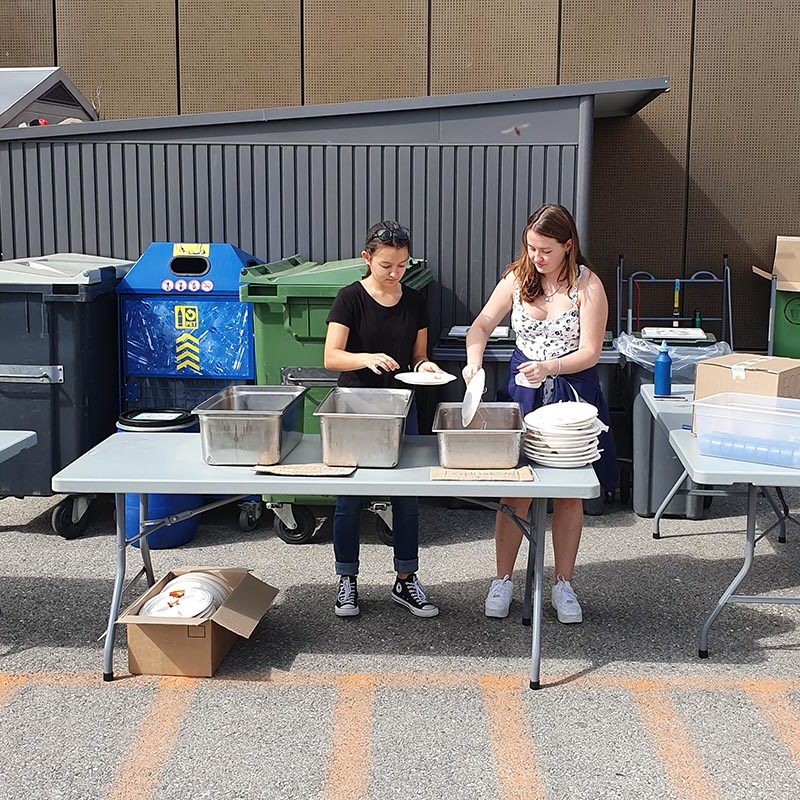 EcoCREW members at the picnic separating waste.
If you are an IB World School or an IB student and you wish to share your story with us, please write to us at communications@ibo.org. We appreciate your ongoing support and invite you to connect with us on LinkedIn, Twitter and now Instagram!