In this article you will read how to align the physical education with your school curriculum.
At the start of any new school year having your yearly programme set up and having a blueprint for the way you are going to deliver your school's curriculum to your students is vital. Let's be honest, curriculum documents are often long, tedious and sit on shelves far out of the mind's eye. The problem is that if we are not looking at them, how can we ensure that the physical education programme that we are delivering to our students on a day to day basis is aligned with what our curriculum suggests?
That is why I decided to try and break my curriculum scope and sequence down into a more easily read and understood way so that I could better ensure I was meeting all requirements. I currently teach in an elementary IB World School. All teachers within our PYP school collaborate together to have their students inquire into 6 units of inquiry each year. As a physical education teacher my job is to support the students in their inquiries, collaborating with their classroom teachers to ensure that what happens in the gym or on the field is aligned with the concepts and big ideas that are being discovered in the classrooms. I can already hear you asking "But how does this leave any time for teaching movement skills, teamwork or sports?"  While I aim to collaborate on every unit, its only really possible when making meaningful connections to what going on in the classroom.
Just because students are inquiring into the water cycle does not mean I should suddenly ensure they are all drinking enough water. Or if I were a music teacher, sing songs about water for the sake of it. It is the connection to bigger ideas and concepts that really matters. In my school as single-subject teachers (physical education, art, music), we have agreed that we will aim to collaborate fully with classroom teams on at least 1 unit of inquiry a year. This unit should be authentically linked to our subject area. For example at the moment I am collaborating with the grade 3 classes and supporting their inquiry into choices and the consequences of their choices. I bet you can already think of a thousand things you could do in physical education around that concept.
Planning my programme
As a physical education teacher in a PYP school, my responsibilities also lie in making sure that I am meeting the learning needs of the students in the area of PSPE (personal, social and physical education). While a lot of the personal and social education is embedded in classroom time, as physical education teachers we cannot forget our responsibility to be active as experts in this field of knowledge. In terms of putting together what my yearly program will look in physical education, here is how I went about it this year. First I took the PYP PSPE scope and sequence (2009) and looked at the 3 strands of PSPE; active living, identity and interactions. These three strands are the umbrella that all things PSPE should fall under and the PSPE scope and sequence document breaks these strands into 4 phases, outlining expectations for student achievement at each stage. As I mentioned earlier, looking at curriculum documents can sometimes be tedious and confusing, so to make it easier on myself, I tried to colour code each of the learning outcomes into smaller concepts or ideas. You can see this below:
PSPE strands: active living, identity and interactions
Once I had colour coded the learning outcomes, I created a new document and grouped these learning outcomes into larger concepts like physical literacy, appreciating diversity, building self-confidence, working together, questioning, etc. This helped me a lot to see the different big ideas that I should be touching on throughout the year when students were taking part in independent inquiries. You can view these documents below.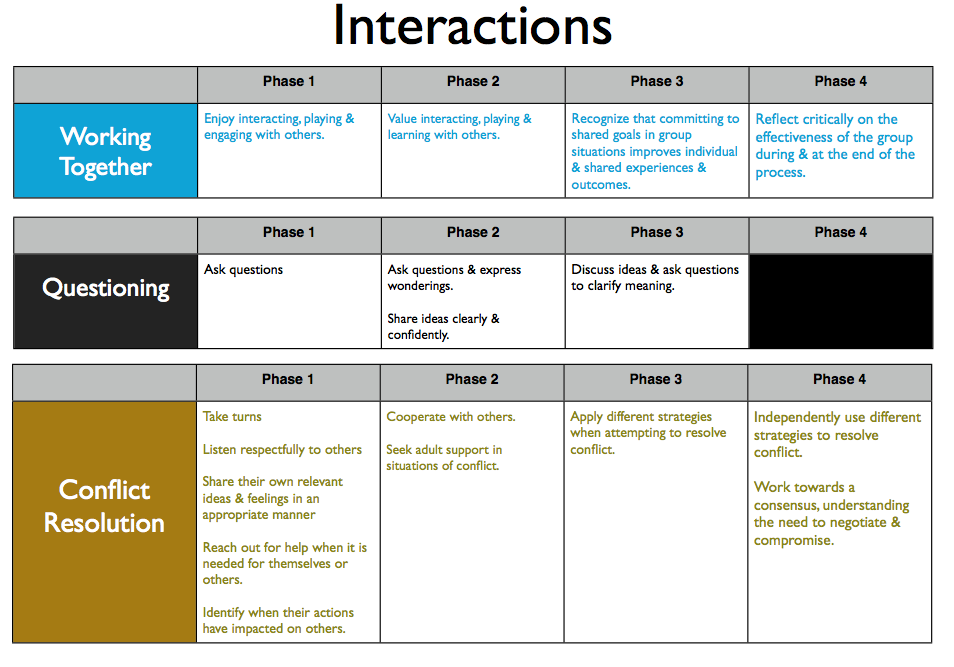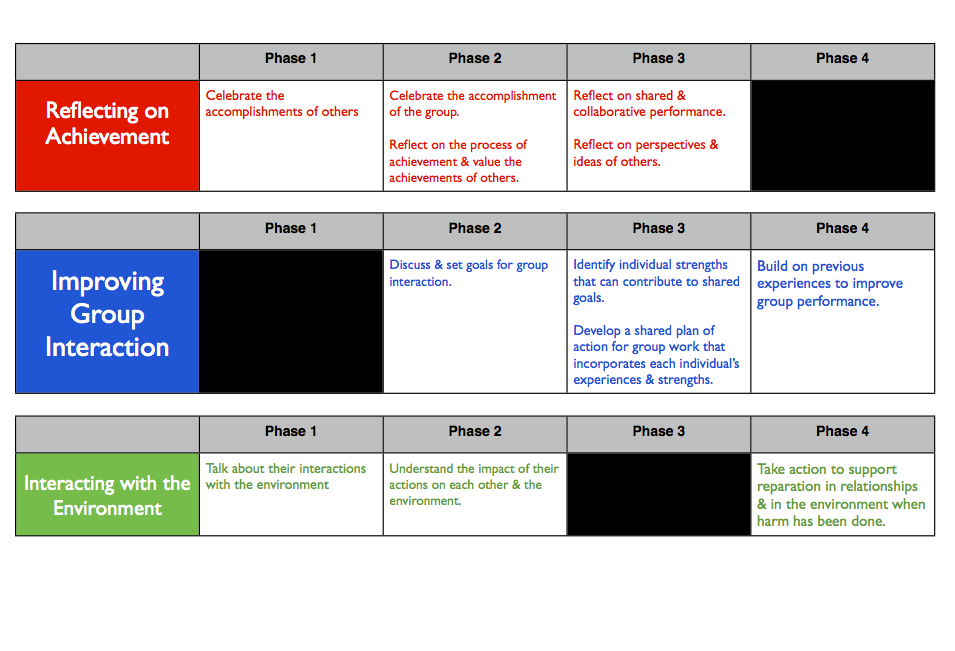 Once I had these learning outcomes and big ideas grouped, I looked again at the PSPE scope and sequence and it suggested that a balanced physical education curriculum should include experiences in the following 5 key areas:
Games
Adventure challenges
Movement composition
Health-related fitness
Individual pursuits
Now that I had my learning outcomes in place to guide my teaching, I could start to plan independent units of inquiry based around these 5 key experience areas. Below you can see the finished product.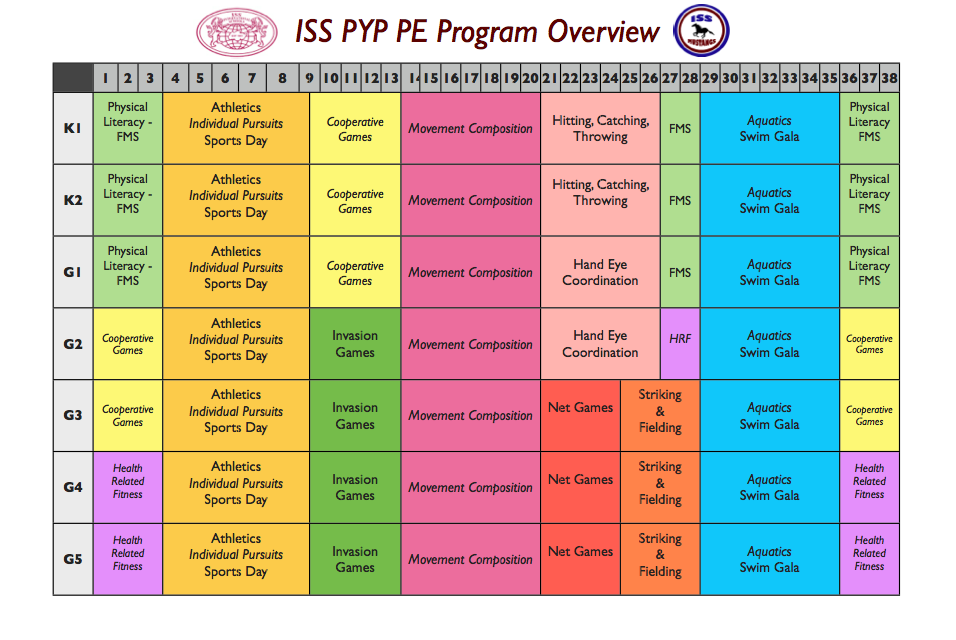 You can see that I tried to group experiences by different age and grade levels. For example, K1-G1 are often taking part in similar activities and G2-G3 & G4-5 are taking part in similar activities. By planning experiences in this lower elementary cycle and upper elementary cycle, I am able to assess student progression against the learning outcomes from the documents above. While both K1 & G1 might be taking part in cooperative games, they are working at different concepts and phases and aiming to achieve different learning outcomes.
A balanced programme
While it was a lot of work to get this in place (it did take me over 2 years to get it fully in place), I feel that my physical education programme is much more balanced and authentic to the curriculum in which I teach. By identifying the learning outcomes and breaking them down into big ideas and concepts, I was able to see exactly what it is that I want my students to be able to know and do, and in turn exactly how and what experiences I am going to facilitate in order to get them to discover these understandings and skills. Having this programme in place also has allowed me to feel more confident on a day to day basis in delivering lessons as I know exactly what it is I should be doing, rather than racking my brain for activities, that while meaningful and beneficial to the students' physical education are not necessarily aligned with the school's curriculum. Now that you have seen how I have done it, ask yourself the hard question of "How does my programme align with my school's curriculum?" If you find it difficult to answer then spend some time before the students come back and really break your curriculum down into a way that is easily understandable for you, then start planning your yearly program. While time consuming and sometimes brain breaking, it will leave you and your students with a more meaningful and engaging physical education experience in this coming school year.
—
The original article can be found in Nathan's blog
here
.
—
Nathan Horne has previously worked in schools in Italy, Cambodia, United Kingdom and Australia. Nathan is passionate about advocating for 21st century physical education and breaking the negative stereotypes associated with "gym class". He has lead workshops in Singapore, UK and Canada on the use of technology in PE to promote critical thinking. He blogs about inquiry and technology in #PhysEd at www.iPhys-Ed.com and can be found on Twitter @PENathan.