Highlights from "Unraveling the media" by Vandana Parashar.

Central idea: Media helps us to communicate our ideas and feelings, and to wider audience, and also impacts our lives.
On entering the classroom, students were surprised to find posters, banners and signposts hanging from different areas of the ceiling along with a radio, a TV cutout, a video camera, a microphone and laptops with news channels running…
When asked about the objects' role or purpose … or how they helped us… the responses poured in:
'For information; for entertainment; for telling us something new; for keeping us updated; for educating us'
We then played with their key words to formulate the statement: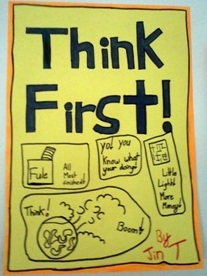 "All these things help us in communication and keep us connected with the rest of the world"
The term 'media 'was introduced, followed by the central idea.
Following our agreed 'No Media Weekend' students shared how different and difficult it felt living without Media.
From their reflections emerged an understanding that we are all dependent upon Media for information and entertainment; but in its absence, we could spend more time with our family; reading; painting; exploring new games and activities.
Students also realized that it is essential to have a balanced life when it comes to using Media.
We discussed the evolution of communication, from smoke columns to conch shells and created a timeline.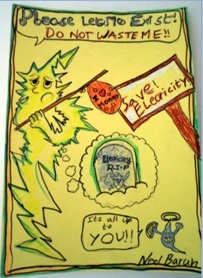 Next, we explored different types of Media, starting with an awareness campaign for saving energy by creating posters and banners and digital advertisements.
Students learned the use of 'persuasive words and phrases' in order to attract the 'target audience' and how media agencies make use of 'superlatives' and 'exaggeration' in order to project themselves as 'the best' in front of the consumer. Students seemed to understand the gimmicks used to attract and influence people who can end up buying the wrong things.
Visiting a popular Indian news-channel we learned how they gather information, the different types of of programmes created and how news is broadcast and relayed across the world.
After giving a running commentary at a school match with microphone and loudspeaker, students decided to target a larger audience and began with our class blog. 
Publishing a newspaper – students gathered information and collated using Microsoft publisher.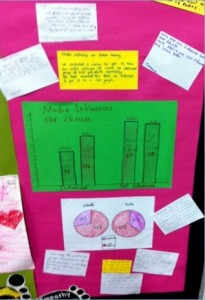 Setting up a radio station – With scripts at the ready – students stationed themselves in one room and had loudspeakers placed around the school. Listeners were having breakfast when these fourth graders broadcasted their programmes!
Students also learned about the consequences of sharing information on the internet from ThinkUKNow and recorded their reflections here.
Students used all the different media to gain a deeper understanding of the 'function' and conducted a survey on 'how media influences the choices we make' to understand the different 'perspectives'.
Students showcased their understanding of the central idea by creating short movies, big displays and a power-point presentation with voice thread.
From being inquirers to risk takers to communicators to curious independent thinkers… these 9 year olds were a little bit of everything throughout those 6 weeks!
—
To read more stories from Vandana, visit her class blog here.
Vandana has been a primary educator for the last 11 years in international schools from New Delhi to Tokyo and believes in good pedagogical practices and keeping her children happy and excited about every single moment of the day.