A look into the use of infographics and videos as tools to create a powerful message.
"Our class invited Salva Dut, founder of Water for Sudan, to come to the school and speak during the school assembly. He will challenge the children at the end of his assembly with the question: 'How can water change the world?'
I was thinking about this question and thought I would go on the search for infographics using the suggested links on the course website.  I found the infographics to be interesting to read but were presented at a level that was beyond my students ability to synthesize and understand.  I did, however, decide to take bits and pieces of different ones and explore them with the kids in order for them to understand some of the data that is out there.
I used: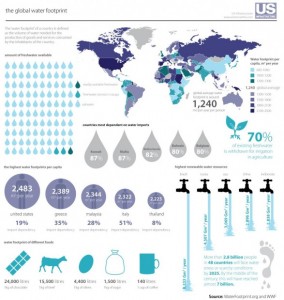 Explore more
infographics
like this one on the web's largest information design community –
Visually
.
and: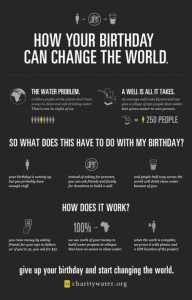 In reflection, I found the first one to be quite interesting but my kids found it hard to focus on the important aspects of the data. The second infographic I used made more sense to them because it was connected with their birthday and for them it was more visually appealing with a simplistic design and a powerful message. I came across a video that actually gave the kids a more powerful reason to reflect and embedded this one onto my class blog for them to comment on that evening. The video reminds me of an infographic turned into a video using animation.

I am not sure if the infographics I found gave me the message that I wanted the kids to walk away with. This could be due to a number of issues like not knowing where to search and not finding kid-friendly infographics. Perhaps next time I could have made my own. This presents its own challenges because of the time it will take to create one.
All in all, it was fun to use them with the kids. Did it have the effect I wanted it to have? Probably. The video did better. This causes me to question how powerful media can be for creating a message and how a story like the video I used has the potential to be powerful….
Which one do you find more powerful? How do you use infographics with your students?"
—
The original article can be found in Tim's blog here.
Tim has taught the PYP and North American curriculum schools for eight years. He has taught Kindergarten to Grade 3 in Canada, Beijing and Malaysia. Tim is currently enrolled in COETAIL (Certificate of Educational Technology and Information Literacy). He enjoys integrating technology into the classroom and is passionate about learning, sharing and exploring with his students. He blogs at www.coetail.com/tgascoigne.