A PYP/MYP teacher-librarian writes about the role of the library at his school. 
The library should be one of the most exciting places in the school: the hub of learning, reading, research, discussion and collaboration. I try and create this at Tokyo International School (TIS). As a teacher-librarian working in the PYP and MYP, I begin the year discussing with the students how the IB learner profile and PYP attitudes influence life in the library. Being a risk-taker means experimenting with a variety of genres, both fiction and non-fiction and taking books that challenge you as a reader, and not being afraid to use new technologies. Being principled means committing to trying your best to finish a book. A balanced reader takes a variety of new reading materials. Communicators recommend books to others and talk about stories with others. We discuss with students how we can put these into action.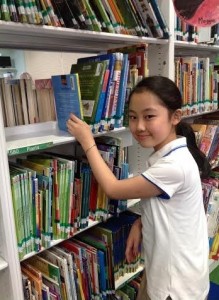 As a teacher-librarian I collaborate with classroom teachers to ensure that the collection in the library supports the units of inquiry. Research skills are introduced to the students early and slowly built upon as the students progress to higher grades. At TIS students are introduced to our school-wide research model: The Big3 (for grades K-3) and The Big6 (grades 4-8). This ensures that all students are using the same skills to successfully find, evaluate and use information. I meet with the PYP and MYP curriculum coordinators, and classroom teachers, to decide which units include a research component and focus on these throughout the year.
The teacher-librarians in Japan have a very strong network. We meet to discuss initiatives such as the Sakura Reading Program as well as receive professional development.
Last year, we initiated an 'adopt-a-shelf' program in which parents are invited to come in any time throughout the day to organize their shelf. This not only ensures that our books are always in order, but promotes a positive attitude towards the love of literature amongst the whole school community. Students love seeing their mum or dad's involvement in the library.
Authors visit the school to talk to our students about topics related to our units of inquiry. Recently Holly Thompson, a locally based author, talked to our grade 4 students about healthy eating and Wakame, a type of Japanese seaweed. This created an important cultural link to the unit of inquiry on the transdisciplinary theme Who we are. Adam Gidwitz visited us from New York to provide links to our reading and writing workshops with the emphasis on the writing process. The students now realize that when teachers ask them to revise their work a few times, it is not so bad after all!
We have several library assemblies throughout the year in which parents, teachers and members of our community promote reading. The after-school dance club performs book-related dances such as We love to read.
As a teacher-librarian, I am always trying to come up with new initiatives to get the students to read, think creatively, share their learning and be responsible learners. Reading has truly become a part of our culture here at the school and we keep our mission alive at TIS: "The library – everyone's second classroom".
What is the role of the teacher-librarian at your school? How is your library the same or different from the one described here?
---
This is John's second year at Tokyo International School and he has implemented a number of new initiatives to promote reading, research and collaboration amongst the school community. He has experience as a classroom teacher and has lived in Japan since 2000. John enjoys sharing his ideas on twitter @johnkolosowski.