Have you ever wondered about using an online learning management system for your PYP exhibition? The International School of Belgrade, Serbia experimented with such a platform so here are some considerations.
First of all, ask yourselves questions to clarify your purpose!
Are you hoping that this use of technology will transform your students' exhibition experience?
Will the students collaborate with each other, their teachers, mentors and their wider community because of this technology?
Will using this technology lead to a broader range of perspectives; developing international mindedness?
We encountered three key challenges:
1.      Creating whole school community support for the project:
Working regularly with students, parents, administrators, exhibition teachers and mentors, helped build support for the project.
Above all, we wanted to maintain the integrity of the exhibition. Starting early in the year using platform functions meant not overwhelming students during their exhibition.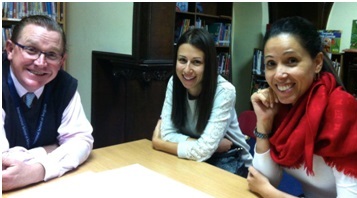 2.     Developing a shared understanding of collaboration:
We all needed a clearer definition, so students and teachers started the year reviewing, redefining and practicing collaboration.
The chart below shows ways to facilitate collaboration according to a new research paper (Education Research Center at Texas A&M University, (2013)).
Collaboration was practiced in developing group central ideas, lines of inquiry and the ensuing conceptual questions. Parent and teacher mentors modeled collaborative behaviour during research.
3.     Platform functionality opportunities and challenges:
Pre-assessment of students' and teachers' current use of technology is essential. What are the comfort and competence levels?
The school's context is also important. What are the constraints?
Having coordinator time to work with each set of stakeholders to build capacity and confidence was also necessary.
We found some functions on our platform that really augmented learning and others that were a struggle. It is important to know how well the platform you select provides for your needs. Do you want to embed third party applications? What functions would you find useful? Can the students work independently with the platform and can the results be used to gather data for self, peer and teacher assessment?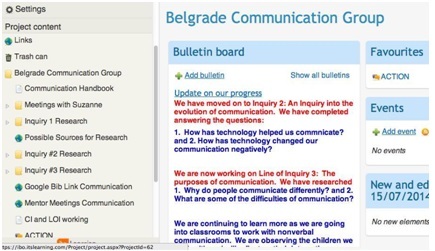 We would love to know your story!
Have you experienced a journey of your own that you could share?
—
Suzanne is a PYP workshop leader and has taught throughout IBAEM and IBAP regions as a classroom teacher, Early Years Coordinator and PYP Coordinator. Suzanne was most recently involved in an experimental trial, organized by the IB, using an Online Learning Management System to organize the exhibition, in collaboration with other schools in the IBAEM region.