Members of the PYP development team joined over 750 educators from Jordan and beyond for the first regional Teacher Skills Forum, organised under the patronage of Her Majesty Queen Rania Al Abdullah and the Queen Rania Teaching Academy (QRTA), and supported by the IB.
The conference was designed to expose teachers to the latest developments, practices and technologies to improve teaching and learning in the classroom. The focus on Arabic and English literacy, science, mathematics and technology aimed to meet the needs of the region. Key note speakers at the conference included Her Majesty Queen Rania, who spoke with passion of the importance of teachers and education in shaping the future of Jordan and the world beyond.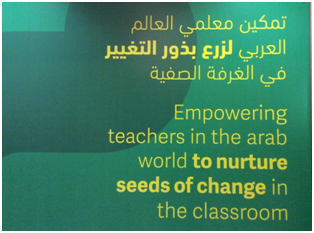 A range of presenters from across the globe offered over 120 sessions aimed at developing teacher skills in pedagogy and specific subject areas. An exhibition area hosted both local and international education service providers, including those focused on technology and publishing. The IB booth provided an opportunity to meet with both academic and regional staff.
PYP sessions included information on reviewing the PYP, as well as practical sessions on mathematics and science teaching and learning. Teachers participated with enthusiasm, openly sharing their experiences; this provided the team with valuable insights into the successes and challenges around implementing the PYP in Jordan.
—
Jacqueline joined the PYP development team in The Hague in July as a curriculum manager. Prior to this, she was vice-principal and PYP coordinator at Renaissance College in Hong Kong. She is currently completing her dissertation on feedback for her Masters and Level 2 IB teaching certificate.