In this article, the author describes how they are incorporating technology into physical education teaching practices during early years.
"Overcoming challenges with success involves communication, trust and open-mindedness" was the central idea in the Adventure Challenge stand-alone unit of the Pre-4 and Pre-5 students at SEK Qatar.
Today's technologies teach our students to understand the world better, how to think about knowledge, and how to transfer it from one another. When I started to plan this unit, I was aware of its difficulty, especially with students of such young age. Using the latest bits of technology to introduce new concepts such as collaboration and teamwork made the final goal look very hard to reach. However, it was motivating enough to get started.
In the summative assessment of this unit, each pre-5 team (composed of 3-4 students) had to perform a Scavenger Hunt, including the following steps:
• Discover the hidden QR Codes displayed around the school
• Scan the code and play the movie
• Perform the task assigned in the movie (I recorded my colleagues performing various exercises: jumping jacks, crab walk, air squats, mountain climbers, etc.)
• Report back to your teacher
• Find another QR code and do as many exercises as possible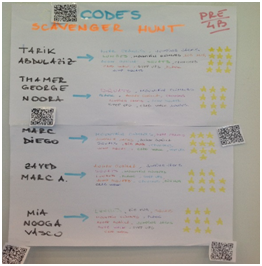 As they were scanning each code, playing the movie, performing the actions and reporting back to me, I kept recording the name of the exercise for each team. When the activity ended, I awarded a star for each code scanned successfully.
After completing the summative assessment, the students were asked to reflect upon their own actions. The reflection focused on their individual and group level of cooperation, communication, and collaboration by filling their names in a rubric, according to their performance. The choice to help assessing their own performance were three smiley faces: "Super Star", "Good", and "Not So Good". Through this informative assessment, my students were able to understand and build on their personal strengths and improve their weaknesses, set goals and become owners of their own learning.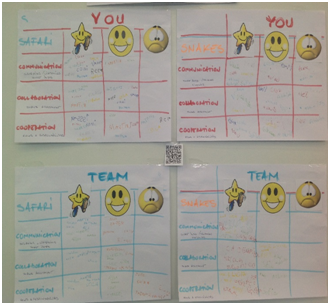 Prior to this task, we focused our inquiry on the responsibility to communicate our thoughts, ideas and opinions in a positive manner to help our team achieve success. We stressed that everyone is important in a team and they are responsible for their role and actions.
Here are some of the questions that were most effective in driving the inquiries:
• What are the ways to communicate our ideas and thoughts?
• Why sharing the same goal will strengthen relationships?
• Do trust and open mindedness contribute to the team's success?
The entire assessment was recorded, and I have created a video and watched it together with my students. They were happy about accomplishing this task, and we have identified and encouraged positive practices. This movie was shared with parents via Managebac and it will be used as a resources for future units. Click on the links to watch the full movie on our blog or on Youtube.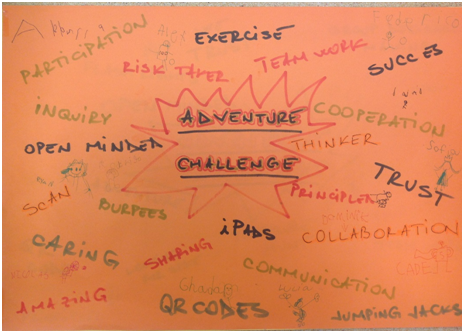 This is the youngest age with which I have been using technology during my lessons. They feel comfortable and motivated. My students found meaningful connections with real life when they identified the various uses of QR codes, and they were able to transfer the knowledge outside the classroom.
Twenty-first century skills require high levels of thinking skills, problem solving and communication. By encouraging an environment filled with creativity and innovation, we can offer to our students the ownership of learning and they will feel motivated to transfer and share their knowledge and products.
—
Mihai Catrinar is currently a PYP Physical Education teacher at SEK International School Qatar and has been teaching at international schools for 8 years. Mihai enjoys building a meaningful and engaging learning environment for his students while integrating the latest bits of technology. He was recently awarded with 2014 SEK Award for The Best Work of Educational Innovation and Best Educational Practice in Preschool, among all SEK schools from Spain, France, Ireland and Qatar. Mihai blogs at Fit'n'Wit PE and he tweets @fitnwitpe.