This the SharingPYP's first blog post in Arabic. It is also available in English which you can find by clicking on the English tab above.
هل نسمع صوتهم؟
يشجع برنامج السنوات الإبتدائية الطلاب على الإستقلالية كونهم محور العملية التعليمية ويمنحهم الدافعية لاتخاذ الخيارات المتعلقة بتجاربهم التعليمية
 سؤالي الرئيسي في هذه المقالة – كمعلمين، ما الذي نقوم به للتأكد من أن هذا يحدث في الفصول الدراسية ؟ كيف يمكننا إشراك الطلاب في تخطيط وحدات التساؤل؟
تقول لين إريكسون في كتابها
Stirring the Head, Heart and Soul
بعد أن تتعرف على مكونات الوحدة، يمكنك أن تشرك الطلاب في التخطيط للأفكار العامة للوحدة معك. إطلع على معرفة الطلاب الاولية حول المفاهيم والوحدة. يمكن أن يساعد الطلاب على تحديد المواضيع الفرعية ذات الصلة ليتم دراستها ويمكنهم أيضا المساعدة في صياغة الأسئلة الموجهه
ورد في" تطوير برنامج متجاوز لحدود للمواد الدراسية"، الصفحة 5- قسم الفكرة المركزية بأن : تطوير الأفكار المركزية يتطلب وقتا وتفكير متأن والتعاون بين أعضاء هيئة التعليم. وفي بعض الأحيان، قد يسمح للطلاب أيضا بالمشاركة
في المعايير والممارسات الخاصة بالتعليم والتعلم، يطلب من المعلمين
 "إشراك الطلاب كباحثين ومفكرين في عمليتي التعليم والتعلم" C3.2
"دعم الطلاب ليصيحوا مسؤولين عن تعلّمهم" C3.5
"إشراك الطلاب في التأمل والتفكر في طريقة تعلمهم ومايتعلمون ولماذا يتعلمون" C3.13
يقوم الطلاب بالتخطيط للوحدة الخاصة بالمعرض. فهم يكتبون الأفكار المركزية الخاصة بهم و مسؤولين عن التأمل في طريقة التعلم، ولكن كيف نعدهم لهذه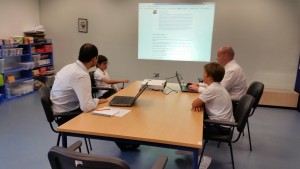 المهمة؟
بدأت في مدرستنا مبادرة بدعوة إثنين من الطلاب للإنضمام إلى إجتماع التخطيط التعاوني في بداية الوحدة. وهذا يوفر فرصة للمدرسة لتوليد أفكار من الطلاب تساعدهم على التأمل وتقديم أفكارمختلفة للعام الدراسي المقبل
يكون التعاون بين المعلمين والطلاب خلال هذه الاجتماعات حقيقي ويكون الطلاب سعداء بالمشاركة حيث تتم إضافة أسمائهم لمخطط الوحدة ويقدمون لنا تأملاتهم العميقة عن الوحدة في نهايتها
كيف تعطي مدرستك فرصة للطلاب للتخطيط لخبرات التعلم الخاصة بهم؟
—
علي عز الدين مدرب لبرنامج السنوات الابتدائية يتقن ثلاث لغات. علي لديه شغف للعمل بالمدارس الجديدة التي تطبق برنامج السنوات الابتدائية وكان يمثل مؤخرا منطقة أفريقا، أوروبا والشرق الأوسط لبرنامج السنوات الابتدائية.علي  بدأ الكتابة ونشر الكتب باللغة العربية مؤخرا. علي لديه شغف للقراءة والكتابة مع الطلاب في المدارس في جميع أنحاء العالم
The PYP promotes student-centered classrooms where students are independent and empowered to make choices in their learning experiences.
My main question in this article is, as teachers, what we are doing to ensure that this is happening in our classrooms? How can we engage the students in the planning of the units?
Lynn Erickson in her book Stirring the Head, Heart and Soul says: "Once you are comfortable with the components of unit design, you can ask students to plan the unit overview with you. Find out what students know about the concept and the unit. They can help define related subtopics to be studied and can assist in developing the guiding questions."
In Developing a Transdisciplinary Programme of Inquiry (2012), page 5 – central idea section – it states: "Development of central ideas requires time, careful thought and collaboration among staff. At times, students may also be involved."
In the Standards and Practices C3 Teaching and Learning, many standards requires us, as teachers, to:
"engage students as inquirers and thinkers " C3.2
"support students to become actively responsible for their own learning " C3.5
"engage students in reflecting on how, what and why they are learning" C3.13
I understand that students design the unit during the PYP exhibition. They create central ideas and are responsible for reflecting on the learning process, but what are we doing leading up to that moment?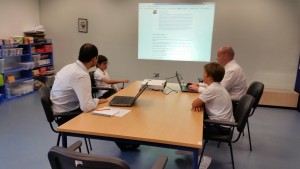 Our school have started to invite two students to join our collaborative planning meeting at the beginning of the unit. This provides our school with the opportunity to generate student ideas the students reflect on the unit and provide ideas to change for the next school year.
During these meetings, collaboration between teachers and students are authentic. Students are happy to be involved, their names are added to the PYP planners and they provide us with deep reflection.
How does your school give a voice to students in planning learning experiences for them?
—
Ali Ezzeddine is a trilingual IB Educator. Ali's passion is to start new IB world schools. He was recently representing the region AEM for the PYP committee. He started writing and publishing Arabic books and spreading his love for reading and writing in schools around the world.