This article describes opportunities for parents of the PYP students to gain first-hand knowledge about units of inquiry.
"This has been life-changing!" one of the parents commented near the conclusion of Alvin Dunn Elementary's International Baccalaureate (IB) Behind the Scenes Learning Experience and Tours. As an IB coordinator, I think I would have been happy with a simple, "Thank you, I had a wonderful time learning today," but this particular comment was truly inspiring and made me feel extremely grateful that our parents have the opportunity to experience first-hand what it means to be life-long learners who can make a difference in the world around them.
Alvin Dunn's IB Behind the Scenes Learning Experiences and Tours occur throughout the year so that parents can participate in mini units of study for each of the transdisciplinary themes. The central ideas and lines of inquiry are created with the parents in mind so that they have the opportunity to wrap their heads around the essential elements of the IB curriculum in a practical way in order to help the parents relate to what their own children are doing in the classrooms and to have meaningful discussions with them about their learning.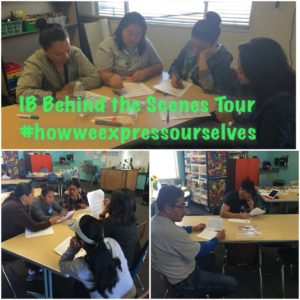 Parents recently investigated the mini-unit How we express ourselves. They read articles, watched videos and had collaborative conversations based on the central idea: Family members can express and extend their creativity in a variety of ways. The following questions helped drive the parents throughout their investigation:
How is my child using his/her talents and passions at home, in school and in the community?
What is my child's point of view about his/her talents and passions?
What am I doing as a parent to help foster my child's creativity?
While investigating the central idea, parents discussed the skills and attitudes they would need to utilize in order to be successful learners. They also discussed what it would look and sound like for them if they were using good communication skills, in particular, demonstrating what it would mean to be an active listener; then they provided each other with positive feedback when those skills were being observed throughout our time together.
Parents also took ownership for their own learning by choosing an attitude for the day, targeting one of  the following three:
appreciation: being thankful for the wonder and beauty of the world and its people
creativity: using the imagination when exploring different ideas or solving problems
enthusiasm: enjoying learning and willingly putting the effort into the process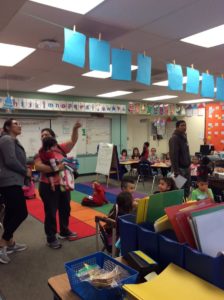 As a result of their investigation, parents developed their own action plan that they would implement at home in order to foster their own children's creativity. Parents also articulated how they would personally model the learner profile attributes of being a risk-taker and being reflective, and would then encourage their children to implement these attributes as they explored their own creativity by reflecting on their interests and passions.
We conclude our morning with a tour of the various classrooms so that parents can see their own children participating in the units of inquiry, allowing parents to make further connections between what they just learned and what their children are learning. It also enables parents to feel confident about asking questions such as, "So, which line of inquiry did you investigate today? Let me share what I investigated!"
A few short days after our Behind the Scenes Tour, I received a note from one of the parents giving me an update on how his action plan was going with his family and the changes that were already occurring at home.
It is so true… successful inquiry leads to responsible action and not just for our staff and students, but our parents as well!
—
Yvonne Fojtasek has served as the IB Coordinator at Alvin Dunn Elementary in San Marcos, California for the past four years. Alvin Dunn was authorized in May of 2015, so the students, staff and parents are thrilled to be part of the IB World community! Prior to working at Alvin Dunn, Yvonne served as a Teacher on Special Assignment, coordinating a grant project as well as facilitating with the process of bringing the IB programme to the school. Most of Yvonne's 24 years in education have been spent teaching in the classroom, so one of her biggest joys is seeing some of her former students in their roles as parents in the Alvin Dunn community! You can follow Yvonne on Twitter @yfojtasek.