This article illustrates how grade 3 students explored different perspectives about technology, developed their digital literacy and conceptual understanding of the term 'perspectives'.
Grade 3 students inquire into the transdisciplinary theme How we express ourselves.
Central idea: Technology is the modern language of expression.
Lines of inquiry driving the unit are:
Different forms of technology used for communication;
How technology can be used to express ourselves;
Different points of view on the use of technology.
Through a variety of learning engagements, students attempt to understand what and how perspectives are formed. This process has led students to explore skills essential for communication, such as sharing thoughts and ideas and recognize different opinions on technology as a modern form of communication around the world.
An article on including emoji (face with tears of joy), in the Oxford dictionary, published in one of the daily newspapers. After reading the article, students were able to comprehend information and become involved in detailed discussions. This sparked a debate in class.
First, students set essential agreements to proceed with the debate. They agreed to express their views using persuasive words, focus on vocabulary associated with the topic, provide facts to support their opinion, and share examples.
Students participated enthusiastically as they took stands to support individual and group views, for and against the statement. They justified independent views through explanations and examples.
Students who agreed that it was a good idea for the emoji to be awarded Word of Year argued: "including emoticons helps in expressing instantly"; "it is worth a thousand words, saves time, benefits illiterate people and is easily understood".
Students with opposing views expressed that "emoticons could harm the use of language"; "it limits writing skills"; "it leads to incorrect spellings"; "it makes people lazy"; "it could not express specific feelings"; "it may cause confusion and not be understood by many."
Each student in class voiced individual opinions and beliefs which were respected and considered. This debate allowed students to grasp the importance of persuasive words. They analyzed different views to either convince one another, accept or change ideas. Students took their ideas further by wondering whether "Communication through technology has a negative impact on our lives" and displayed their thinking through the Tug of war strategy.
The concept of perspective was apparent throughout the task.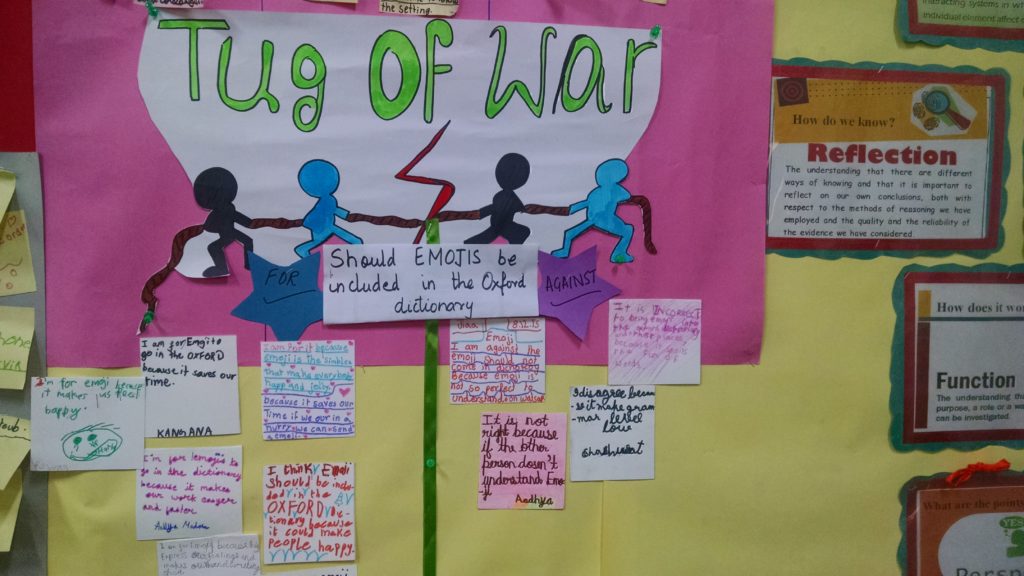 Language learning and approaches to learning

Brainstorming persuasive phrases and variety of sentence starters equipped students for the debating activity. Students were also recording views on the tools padlet and chatterpixkids. Awareness of their own thoughts and assessing their thinking after listening to views of peers led learners to draw conclusions from personal and others' experiences (thinking skills – metacognition). Using the visible thinking routine called PMI (plus, minus and interesting) chart allowed students to identify and share personal and individual views on the use of different tools (technology).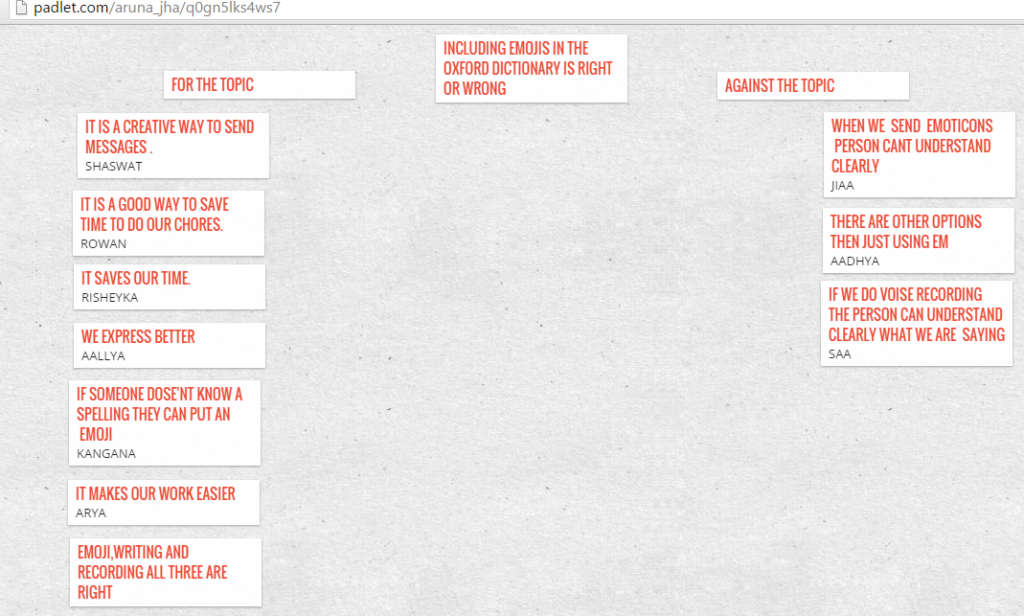 After exploring different perspectives about technology in class, students decided to reach out to the larger community. Students used Google form to develop a survey. In developing and analyzing the survey, students gathered, interpreted, analyzed information, and presented their understandings. Students collaboratively formulated questions to gather perspectives of the different members of the school community on the use of technology for communication. To generate crisp responses, students brainstormed effective probing questions.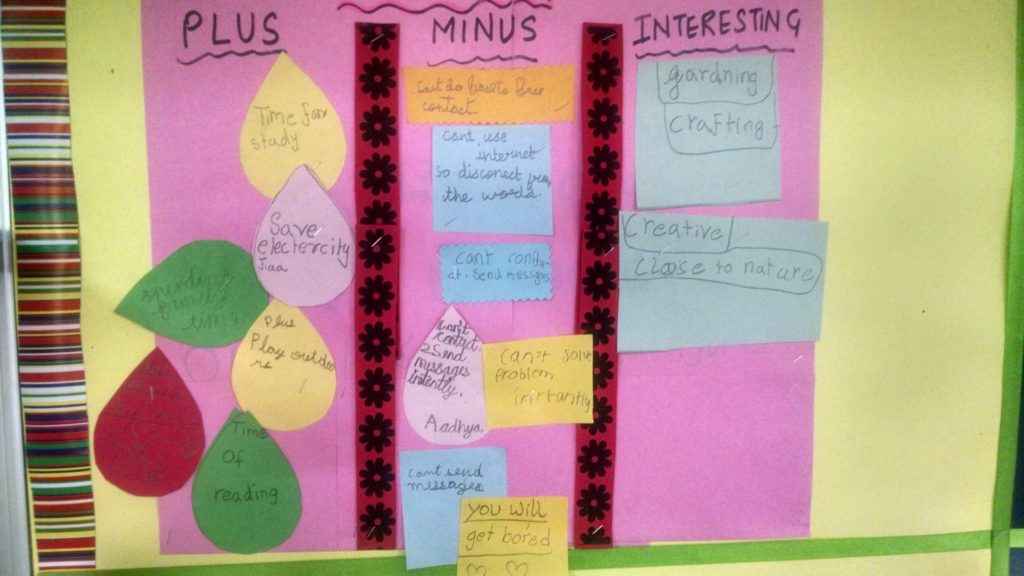 The entire school community was invited to post their views and opinions on the topic. Results gathered from Google form (see here) were turned into organized data in the form of bar graph and pie chart. Doing this helped students to explore additional perspectives and come to newer understandings.
Through the unit students also took their first step towards digital literacy. They also became more respectful of others' views and opinions as they demonstrated open mindedness while exchanging ideas.
—
Aruna Jha is a PYP educator, working with grade 3 students, and member of Prevention of sexual harassment at Pathways School, Noida, India. She is a teacher by choice and she has taught different curriculums in India for more than 20 years. Education to me is meaningful when it is applied during varied experiences and challenges of life. It facilitates individuals to leave footprints that impact the community, society we are a part of. You can find Aruna on Twitter @arunajha53_jha.